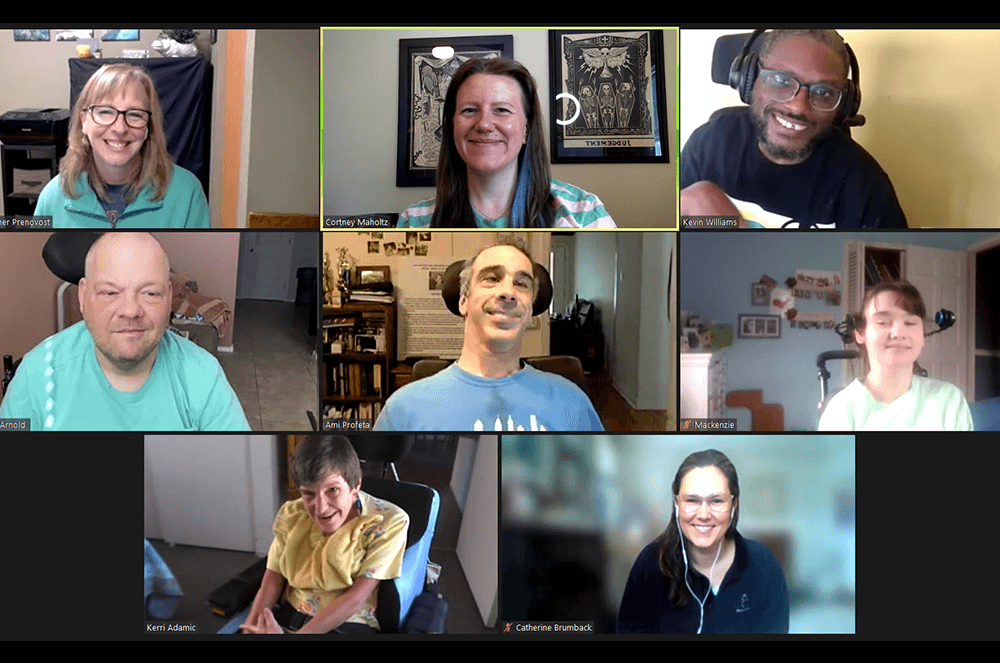 Toastmasters is designed to be a safe, judgment-free space for anyone—whether held back by shyness or, like the members of PRC-Saltillo Toastmasters, a disability that impacts their ability to speak.
The club was founded for people who can only speak using augmentative and alternative communication (AAC) devices, which supplement or replace spoken and sometimes written language. Ultimately, the club's goal is to educate people about AAC technology and how it can help those who need it to be heard.
PRC-Saltillo, an AAC technology company headquartered in Wooster, Ohio, chartered the club. AAC users have a wide variety of disabilities that require assistive technology. They may be physically unable to control their tongue, lips, and vocal cords, or were born with autism, cerebral palsy, or another developmental disability. Others lose their ability to speak because of an illness or accident.
"A lot of our members use speech-generating devices which are similar to computer tablets," explains charter member Anthony Arnold. The devices store vocabulary—words, phrases, or sentences—that is activated by striking a computer key or combination of keys, which turns the typed words into audible speech.
Arnold has cerebral palsy and uses an AAC device to write and speak. He is a prolific writer and often consults on disability issues for film and television productions.
The club's formation began when two of the company's training and implementation specialists began talking: Jane Odom and Cortney Maholtz. They began reaching out to potential mentors.
"I was intrigued when Jane first came to me with the idea of starting a Toastmasters club for this special group of people," recalls Sandy Zalecki, DTM, the club's sponsor and mentor. "How would we make it work?"
"The beauty with Toastmasters is everyone is learning together."
–Anthony Arnold
It wasn't easy. The club was formed at the height of the COVID pandemic, and devastatingly, Odom's sudden death occurred as the club was getting off the ground. That meant the loss of a leader, supporter, and friend.
"We had only met a couple of times before her death," Arnold says. "I remember there were several emails saying, 'What are we going to do?' I remember someone finally saying, 'What would Jane say?' A lot of us knew her for years, and she was always up for a challenge. We remain strong like Jane would have wanted."
One year later, the club is indeed going strong, with 16 active members. They're split about evenly between members who need AAC devices and those who don't. The meeting format has been slightly adjusted to accommodate the members. Some Table Topics® questions are sent out in advance to account for the extra time it takes to formulate a response. Answers must still be delivered within one to two minutes.
"I know it has taken time for some of our members to learn different roles," Arnold says, "but I feel we are finally grasping things. For a lot of us, this is our first time being a member of something. Let's say there's been a learning curve, but most of us would join again. The beauty with Toastmasters is everyone is learning together."
Although PRC-Saltillo's AAC users are physically different from many other Toastmasters, their learning goals are much the same as anyone else's.
"Most of us have wonderful ideas, but at times, I feel we don't know how to express them effectively," Arnold says. "Through the Toastmasters program, I feel we are improving our communication skills we can use in all environments and have greater opportunities.
"I would love to see some of us build up to having roles at the District and international levels," he continues. "As a consumer of AAC, I think that would be powerful in multiple aspects. A lot of people don't even know this kind of technology exists. We need to do more public awareness. It wouldn't only simplify our work in the field, we could also help a greater number."
And the club's speaking members are learning, too.
"The reason why I stay in the club is because they're great people and they have a lot to teach us about their circumstances," Zalecki says.
"A lot of our members have developmental disabilities, meaning our disabilities were noticeable before age 3," Arnold says. "Unfortunately, sometimes when people hear this term, they think of 'mentally delayed' as well. I know I sometimes struggle with this as well. As we progress in Toastmasters, hopefully, attitudes change and people see our abilities, not our disabilities."
---
Kate McClare, DTM
is a professional copywriter and President of Miami Advanced Toastmasters Club in Miami, Florida. She gave her first Ice Breaker in 2011, shortly after joining Toastmasters.
---
---