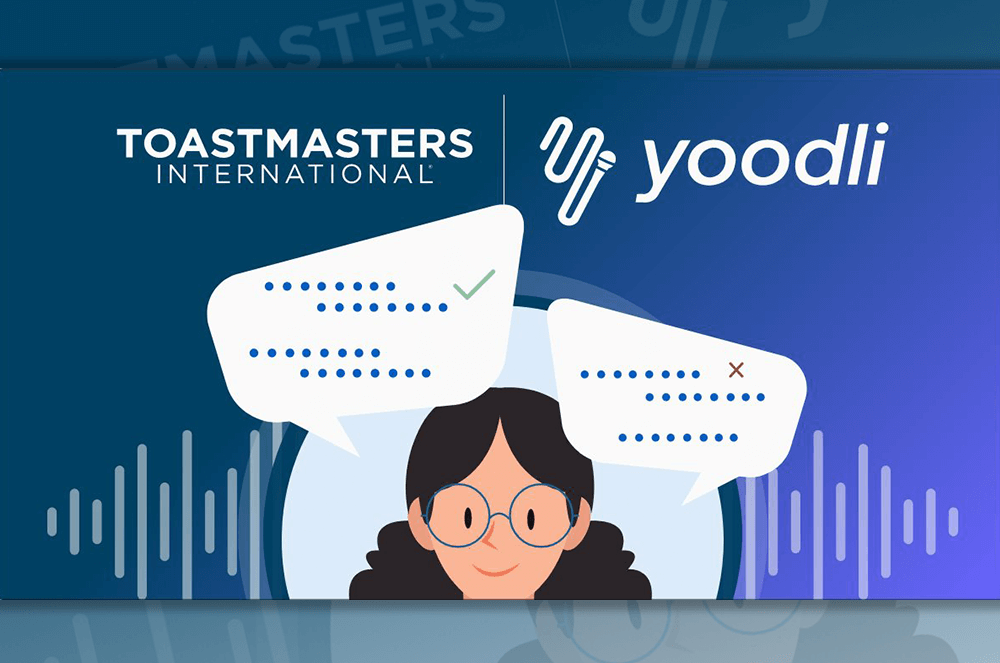 The world of technology seems to change by the minute, and Toastmasters International is jumping into the artificial intelligence (AI) realm with a new partner—Yoodli. This AI-powered speech coach is on a mission to help people communicate with confidence, just like Toastmasters. Yoodli serves as another powerful feedback tool, especially helpful to use alongside your club evaluations, and to help you prepare for your next Toastmasters speech or practice for an upcoming speech contest.
Founder Varun Puri explains, "Members can use Yoodli to prepare for upcoming speeches (such as Pathways or contests), upload any speech recording from the past, or practice interview questions and Table Topics, all from the comfort of their homes. Yoodli helps them be more aware of their speaking habits and track progress over time."
Yoodli evaluates ums and ahs, repeated words, non-inclusive words and language, top keywords, and any "weak" words like "totally" and "really," and more. The AI program will also track your pacing and eye contact and provide recommendations on whether you could have included more pauses. It even tells you if you're centered well on camera, which can benefit members during online meetings and presentations.
Diane Windingland, DTM, a member of PowerTalk Toastmasters and Readership Toastmasters in Minnesota, and a speaking coach, began using Yoodli in August 2022 for her coaching business and her own Toastmasters practice. Windingland feels the AI platform helped her advance in the Tall Tales Speech Contest. After winning the contest at the Area level, she uploaded the speech recording to Yoodli, which showed that her pace was rather slow—something she hadn't noticed.
"[Yoodli] is a valuable resource for speakers of all levels."
—Roger Caesar, DTM
"I thought that the speech would sound more natural, and the story might be more exciting, if I increased my pace a bit, so I practiced it faster," she explains. "Yoodli allowed me not only to see and hear a faster version but also to measure my progress as I increased the pace. I think it worked! I won the Division contest and will be a contestant in the District contest this spring."
Puri says this is a prime example of how Yoodli can augment the Toastmasters experience. In fact, some of Yoodli's most active users include Toastmasters who have advanced to the World Championship of Public Speaking®.
Roger Caesar, DTM, of Brampton Toastmasters and Raising Champions Advanced Toastmasters, both in Brampton, Ontario, Canada, earned the third-place spot in the 2021 World Championship of Public Speaking. He began using Yoodli in September 2022 and quickly incorporated the technology into his speech coaching work. Caesar says the most valuable thing he's found from Yoodli is how quickly his clients have developed their skills, particularly in eliminating filler words and repetition.
"As a speaker and coach, I have noticed an improvement with my clients applying the information received from the Yoodli statistics," Caesar explains. "Yoodli provides instant feedback on some basic fundamentals to public speaking in a way that is very user-friendly. … It is a valuable resource for speakers of all levels."
Puri's goal with the Toastmasters Yoodli partnership is to help people around the world communicate with confidence. "Too many people miss out on opportunities they deserve because they don't speak with confidence. I saw this firsthand growing up in India and then when I worked at Google. The loudest voices would get all the credit," he says.
Inspired by platforms like Grammarly and Duolingo, which are helping people improve writing and language skills, respectively, Puri says, "I hope Yoodli can make the same kind of impact, but for speaking! And no better place to start than Toastmasters."
And the world is taking notice. Puri and his co-founder, Esha Joshi, were named to the 2022 Forbes 30 Under 30 list. He says, "It's an honor to be featured with so many people I look up to! It's especially validating to be featured with my co-founder, Esha, on a project we're so passionate about."
Ready to get started? Visit the Toastmasters website and log in. You will find a link to the Yoodli platform on your My Home page, under the "From the Organization to You" section. Follow the link to create a Yoodli account and start enjoying the benefits of this exclusive partnership! You can upload a recording of your speech for automatic, private feedback or practice for Table Topics® with games.
Windingland says, "While Yoodli cannot replace the camaraderie, the leadership development, the educational program, or the evaluations in a club meeting, it can provide additional feedback and practice opportunities."
Editor's Note: The Yoodli team wants to hear your feedback! Email them at info@yoodli.ai with comments, questions, and concerns.