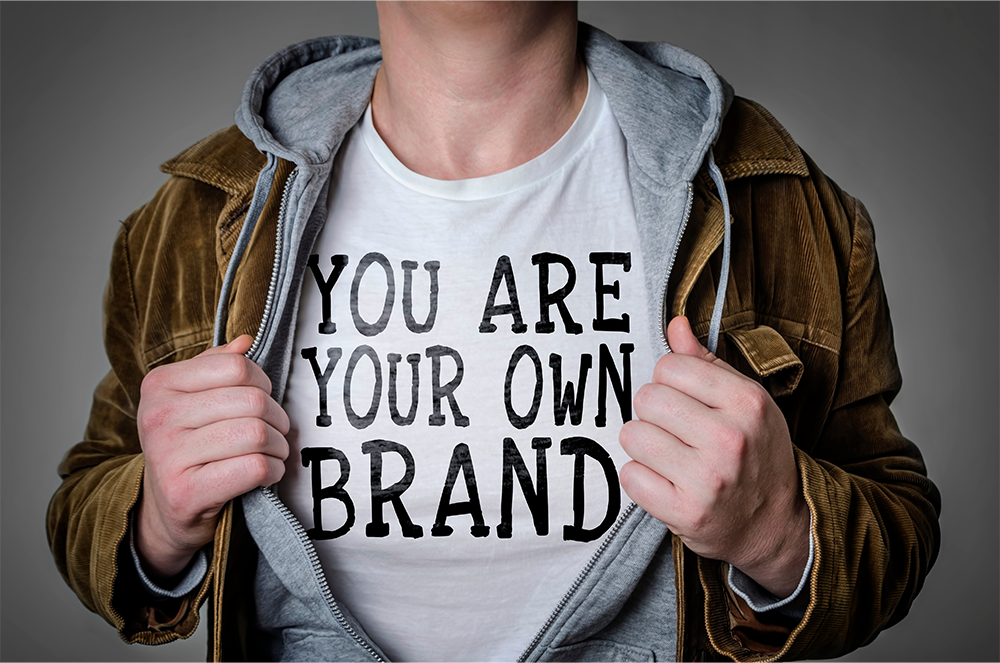 In a world where we are so often scrutinized by others and inundated with a constant barrage of messages, our value often feels tied to how others perceive us. However, what if we could influence how others see us?
No, I'm not talking about becoming an influencer—I'm talking about building a "personal brand." And yes, there's a difference. As someone who has worked in the fields of communication and public relations for 10-plus years, I've spent a lot of time crafting communication strategies to make messaging stand out, both for companies and individuals.
At its root, personal branding is about who you are and how you represent yourself in the world. The operative word here is you. Just as big companies market themselves—think of the ubiquitous Nike and Starbucks logos—people, too, can show how they are distinct and valuable.
To successfully build a personal brand, it's critical to be your own biggest champion.
So how do you build a brand as a person, not a company, especially a company with big resources? The advent of social media has certainly given us all a platform to express ourselves, and how we choose to use it can be extremely powerful. However, the main difference between a company building a brand and an individual creating one for themself is authenticity. To successfully build a personal brand, it's critical to be your own biggest champion.
Toastmasters is the perfect testing ground to express your own messaging, to share and refine your personal brand in a safe space. In Toastmasters, you develop your communication and leadership skills, and you get to decide what you want to say and how you want to say it. What is the narrative you want to tell to reach your personal and professional goals?
Consider these three steps to develop a personal brand through your Toastmasters journey.
1
Define Your Style
No two speakers are the same. Some speakers love sticking with facts and figures, while others love to tell stories to illustrate a point. One way isn't better than the other, but it's a good idea to understand your preference.
You can learn your style simply by giving your Toastmasters speeches, which is a great way to discover and define the type of speaker you want to be. By crafting your words and practicing your delivery, you slowly develop your own authentic voice.
It might be illuminating to see how your style and tone has changed over time. Try revisiting your first speeches in Toastmasters. How has your voice evolved?
2
Align Your Goals with Your Values
One of my favorite projects in the Toastmasters Pathways curriculum is "Delivering a Speech With Purpose" (Level 1 of all 11 paths). This project prompts members to define a clear message and think about the "why" behind the statements we make as speakers.
Thinking about the "why" applies to personal branding, too, because it's important to understand why we want to achieve our own personal and professional goals. Whether you're looking to become a thought leader in your field or speak with more confidence at a family get-together, aligning your goals and values adds clarity to what you are trying to achieve.
3
Reinforce Your Message
Once you are clearer on your style and what drives you, it's time to repeat your message to solidify your brand. Cindy McGovern, author of Sell Yourself: How to Create, Live and Sell a Powerful Personal Brand, writes that "if we aren't consistently reinforcing the narrative we want about ourselves, then we leave that narrative up to chance."
Define the narrative and be consistent with your message. While your goals may shift over time, taking control of the ideas you express and how you express them will give you a strong narrative to build upon. Toastmasters is where you can do that. From the meeting roles you fill to the speaking decisions you make, you have many chances to make an impression in each club meeting. Use these opportunities to share your strengths with your peers and get clarity on the value you bring to the table.
The best part of having a personal brand is getting to decide what you want to be known for. I hope this article gives you guideposts to express your personal messaging and ultimately shape your own narrative.
---
Rachael Dubinsky
is Vice President Education for Boston Toastmasters in Boston, Massachusetts, and a District 31 Area Director. She is the founder of Wicked Writers, a public speaking and thought leadership consultancy. Learn more about her work at
wickwriters.com
.
---
---