I was in the middle of a spinning exercise class when I had an aha moment. I had been pedaling and doing pretty well, but the instructor wanted more from us: "It's going to get difficult. You haven't needed me up to this point—but you will. Because when you're ready to give up, that's when I'll be there. And I'll get you through."
I'm not sure whether it was his confidence, my exercise-induced endorphins, or some combination of the two, but his statement suddenly shifted my perspective. I realized that's what a leader does—pushes and encourages. I began thinking of leadership as a Tour de France-style race that takes place in stages.
The Start
Leading is easy—at first. You lead yourself toward a goal, then begin to add other people who share your vision. At that point, everyone is on board and pulling in the same direction. There's momentum and creative force behind it. You have energy and you want to win!
The Long Flatlands
Eventually, that surge of momentum will start to flag. Even endurance athletes don't work alone; at some point, you'll need to add team members to help you make the imminent uphill climb. You'll need to tap into your confidence to help them see what you see. This is a paradox: At the moment you need the most help, you need to offer the most help. Once you master that balance you can move on to the next stage.
The Uphill Climb
This is when the long hours and hard work come in. You'll need to prepare for mission fatigue and the inevitable "why are we doing this, again?" Your job is to keep spirits up and eyes on the prize. How can you listen to your team's needs and help them evolve their skills so they are ready for the final climb?
The Summit
Those last few miles toward the top are the hardest! Tap into gratitude, make sure your listening skills are in top shape, and be prepared to give pep talks. There's no starting over now—summiting is the only choice. Once you're there, it's time to celebrate!
The Downhill
You're not finished with the race, but the hard part is over. Use this well-deserved rest period to reflect on what went right and what went wrong. What gains in strength and mindset will you take with you to the next race?
Leadership isn't a set-it-and-forget-it role. It takes physical and mental endurance and a willingness to constantly reach for what's next. You will trip and fall, even if you're experienced—that's the risk you take as a leader. That willingness to fail, and the ability to get back on the bike after disappointing yourself, isn't a weakness. It's what makes you a leader.
Margaret Page, DTM
International President
---
---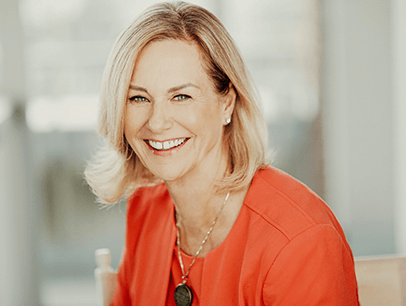 ---