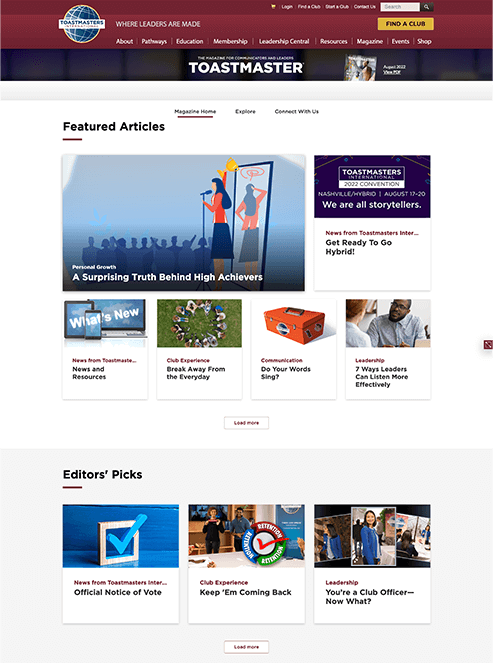 News
New Look for the Magazine
If you haven't visited the Toastmaster magazine website in a while, now is the time! Look for a new format with better organization, more article choices, and an easier way to search for topics and articles. Articles on the landing page are grouped into categories. Start with the Featured Articles section at the top—this is the most timely and relevant content—then work your way down through our Editors' Picks, Top Tips, Club and Member Spotlight, and Member Photo Galleries. Also, discover more about the magazine, ways to connect with us, and a new Explore page to help you find a wide variety of topics, articles, and past issues.
Listen Up
Episodes from The Toastmasters Podcast will soon be on Base Camp! Discover interviews with members and experts from around the world on topics like engaging your audience, the importance of emotional intelligence, cross-cultural etiquette, and much more. Find relevant episodes under Supplemental Materials on the Tutorials and Resources page.
It's Convention Month!
The 2022 International Convention is happening this month, August 17–20. If you haven't registered for this special hybrid opportunity, there is still time! There will be four tracks (Public Speaking, Personal Growth, Professional Development, and Inclusive Excellence), with four sessions in each track to choose from. Take part in all the traditional (and some new) highlights of this year's online and in-person event.
Resources
Let Images Tell Your Stories
Are you looking for some colorful infographics or maps to help paint a Toastmasters picture for your members and prospects? World Headquarters has created a variety of sharable visuals based on surveys of members worldwide. Check this site periodically for new statistics, maps, and other data to learn more about your global colleagues, and for custom demographic details to support your District or club initiatives.
Complete Club Marketing Guide
Beef up your club's marketing efforts with tips, tools, and links all in one handy place—the Club Marketing Guide. Take club marketing into your own hands—literally—with this comprehensive resource. Use it to plan for and savor the happy feat of converting prospects to new members and setting them up for speaking success!
Reminders
Hybrid Speech Contests at Convention
Be sure to watch top contestants from around the world compete live—onsite and online—at the International Speech Contest Semifinals and World Championship of Public Speaking®. These contests will be held this month during the 2022 International Convention in Nashville, Tennessee; the semifinals take place August 18 and the World Championship August 20. Each participant will have the option to present onsite from Nashville or online from their home country. This allows all contestants to participate in the contest, regardless of travel restrictions. Register now to cheer on and be inspired by the contestants!
Persevere in Pathways
If you have questions about the Pathways learning experience, remember to reach out to your club's Vice President Education. And if you're looking for help on specific Pathways projects, use Base Camp resources or ask fellow club members for tips and insights, especially those who have been working consistently in the program. Pathways is built to help you succeed—use other Toastmasters for encouragement and guidance!
---
Staff
The
Toastmaster
magazine staff is comprised of five editorial team members. Learn more about them on the Staff page.
---