You've just been asked to officiate a wedding. Where do you start? What do you do? How is it different from other public speaking assignments? Those were questions confronting my friend Darren LaCroix and me recently when we unexpectedly were asked to officiate wedding ceremonies ... for our sister and daughter, respectively, less than two months apart! We are both experienced professional speakers and Toastmasters World Champions of Public Speaking. But this assignment was different and posed an unusual and humbling challenge: It was personal and emotional in nature, and we had never done this before.
Last August, I officiated the wedding of my only daughter, Andrene. Six weeks later, Darren officiated his sister's wedding. As we both can confirm, officiating a wedding isn't like delivering an acceptance speech, eulogy, toast, or a project in the Presentation Mastery path.
But the experience was unforgettable, and we learned important lessons along the way. No matter how experienced we may be in speaking to wide audiences, we both were surprised to struggle with nervousness during a deeply personal ceremony like this. Here are some of the lessons we learned.
Click play to hear a podcast with Mark and Darren as they break down their 5-step process for unforgettable special occasion presentations.
Expect and Embrace the Nerves
Darren: I'm confident when talking about what I know, but speaking to family and friends in a different capacity than I am used to made me very nervous. I've been doing this for over two decades, yet at one point in the ceremony I was literally shaking.
If you get nervous, congratulations, you are human! When you care about the presentation, and you are delivering it only one time, it's not going to be perfect. Just make sure your heart is in it, and the audience will give you grace. Remember, as Mark often says, to have fun and enjoy the moment. I took a deep breath and pulled in my portfolio with notes so no one could see it shaking. I chuckled at myself and kept going.
Remember, It's Not a Presentation
Mark: Being asked to officiate my daughter Andrene's wedding was this daddy's delight! Giving her hand in marriage was extremely emotional for me, and I had to maintain my composure. A wedding isn't a presentation; it's a ceremony, and the atmosphere is different. Instead of an audience taking notes, we had family and loved ones sharing a joyous experience.
Darren: I had to acknowledge that the audience is different (friends and family), the intention is different (love and romance), and the outcome is different (it's about the couple, not the audience).
Get Out of the Picture
Mark: "Keep it short, Pops!" was Andrene's most specific command … er, request … along with "We want traditional vows." I had to doff my "speaker hat" and become a facilitator, guiding Andrene and Roland with words I had not written myself. My research and preparation led me to wedding sites and YouTube videos, culling, editing, constructing, and tweaking to create the best experience for my family.
Darren: This was new to me, but since I live in Las Vegas, the wedding capital of the world, I reached out to friends who perform weddings and got insights from all of them. Mark even sent me a video with helpful tips. My favorite? Right after saying, "You may now kiss the bride," step out of the way! No one wants the officiant in the picture of "THE KISS"!
Establish a Personal Connection
With the Couple and the Audience
Mark: As a speaker, I establish a personal connection with the audience immediately. During a wedding, it's important to establish the connection between the couple and the attendees. A simple sentence like, "On Andrene and Roland's behalf, I welcome you all to this joyous celebration of love and commitment" can accomplish this easily and effectively.
Darren: I wanted to make the ceremony special for my sister and her husband, so I asked about their expectations. When you officiate, the couple may want a unity candle, sand ceremony, cord of three strands, communion, or special music during the ceremony. It's also important to ask if there is anything they don't want. Even though I have a background in comedy, my sister told me to "go easy on the humor." I complied … for the most part!
Focus on the Couple
Mark: My presentations always include personal stories, but I had to resist the urge. However, I did point out that I had predicted years earlier that Andrene would marry a man like her dad … and I believe that she did. It's always more appropriate to share stories, fun facts, and lighthearted anecdotes about the couple. It's their day. Tell their story.
Darren: Mark is right. As we know, great stories are the heartbeat of a great speech. If you don't know their "story," be sure to ask! How did they meet? How are they similar? How are they different? What funny experience did they share? Ask their friends and family for stories as well. You never know where you will find the perfect anecdote.
Have Fun, But Follow the Script
Mark: Have fun! A wedding is a joyful celebration of love and happiness. There's no need for excessive solemnity. Enjoy the experience and help everyone in attendance enjoy the occasion as well.
Darren: It's a good idea to work with a script. There should be a rhythm and a flow to the ceremony; your script will keep you on track … and on time. If you need help, ask for it. You may want to rehearse with a trusted friend or fellow Toastmaster until you're comfortable. The key is to be ready. I recorded the celebration using my phone's voice memo feature and listened to it first thing in the morning, before bed, and even while driving. Print your script in a large font so it's easy to read. Mark suggested getting a nice black portfolio that looks professional but serves the practical purpose of having notes at my fingertips.
Be Prepared for the Unexpected
Mark: Be flexible. Any number of "hiccups" can occur, especially if the ceremony takes place outdoors. Wild animals, trains, rains, a nervous flower girl, a scared ring bearer, or any number of unanticipated distractions can pop up. Be ready to adjust immediately, have a funny line prepared, and go with the flow!
Officiating a wedding need not be a scary undertaking, especially when
doing it for family and loved ones. It's
a wonderful opportunity to use your Toastmasters skills to bless people
you love and to provide everyone
present—not only the couple—with an ­unforgettable experience!
---
---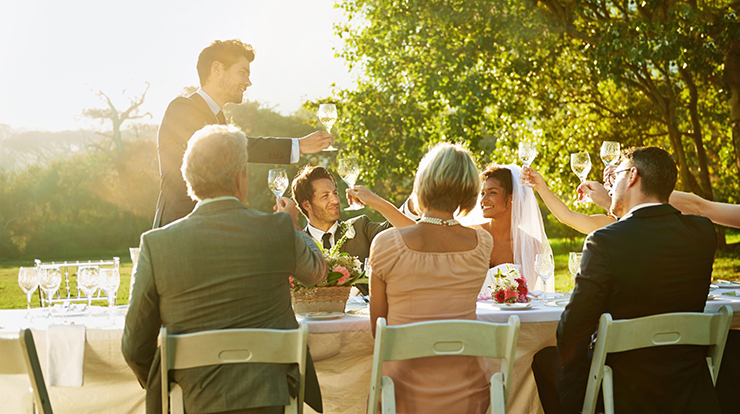 ---