The Official Toastmasters International Members Group on Facebook is always filled with conversations started by and for members. Below are a few posts and comments that may help clubs across the world or spark some inspiration.
Silver Linings
Rupinder Singh, DTM, of New Delhi, India, and a member of Blue Quest, Professional Speakers, and Turning Point Toastmasters asked,
"When it comes to Toastmasters, what is the one thing you'd thank COVID for?"
Being able to attend meetings all over the country, Europe, and world! Learning how to host a virtual training; becoming a Zoomer; attending more meetings as I can from home (am caring for my elderly mum!).
Sandra Lizioli, DTM
Brussels, Belgium
Learning in different directions—both online skills, and learning to help others get through the tough hours. Learning the value of taking a deep breath, and hoping your best is good enough, and then learning that it usually is.
Mike Diggins, DTM
Auckland, New Zealand
I made new close friendships with Toastmasters in three continents and even in my own city. World champions became so accessible, and I indulged myself in attending their master classes. Being a Toastmaster became even more fun, and I expanded my horizon of Toastmaster creativity!
Virginia Mercouri
Brussels, Belgium
I was able to practice more speeches, and one speech many times. The most I did: delivered the same speech in 13 clubs.
Santosh Akella
Mumbai, India
Sharpening video performance skills. This is usable not only in online meetings, but also in filming offline promotional videos.
Jim Emery
Minneapolis, Minnesota
Being able to invite a couple of friends when I gave a speech. One was in a different state and the other probably wouldn't have ever been able to make it in person.
Emily Barker
St. Louis Park, Minnesota
Chat Box Creativity
Losoradores Toastmasters in Sacramento, California, asked,
"What are some fun ways to use the chat box for Toastmasters online meetings?"
My club uses the chat box to send ­messages to the speakers; we call them love notes.
Peggy Carr, DTM
Brigham City, Utah
Initial greetings, welcome new members personally, feedback, and Word of the Day descriptions.
Deval Patel
Vadodara, Gujarat, India
I used it as a speaker to ask the audience a question. Responses are delayed so it works better for a general question like "What is your favorite weekend activity?"
Jeff Brown
Philadelphia, Pennsylvania
Sending out a link to a form that populates our Google guestbook.
Birgit Starmanns, DTM
Mountain View, California
We invite guests and members to build their network by providing email and/or phone numbers. We even do this for our new member orientation. Great way to start building relationships immediately! It also helps when we suggest that folks connect with each other via LinkedIn. For everyone in the meeting, we try to ensure folks have each other's full name (to make it easier to find on LinkedIn).
Kathy Shine, DTM
Milwaukee, Wisconsin
Join the conversation! Search for the group on Facebook or use #talkingtoastmasters to share your thoughts and tips.
---
---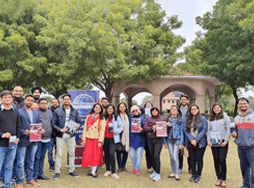 ---