The Official Toastmasters International Members Group on Facebook is always filled with conversations started by and for members. Below are a few posts and comments that may help clubs across the world or spark some inspiration.
Advice for the Youth Leadership Program
April Braswell of Orange, California, asked members for advice on facilitating the Youth Leadership Program (YLP).
"I'd love to hear some of your tips, best practices, and experiences with YLP. With whom did you partner? How did you get the word out into the community? Challenges during quarantine if you managed that, like I am currently."
We did a YLP in our corporate club for children of our employees. This was our first time, so we wanted to make it easier on ourselves.
Jean Rossett
•
Franksville, Wisconsin
For the first two or three meetings at most, you and other Toastmasters take a leading role; from then on you retire to the back of the room and let them get on with it, occasionally interfering when appropriate.
Bob Finch, DTM
•
Colchester, U.K.
We partnered with one of the local Rotary clubs three years ago. The Rotary club sponsored the course as part of their youth program. We ran courses at two schools initially and this year it was three schools in January/February just before the lockdown.
Ian Bratt, DTM
•
Springs, Gauteng, South Africa
When I put one on for an inner-city outreach center, every other meeting I would invite a leader from the community to have a talk. A fellow Toastmaster spoke one week, and her talk was probably the most impactful. She was at a mall about five years later when a young woman approached her. The woman said, "You spoke to our group and I'll never forget what you said." How cool is that?
Paul F. Arnhold, DTM
•
Oak Ridge, Tennessee
Have a great execution plan and have someone to assist you in the meetings.
Merrick Green
•
Suffolk, Virginia
Try online sessions on Zoom. It has worked out well for us during COVID times and the kids are honing their online presence skills too, which I can see being an important prerequisite for a post-COVID world.
Savitha Setlur, DTM
•
Dublin, California
Looking for Laughs
Jennifer Regnier, a member of Ottawa Coaches Corner in Ottawa, Ontario, Canada, asked:
"What are some Toastmasters jokes?"
Here are a few that made us laugh!
Who's the one at each Toastmasters meeting who is all ears for your spoken language? His name is Ian, Grammar Ian.
Frank Kaiser
•
Aargau, Switzerland
A proud Toastmaster was giving his first professional speech at a convention. He asked the facilities manager how big was the auditorium. The facilities manager replied, "It sleeps 300."
Kiminari Azuma, DTM
•
Terao Kita, Japan
How many Toastmasters does it take to change a lightbulb? Just one, but it takes them 5 minutes, then 6 minutes, then 7 minutes.
David Willanski
•
Adelaide, South Australia, Australia
A cop pulled over a man for running a red light. When asked why he ran the red light, he said he was a Toastmaster and thought that when you see the red light, you have 30 seconds to stop.
Brian Goldfeder, DTM
•
Old Bethpage, New York
My son/daughter asked me for dating advice. I replied, "I am not going to interfere with your love life. Go ahead and date any Toastmaster you like!"
Charilaos Aneziris, DTM
•
East Setauket, New York
Join the conversation! Search for the group on Facebook or use #talkingtoastmasters to share your thoughts and tips.
---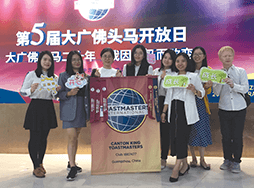 ---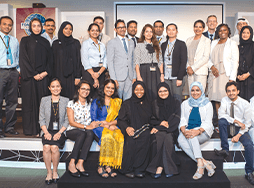 ---