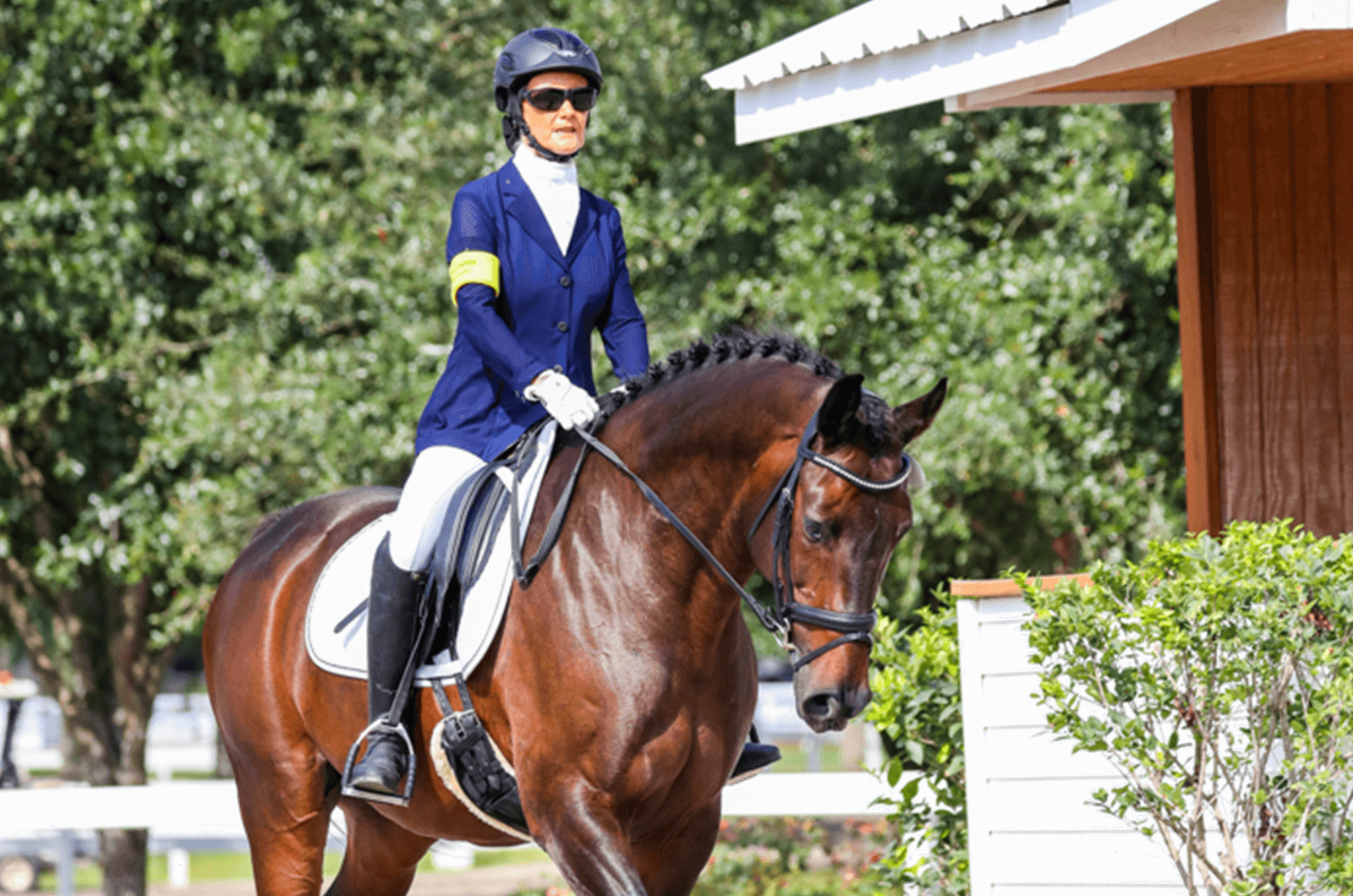 Click play to hear an exclusive interview with Deborah McAlexander and the hosts of The Toastmasters Podcast.
"The good news is, you're here to train," the world-renowned riding instructor told his new client in March 2019. "The bad news is, you don't do anything right in dressage."
Toastmaster Deborah McAlexander wasn't bothered in the least by this matter-of-fact evaluation. She was an experienced rider, although admittedly new to the precision equestrian sport of dressage. However, she had been rising above life's challenges for more than 40 years after becoming legally blind in her early 20s. She knew her passion for a dream—to represent the United States in para dressage at the 2021 Paralympics in Japan, and the 2022 World Equestrian Games in Denmark—would lift her over this challenge too.
Life's hurdles can be "overwhelming obstacles or empowering energizers," McAlexander notes. "It's not about what happens to you but how you choose to handle it." And she knew exactly how to handle her dream of riding in the world's most prestigious equine show rings.
In spring 2019, at age 64, McAlexander moved from Missouri to Wylie, Texas, to train six days a week at the North Texas Equestrian Center. The facility is considered a center of excellence by the United States Equestrian Federation (USEF), which governs equestrian sport in America. She trains with her initial "evaluator," Kai Handt, the only USEF-recognized para-dressage trainer at the master level in the U.S. McAlexander has grown passionate about dressage, which requires horse and rider to execute a pattern of complicated movements using only exquisitely subtle, nonverbal communication between them.
"Toastmasters teaches us to go into any arena in life with confidence and the communication skills to hear and be heard."
—Deborah McAlexander
Now, less than two years later, McAlexander and her equine partner, an 11-year-old Bavarian Warmblood named Cornet Noir, are advancing rapidly in the sport. They are regularly "in the ribbons" at horse shows and are qualifying for regional and national events.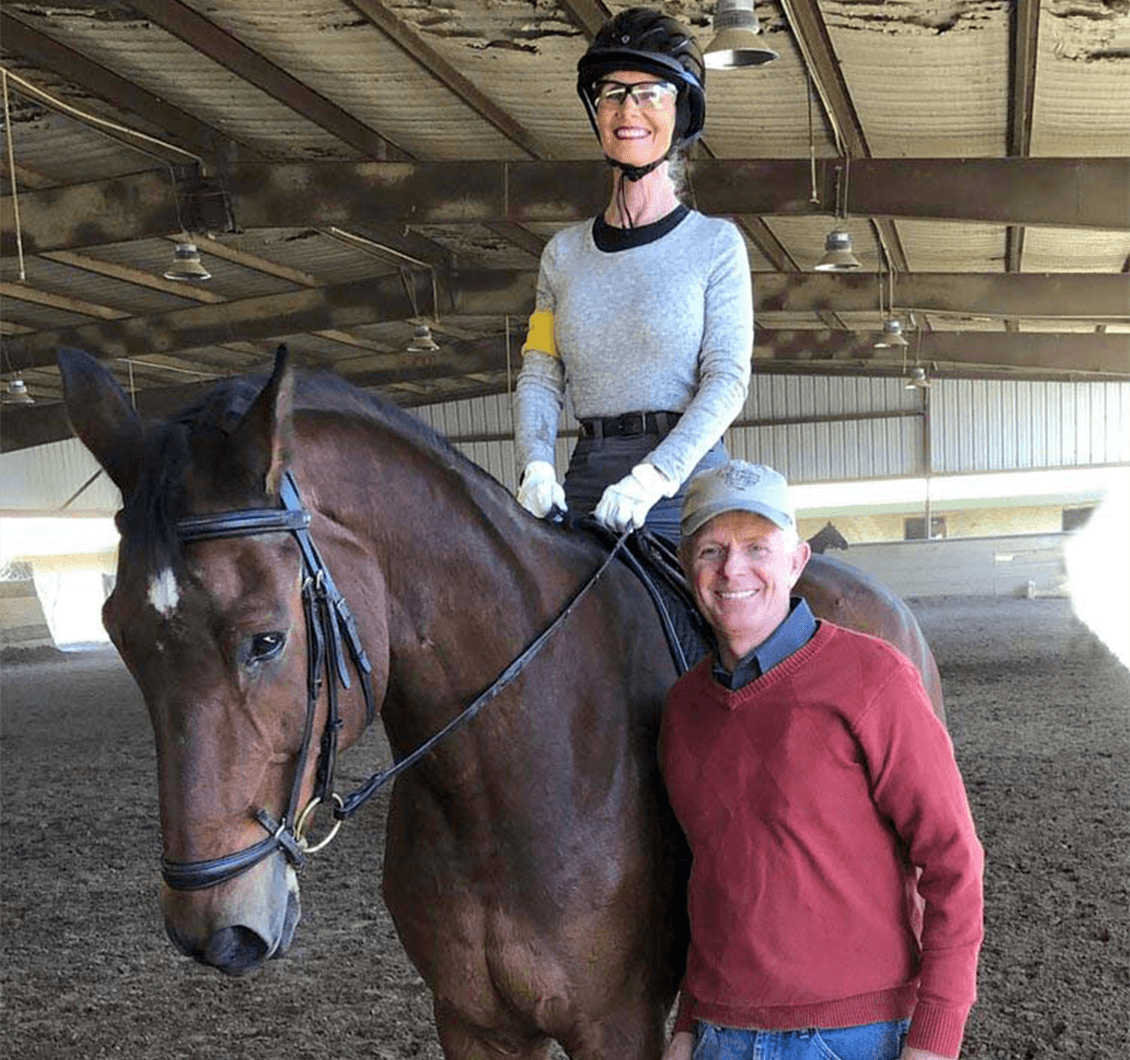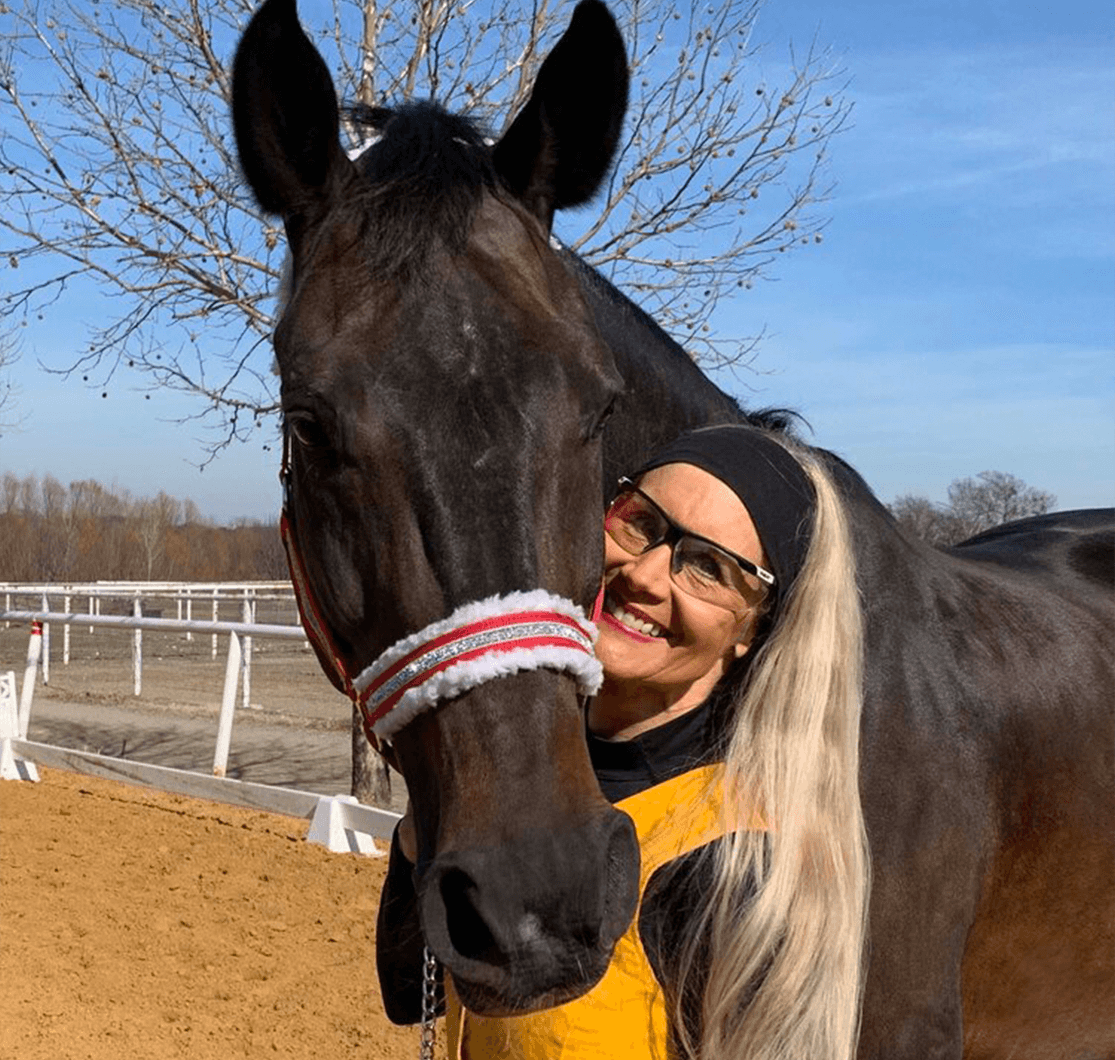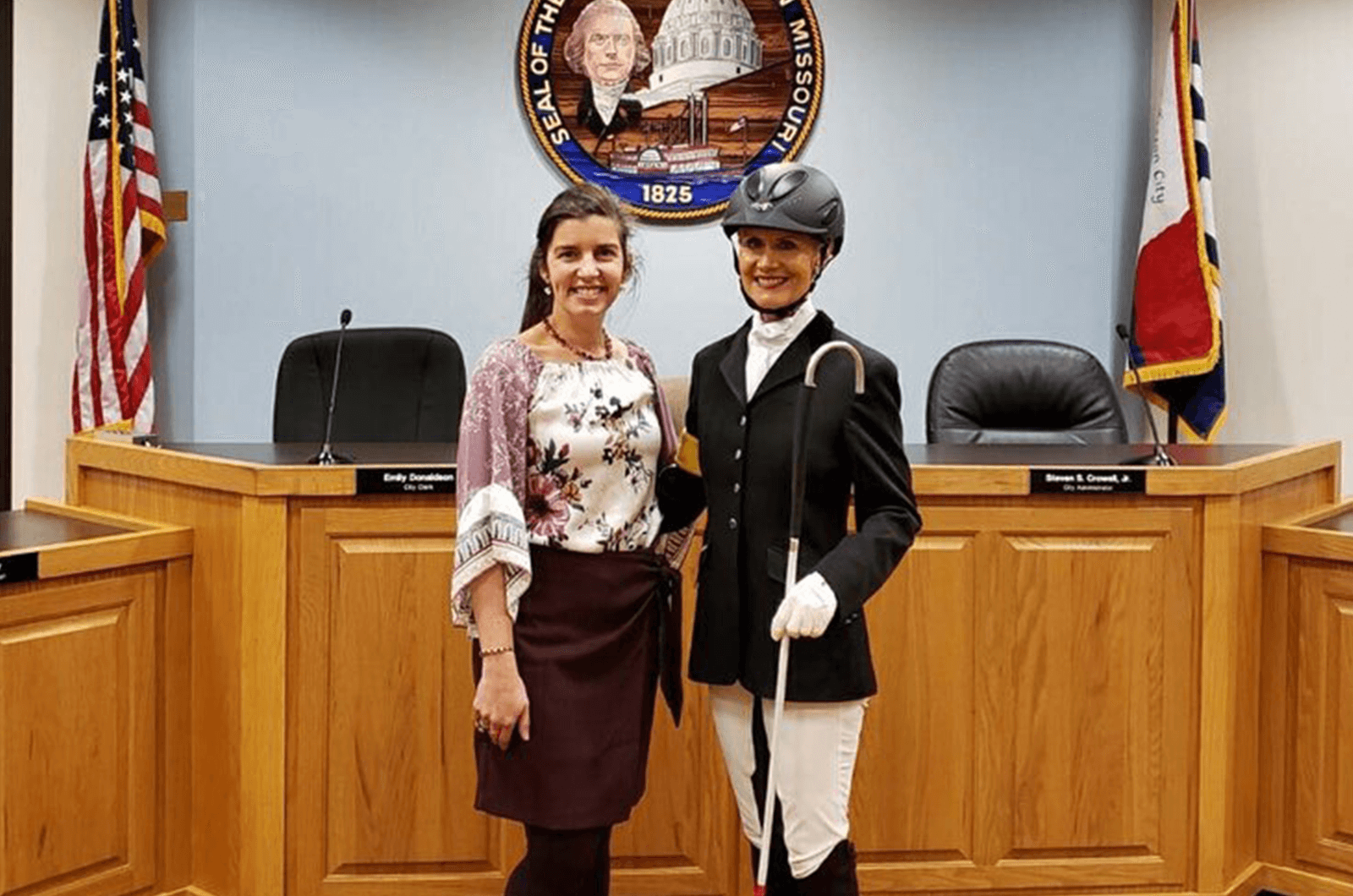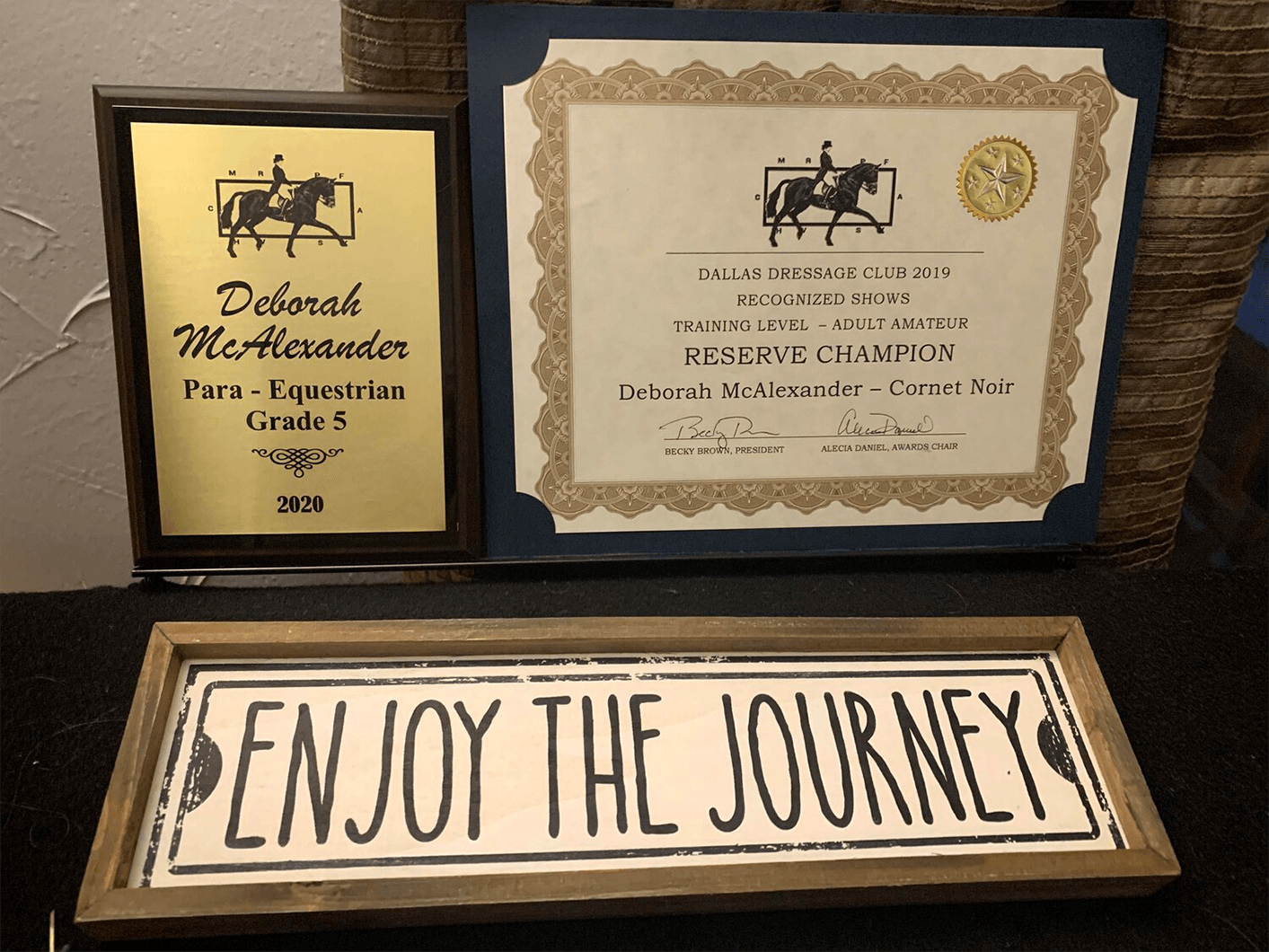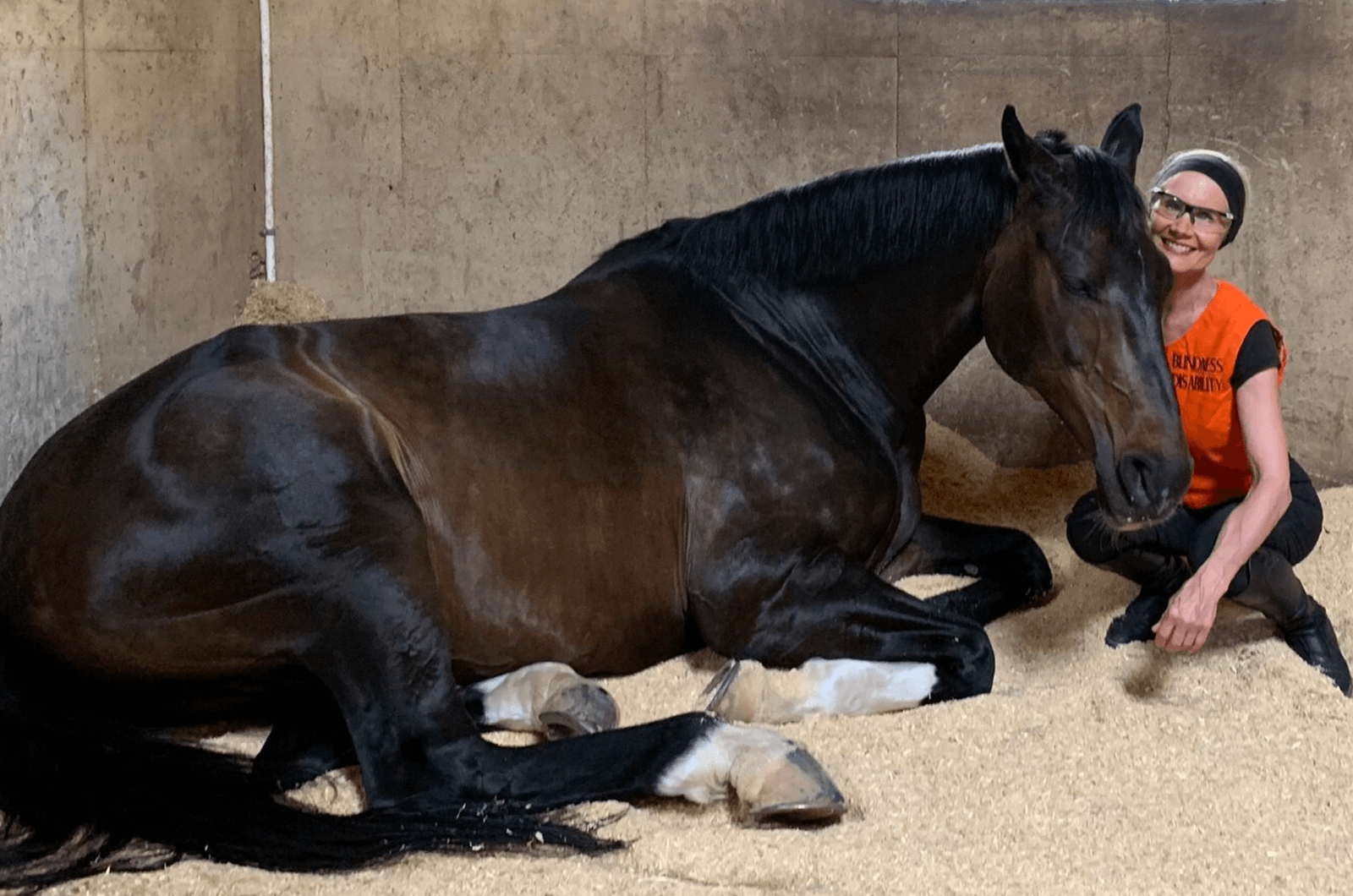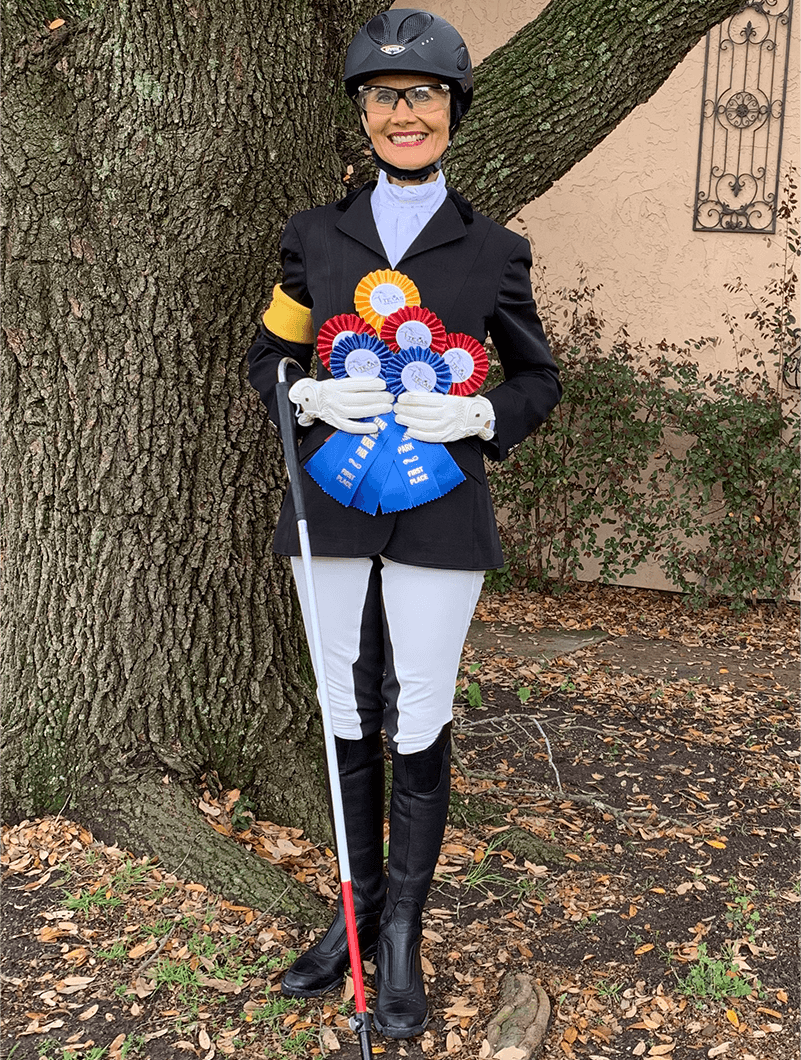 ---
The Ride of a Lifetime
In the equestrian world, "para" refers to a sport in which riders with a physical impairment compete on a parallel basis with able-bodied riders at an Olympic level. McAlexander follows the same training and during competition, executes the same precise movements required of any elite dressage rider. Yet she is legally blind, with no light perception in one eye and only a tiny straw of center vision in the other eye. She was just 24, and a scholarship performance violinist at the St. Louis Conservatory of Music, when she was diagnosed with the genetic disease, retinitis pigmentosa.
It was initially a bitter pill. However, she was sustained by her lifelong love of music, realizing that "there is nothing more joyful than making sound." She chose to refocus on piano and from that point, there was no looking back, nor any adversity that kept her down for long.
"Adopting the mindset that you will conquer and not be conquered will ultimately change you," McAlexander says. For her, the term "vision" took on a far more important meaning than just being able to see. "Losing eyesight is far less significant than losing vision beyond eyesight," she adds.
McAlexander went on to earn a master's degree in piano performance and flourished during a 28-year career as a professional pianist and educator. She wrote music, created a charitable foundation to advocate for the disabled, and built a motivational speaking career.
"I try to take that little straw of light from what's preserved of my eyesight and use it to open others' eyes to what's possible, to find their dreams," she explains. Not surprisingly, she finds that equestrian sport offers powerful lessons in life skills—such as discipline, faith, trust, strength, and compassion—that matter in an often unpredictable world.
The Toastmasters Connection
Toastmasters has had a strong influence on her life. McAlexander joined Capital Toastmasters in Jefferson City, Missouri, in 2016. She was an experienced public speaker but wanted to polish her talents for yet another passion—advocating for the disabled through her charitable foundation, Vision Beyond Eyesight, Inc. The foundation focuses on public education, dispelling stereotypes, and supporting horseback riding opportunities for disabled individuals.
"Dealing with negative attitudes and awkwardness toward me as a blind woman was a tremendous challenge," she says. "I wanted to change others by speaking about it. I wanted to take all my experiences, good and bad, and inspire people." Toastmasters helps her do that, every time she speaks.
"Toastmasters teaches us to go into any arena in life with confidence and the communication skills to hear and be heard," she explains.
As one who is quick to see connecting concepts, McAlexander likens the nonverbal communication practiced in dressage to what she's learned in Toastmasters. Dressage builds on learning progressively difficult skills, just as the Pathways learning experience does.
Quick thinking, the kind perfected through Table Topics®, has been especially useful in dressage, McAlexander explains. Any unexpected action near the ring—a loud noise, an unexpected gust of wind, a flash of color in the crowd—may unnerve the performing horse. The rider must react quickly, sending a clear quick message to keep the horse confidently on track with the required movements.
Her horse, a superbly trained and confident athlete, is an excellent "Toastmaster" colleague, McAlexander laughs.
Keep Calm and Ride On
McAlexander sees every day as an opportunity to rise above challenges meted out in an often inexplicable world and is passionate about sharing that ideal. She knows this for certain—if you're bucked off the horse, get back on.
"I've learned that victory is not measured by the color of the ribbon, the wealth or position of the individual," she says. "Victory is measured by the adversities, obstacles, and failures that one overcomes in trying to achieve victory."
It's a parable she's had a lifetime to prove.
Linda Sullivan, DTM, of Capital Toastmasters in Jefferson City, Missouri, contributed to this article.
---
Stephanie Darling
is a former senior editor of and frequent contributor to the
Toastmaster
magazine.
---
---