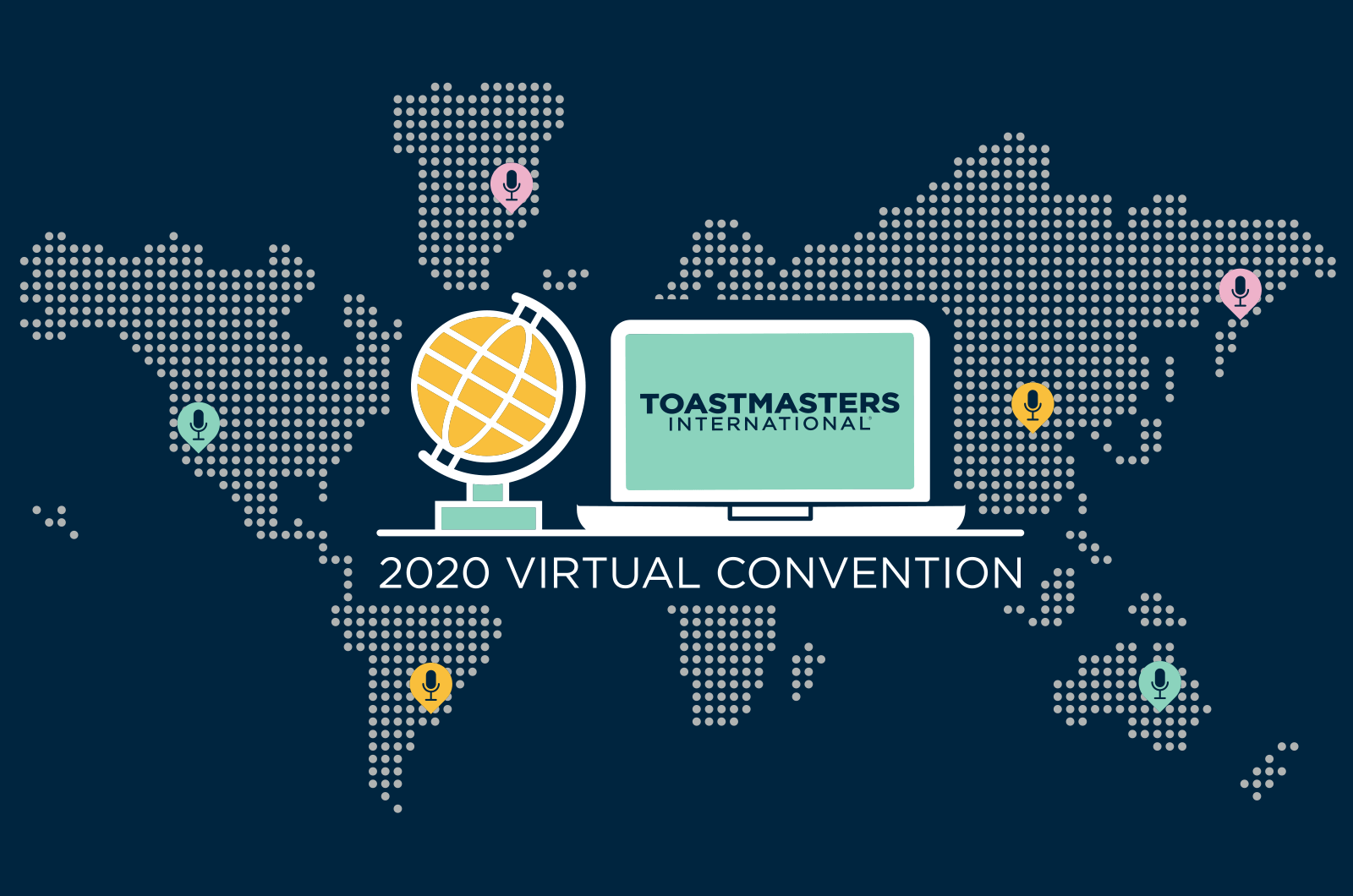 The show will go on.
Despite the tumult of a year like no other in Toastmasters' history, the 2020 Virtual Convention will take place this month, continuing the annual celebration of achievement and fellowship the organization has presented for nearly 90 years.
Fears and fallout from the coronavirus pandemic prompted Toastmasters International to move the 2020 convention, scheduled for Paris, France, to August 2021. Instead, this year's convention will occur online, spread over six days, August 24–29. It is free for both members and non-members. Though the viewing will be virtual, members will still have the chance to enjoy such convention staples as the World Championship of Public Speaking®, the Golden Gavel award presentation, the Annual Business Meeting, and even the beloved Toastmasters sing-a-long, again led by Past International President Ted Corcoran, DTM, of Dublin, Ireland.
The program's online nature, free of the logistical constraints of in-person gatherings, will expand the breadth of the event. Instead of the usual eight to 12 education sessions, the convention will have 14 such sessions, each one led by a presenter from one of Toastmasters International's 14 regions around the world. Speakers include Distinguished Toastmasters Ellie Kay of Region 2 ("The Five Partnerships Every Toastmaster Needs"), Dineshrie Pillay of Region 11 ("Humanity Will Rise as a Force, Stronger Than a Disease"), and Suhail Nasir of Region 14 ("Win Hearts With Humor"). (The selection of the 2020 Golden Gavel winner had not been announced as of publishing time.)
Attendees can join the convention from a computer or mobile device, and if you can't view an event live, you will have the chance to watch it the next day On Demand. Convention events will all take place in Greenwich Mean Time (GMT).
The opening ceremonies will be a shortened session and will include a digital flag ceremony and a keynote speaker. Semifinals of the International Speech Contest will be shown over two days, and the eight winners will compete Saturday, August 29, in the World Championship of Public Speaking.
After the Annual Business Meeting on August 28, proxyholders will be given 24 hours to vote for International Officers and Directors and the Toastmasters proposals A and B. The election results will be announced August 29 and that segment will lead straight into the inauguration of the new International President—a first, since those two events are typically held on different days. Though a dinner and dance can't be held online—unless members get creative!—that soiree will be rescheduled for the 2021 convention in the City of Light.
Registration is now open for the 2020 Virtual Convention. Find out more information on the Toastmasters convention webpage.