March is a good time during the Toastmasters year to review how you and your club are doing and set new goals. A good place to start is the way we welcome guests—a topic that's important to every club. Guests can become new members if the right steps are taken. What is your club's process for welcoming guests? Can it be improved?
Many guests find a club by visiting the Toastmasters website and searching the "Find a Club" section. Make sure your club's information is accurate. Is your meeting address correct? Are the right meeting dates listed? Giving guests wrong information before they visit makes a dismal first impression. When I am searching for a club, I want to look at its website. If your "Find a Club" listing doesn't already link to your club website, be sure to add it.
Now let's look at the meeting itself. I asked members about how their club manages guests' experiences. Most clubs do a good job of greeting guests before the meeting begins. These clubs go one step further. Clement Pepe in Southern California says, "Guests at Challengers Toastmasters club are greeted by as many members as possible, and we seat them with an experienced member to guide them through the meeting."
At the Riverside Breakfast club in California, "the member sitting next to a guest is expected to introduce the guest to the club, so they make sure to get some pertinent details," says Roxann Andersen.
Powerhouse Pros in Las Vegas meets in a separate room of a restaurant, and members gather for dinner in the main room before the meeting. If a guest comes early, club members ask the person to join them for dinner, says club member Melanie Hope.
Most clubs, although not all, have some sort of guest packet. The contents vary, but many include a membership application, the Toastmaster magazine, information explaining the organization and, sometimes, details on the Pathways learning experience. At the Ahead of the Curve club in Las Vegas, Vice President Membership Gail Swift gives guests a choice between a hard copy and an email version of the packet. She says that 90 percent of guests opt for the email.
"Giving guests wrong information before they visit makes a dismal first impression."
All the members I talked to say their clubs introduce guests at the beginning of the meeting. Some clubs also give the guest a name tag or tent card with their name on it. Some just verbally acknowledge the guest, while others ask them to stand, introduce themselves and tell why they came.
Jackpot Speakers in Las Vegas adds a little humor to the introduction. Dianne Hunter says, "After all the introductions, the president says, 'Don't be afraid that we'll ask you to join,' and all members say, 'We will!'"
Elaine Lung of Silicon Valley Storytellers in San Jose, California, shares a key point about guest introductions. Keep them short. "It's important to keep this part of the meeting fast, so that the meeting maintains momentum and you don't let the energy dissipate."
Approaches to Table Topics vary. Many clubs give the guest a choice of whether to participate. The Challengers club in Irvine, California, offers guests a choice—answer a Table Topics question or tell the group about themselves. Reg Boaler in Vancouver, British Columbia, has a different viewpoint. He believes only club members should be asked to participate in Table Topics. Watching the members do this activity "whets the appetite of the guest who is seeing that Table Topics can be a fun and lively experience, and encourages them to sign up as a member," he explains.
I can see the benefits of each approach, although I personally prefer the Challengers model: Let the guests decide whether to participate in Table Topics or talk about themselves.
There is much to consider when it comes to making a good first impression on guests. If your club has a unique practice you think would transfer well to other clubs, we'd love to hear about it. Let's put our heads together to make each Toastmasters meeting a memorable experience for each of our guests.
---
---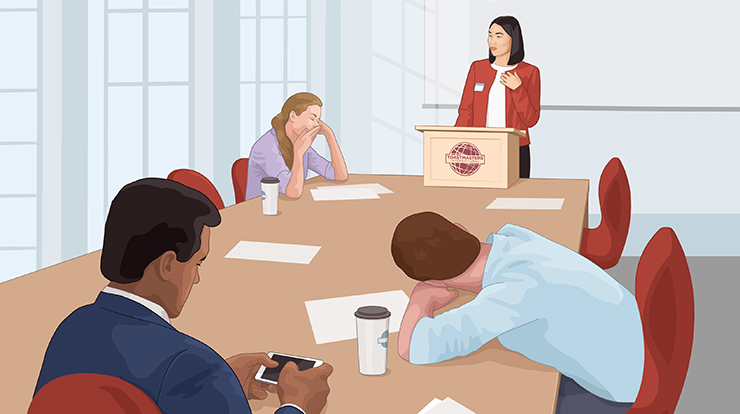 ---