Speaking in front of an audience takes courage, but doing so after tripping on your shoelaces or fumbling with your props takes a whole different kind of bravery. Public speakers experience embarrassing moments regardless of their level of experience. Below, Toastmasters share their most cringe-worthy stories—and how they can laugh at them.
Close Call
The speech topic was "Breaking the Shackles." The gimmick was that I was handcuffed behind my back. No trick cuffs. I rehearsed many, many times, but when the big moment came, I couldn't get the cuffs off. Finally, I did it, but I was sweating! Learned my lesson: Always have a backup plan.
Marty Gallagher, DTM
2 ChangeU • Plano, Texas, U.S.
Mocha Mishap
When I served as area director, I visited a club located in a building that had a coffee shop in the lobby. Since I arrived early, I treated myself to a mocha latte. Then I went to the meeting, where I introduced myself to the group, talked about how great their club meeting was and how I looked forward to getting to know them all during the year. I felt incredibly energized afterward and headed back to my car. When I looked in my rearview mirror I was horrified! My mocha latte had sprayed out of the tiny hole in the lid of my cup and covered my nose in mocha freckles! Let my embarrassment be a warning to you: Check a mirror before you step in front of an audience.
April Romero
TGL Toastmasters • Arrington, Tennessee, U.S.
Hair Dye Disaster
Before participating in an International Speech Contest, I decided to dye my graying hair. I tried a new product, and my hair turned bright orange! I still wanted to give my speech, so I tucked my hideous hair under a cap and performed. I showed my hair to a couple of people and hightailed it for home to dye it again.
Susan Friesen
Pinta Club and Santa Maria Toastmasters • Santa Maria, California, U.S.
A Bagpiper and a Blooper
On the 25th of January every year, our club hosts a Burns Supper—the traditional birthday celebration of Scotland's national poet, Robert Burns. The evening begins with a ceremony to welcome in the "haggis," the traditional supper dish. Two years ago, I was the first woman in the club to recite Burns's humorous poem, "Address to the Haggis," a long poem written in old Scots.
The kilted bagpiper entered the room, followed by the haggis-bearer holding the haggis aloft on a silver platter. The music stopped and I began "the address." Using all my Toastmasters skills, I recited the poem with verve and vigor. Then, during a particularly dramatic part, out of my mouth popped a very rude English word. Twenty-five startled faces looked at me. Then, in a heartbeat, my Toastmasters training took over. I smoothly glossed over the word and carried on as if nothing had happened.
Moira Beaton, DTM
Waverly Communicators • Edinburgh, Scotland
Breaking Barriers
During a Toastmasters meeting held in a hospital, I leaned on a flexible wall that had a door to the next room. The door was not secure, and I fell through to the next room where a class for expectant parents preparing for childbirth was taking place. Needless to say, we were all very surprised!
Susan Brooks, DTM
Talk of Monmouth and No Limits Toastmasters • Tinton Falls, New Jersey, U.S.
Jingle Bell Remix
Last December, I signed up to speak at our Toastmasters district holiday party and wrote a short, humorous speech about the lack of snow in our area of Southern California. I made it into a rhyme to sing to the tune of "Jingle Bells." I practiced for weeks and included comical motions and facial expressions.
When the day came, the director led the audience in group singing for 10 or 15 minutes, so when I was called up to speak, my fellow Toastmasters mistakenly thought I was leading another sing-along. As I began belting out my humorous lyrics, their voices overpowered mine with the actual words to "Jingle Bells." All I could do was smile as I continued to sing my short, original song. When I was almost finished, the crowd realized they were singing over my performance and stopped. I ended with a quick bow and raced back to my seat.
Carolyn Bolz
Talk On Main Toastmasters • Riverside, California, U.S.
Bad Timing
Every Toastmaster at some stage in their career experiences a moment of embarrassment. It comes with the territory! Mine came when I was vice president public relations for my club and I was responsible for managing the club Facebook page. I came home late one Wednesday night after our usual club meeting and, before I went to bed, I posted about an event our club was to host. I was feeling tired at the time but didn't realize the mistake I had made until the comments started to fly in from club members with great hilarity: I had posted that the event was to take place at 2 a.m.! Needless to say, a swift retraction took place.
Gemma Costello
Vox Populi Dublin Toastmasters • Dublin, Ireland
Dentures Debacle
I am 56 years old and have upper dentures due to an accident. I forgot to glue them in one night and the next day I gave a speech in front of 50 people. During my speech, they came out! I caught them and hurriedly put them back in without missing a beat—but what a nightmare.
Bud Rigoulot
Success Speaks • Spanaway, Washington, U.S.
Nerves Get Moving
For my Ice Breaker speech 25 years ago, I was very nervous. I stood behind the lectern and held on tight so the audience could not see my knocking knees. I thought I had done a good job of hiding my nervousness until I saw the green light. I stopped mid-sentence and went to sit down. As I left the lectern, I discovered that the lectern and I had traveled across the front of the room until it was against the wall. The heavy, wooden lectern did not have wheels. It was a difficult lectern to move when done intentionally! I was horrified when I realized what had happened. I knew the audience knew about my nervousness. My evaluator was very kind and supportive in the feedback she gave me. If she had not been, I might not have given another speech in Toastmasters.
Mary Swanson, DTM
Minnesota River Valley and Super Speakers • Jordan, Minnesota, U.S.
Man Almost Down!
During a retelling of a folktale, I gestured wildly as I described the story of a man who unfairly lost a bet and had to cook a feast for his friends. In the story, the man is spotted standing on a table in his kitchen, stirring a pot of stew hanging above a lit candle. At the last moment, I decided to act it out by standing on a nearby office chair with wheels. I waved my arms like a maniac to not fall off the chair. Luckily, I managed to stay upright and continued with the story. I ended up with a few strained muscles and a very funny evaluation.
Chuck Field, DTM
Gator Club and Talking Gators • Gainesville, Florida, U.S.
All public speakers are bound to stumble, fumble and try things that fail from time to time. Learn to laugh at yourself and the audience will laugh along with you.
---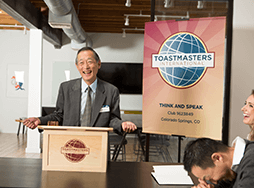 ---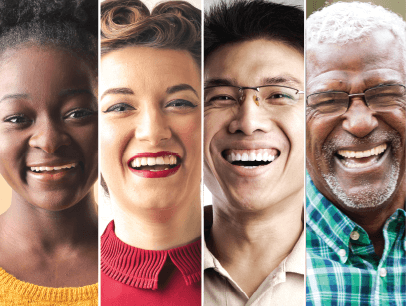 ---