I learned more in one year serving as club president than I did in the two years of completing my MBA," says Deepak Gupta, former president of the Toastmasters Club of New Delhi. Some may laugh at that statement. How can you compare Toastmasters with a structured Master of Business Administration (MBA) program? But Gupta has a point. Toastmasters provides opportunities for growth that are not offered by many other educational institutions; Toastmasters prepares you for life.
Natalee McKenley, presently a District 84 area director (Central and Northern Florida, U.S.), is a former president of the Toasting 601 club in Jacksonville, Florida. She agrees the role of club president aligns well with an MBA curriculum.
"Some of the similarities include learning to prioritize and manage an ever-changing schedule," she says. "The president's role has been like serving as the group leader in various projects during my MBA studies. Learning skills like how to delegate, gather people, and execute as a team are crucial."
The president's role has been like serving as a group leader in various projects during my MBA studies."
—Natalee McKenley
"Most of all," she adds, "is the need to constantly present! Like MBA studies, where project presentations are constant, I research and give speeches regularly in Toastmasters. I am in front of my peers every week, presenting some new information, gathering feedback, and executing on plans. I wish I knew about Toastmasters before I completed my degree. It would have made my classes a lot easier!"
The art of managing people and resources is the biggest challenge leaders face; Toastmasters is the laboratory that produces leaders who practice and perfect these skills.
These specific leadership and management skills cannot be learned elsewhere—skills such as motivating a member volunteer team; helping fulfill the club's mission; enthusiastically implementing the Club Success Plan; and encouraging a club culture that inspires, motivates, and supports members and other volunteer leaders.
As the philosopher and writer George Santayana said, "The great difficulty in education is to get experience out of ideas." Toastmasters combines education with experience in a learn-by-doing format that effectively prepares us for life.
Deepak Menon, DTM
International President
Watch the video below to hear from Toastmasters International President Deepak Menon as he addresses District leaders on the importance of inspiring clubs to achieve their goals.
---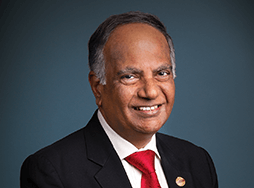 ---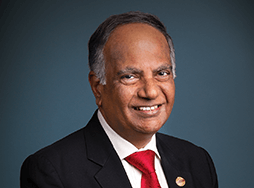 ---