Karen Saelens, ACB, is the chief operating officer for UnitedHealth care Community Plan. She's worked as the executive director of the organization's long-term health care plan and its Medicare product since 2012, and has been a member of Arizona's UHC Phoenix Toastmasters club since 2014. She began her Toastmasters journey in 2007.
Alexandra Quijada works as a compliance analyst for the same company. She learned about Toastmasters from her co-workers. She wanted to overcome her fear of speaking to large groups, so she joined Saelens' club where she serves as secretary.
Why do you want to recognize Karen as your mentor?
Karen is an incredibly busy woman, yet she enjoys volunteering. She takes the time to review my speeches and helps me make sure they flow. I am grateful for her editing skills, constructive criticism and encouragement. She is a great cheerleader and an all-around positive person. She helped me become more confident.
What was it like to give your first speech?
At first, I was nervous, and probably even more so because Karen was evaluating me. You could say I was starstruck, because Karen is like a celebrity in our club. I felt that I messed up my speech and was reluctant to hear her feedback. I prepared for the worst, but after hearing Karen's feedback I left the meeting feeling encouraged, positive and happy.
What do you appreciate most about Karen being your mentor?
The best part about Karen's mentoring style is that she is real, she is positive, and she doesn't butter anything up. She gives it to me straight, and I really do appreciate that. I always look forward to hearing her constructive criticism on what I can do better. She has a way of giving feedback in such a positive and encouraging manner! She helps me let go of any negative feelings I have about myself after my speeches.
What have you accomplished with Karen's help?
She stresses the importance of tying things together in a story. Because of that, I've delivered more interesting speeches and have become a better writer. She makes sure I'm thinking about keeping my audience interested and engaged.
For more information on mentoring, download the
Mentoring manual
.
---
Nominate your marvelous mentor!
Send us a 200-word description and photo (1MB or larger) of you and your mentor.
---
---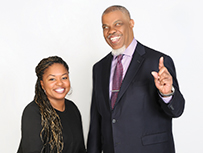 ---

---