Myles Drake was living life in the fast lane as a recent university graduate working for a race car team in the United States. As a design engineer building rally cars for championship teams, the 24-year-old was in his element.
Despite landing his dream job at a young age, Drake, who hails from the small town of Grimsby, Ontario, Canada, did not feel fulfilled by his work. After a year and a half with Subaru Rally Team USA, he began seeking a different future, one that involved connecting more with people. After discovering the organization Live Different, a nonprofit that delivers motivational presentations to students across Canada, Drake, CC, found what he was looking for.
Drake, now 26, draws from his adventurous life experiences and the speaking skills he's learned from the Toastmasters of Greater Burlington club to captivate his young listeners. He has successfully presented to more than 25,000 students across 55 schools in five Canadian provinces.
You joined Toastmasters at age 25. Why?
I heard about Toastmasters through a presenter named Brendon Burchard, who was giving a seminar called "High Performance Academy." In the Q&A portion someone asked, "What is the best way to get involved in public speaking?" He mentioned Toastmasters. I kept hearing how it provides an encouraging environment, regardless of skill level. I decided to join because I wanted to get comfortable engaging with an audience as well as speaking without notes.
How did you get involved with racing?
As a teenager I raced motocross in the U.S. and Canada and my goal was to race professionally. My life revolved around the sport—I was obsessed, to say the least. When I didn't make the cut as a racer, I wanted to at least help other people win, so I attended engineering school with the intent of working on a race team. Before my final semester, I flew to England and applied to all of the Formula 1 teams and big-name race teams. I found an engineer role for Subaru Rally Team USA and showed up for a "tour" of the facility, with my resume in hand. I stuck around and got a chance to speak to the chief engineer. What I lacked in work experience, I made up for in enthusiasm and landed the job.
Working for a race team is a fast-paced, high-stakes, big-budget frenzy. It was challenging, fun and adrenaline-filled. But no matter how hard I worked, I couldn't connect to a sense that I was helping other humans. Throughout university I had spent quite a bit of time as a volunteer for "City Kidz," a program for inner-city youth. There was so much fulfilment in that; I knew I had made an impact there. That's what I was looking for.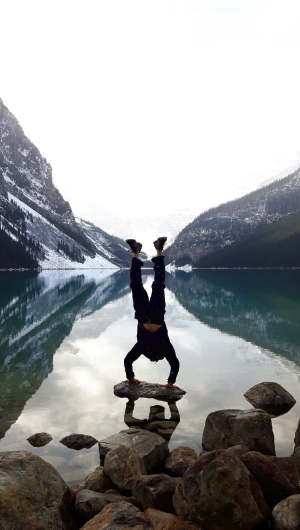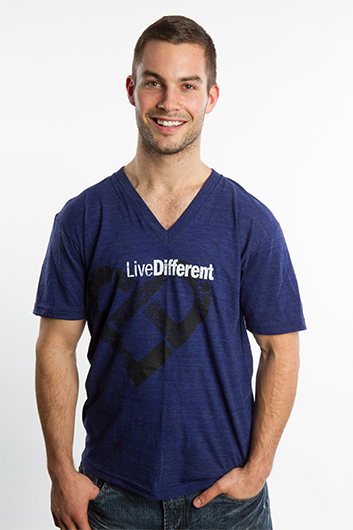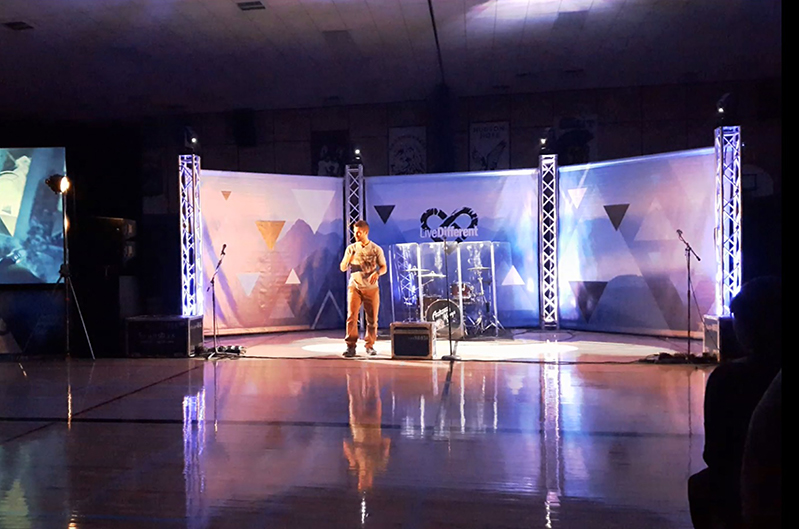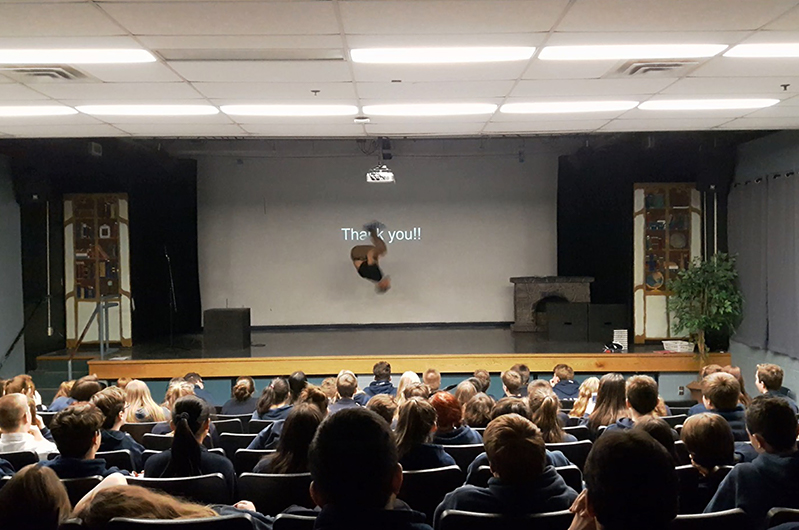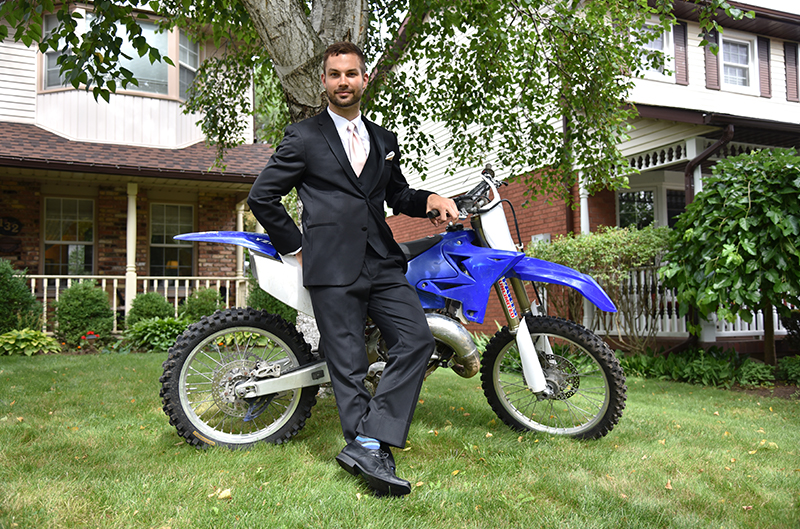 ---
You then applied to Live Different. What is that?
Live Different puts together motivational and inspiring presentations for middle and high school students across Canada. They also organize home builds in Mexico, Dominican Republic and Haiti.
The organization has three separate tour buses with routes all across Canada, reaching over 100,000 students per year, with audiences ranging from 15 in the Northern Indigenous Tours to 1,500 in the bigger cities. The presentations revolve around a theme, like: "Choose Empathy First" or "Own Your Story," and they have speakers, a high-energy band and inspiring videos to captivate the audience. The goal is to empower youth and provide character development support, and inspire students to make a positive difference in their world.
Tell us about your cheerleading and yoga experience.
In high school the cheerleading coach told me that she'd teach me how to do a backflip if I joined the team. Then, when I got to university, the cheerleading team had a coach specifically for flipping skills, so I had to join. Cheerleading is not an easy sport, however. Although I was very strong, I was not flexible, and my compromised form went directly to my lower spine and grinded away my lowermost spinal discs. I was in chronic pain at age 21.
Six months of hot yoga allowed my back to heal, though breaking my bank account. I realized I could make money teaching yoga instead of spending money doing yoga. I flew to India where I took a course on how to become an instructor.
How do you incorporate these talents into your presentations?
During the Live Different tour, before I share my story with the students, I walk to the microphone on my hands (handstand walk). It makes the kids go nuts, and significantly increases the amount of interactions after the presentations.
"I incorporate rhyme, beatboxing, acting, anything—it is all fair game. That allowed me to develop a sense of my strengths onstage for the students."
We also had a special challenge for the students, where they would text a number and receive instructions on how to facilitate meaningful conversations at school. If enough students participated, I would do a backflip on stage, or something related. It caused the students to participate more, and I absolutely loved doing it. Those were all tricks that I had picked up during my cheerleading days, and the yoga helped with the handstands.
Why do you like speaking to kids?
Because I know the potential involved. There's something about showing up and sharing the highs and lows of our lives that have shaped who we are today that allows the students to connect. The main topic I speak about is empathy.
After the presentations, students come up to us and let go of something they'd been holding on to, and you can see that sense of release, and it opens up that path of communication. My most memorable story is of a young boy who told me (while holding back tears) about his dad who had passed away in a house fire. He could barely get it out. I wondered why he was stuttering so much, but I was patient. It had happened years before, and this kid, maybe 12, was trying to "tough out" this experience. After he told us, his personality flipped; he was happy. It was just a surreal experience. We get stories like that almost every day on tour.
How has Toastmasters helped you?
The coolest thing about Toastmasters is the community. It is such an encouraging environment, that often the members believe in me more than I believe in myself. You can't help but be lifted by that. There's no such thing as failure, no matter how many lines I forget, how many times I stumble, it is always seen as "practice." I incorporate rhyme, beatboxing, acting, anything—it is all fair game. That allowed me to develop a sense of my strengths onstage for the students.
Toastmasters strongly encouraged me to step outside of my comfort zone, time after time, only to be met with encouragement. You can't beat that kind of training environment.