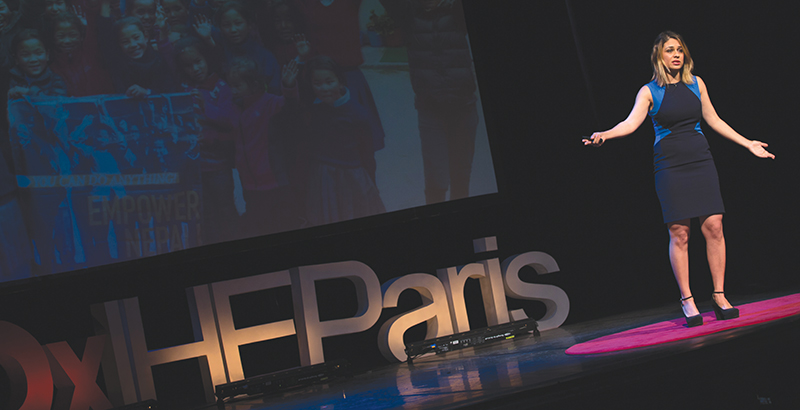 It's May 20, 2017, and I am about to give a TEDx speech in Paris. I only have 18 minutes to share with the audience how I survived a 7.8 earthquake while climbing Mount Everest in 2015. As I walk on the stage toward the round red carpet where the speaker stands, I find myself wishing that TED presentations didn't have the 18-minute time limit. Fortunately, I have been trained well in Toastmasters and know how to keep my speeches on time.
In fact, it is because of Toastmasters that I am giving a TEDx speech in the first place. Last year, as I was preparing for a trip to Paris with my family, I emailed the Busy Professionals Toastmasters club there to see if I could attend a meeting. The club wasn't scheduled to meet during that period, so club members invited me to a picnic by the Seine River. Members of three different clubs showed up with yummy snacks, and we all had a wonderful time together.
A couple of weeks later, one of the women I met at the picnic invited me to participate in this year's TEDx event at a Paris business school. (TED is the international program where diverse achievers give speeches about "ideas worth spreading"; independently produced TEDx events bring the concept to local communities.) I was so excited to share my story on such a big platform: Not only would a live audience see and hear me, but so could countless others around the world, since videos of TED-related speeches are available to anyone on the TED website.
There is such a spirit of camaraderie and generosity in Toastmasters.
The Paris TEDx drew almost 800 people, and it took place at the Théâtre de la Madeleine, built in 1924. In the weeks before the program, I was excited but nervous. I practiced many times with my club in Southern California to get more comfortable. Harry Yan, DTM, of my local club, and David Martin, ACB, ALB, of the Paris club, gave me great coaching tips. I could never have imagined doing any kind of TED presentation when I joined Toastmasters seven years ago! Giving that speech in Paris was a measure of how much I've grown as a speaker.
There is such a spirit of camaraderie and generosity in Toastmasters. I have definitely experienced that visiting clubs around the world. After I published a book last year, Follow My Footsteps, about my Mount Everest experience, I went on a book tour to share my message, and my travels included visits to Toastmasters clubs in many different countries, including Peru, Chile, France, Italy, Portugal, Malta, Turkey and Colombia.
I wasn't expecting the extreme kindness with which club members greeted and treated me. In Lisbon, Portugal, members offered to pick me up from the airport because their club meeting would be taking place just 30 minutes after my arrival. In Ankara, Turkey, club members invited me to stay in their homes so I wouldn't have to pay for a hotel room.
Members introduced me to their families, cooked me delicious food and gave me tours of their cities, showing me the hidden gems that tourists don't know about. Everywhere I went, I received love, warmth and smiles. I was not expecting to make friends around the world when I joined Toastmasters—this was a huge bonus!
My adventures continue. In February I will travel to Indonesia and then climb the Carstensz Pyramid, the highest mountain in the Oceania region. I'll also be visiting Toastmasters clubs during my time in Indonesia.
I feel so honored to be part of this ­organization. Thank you, Toastmasters, for all the wonderful opportunities you have provided me.
Sara Safari was profiled in the October 2015 issue of Toastmaster magazine. Watch a video of her TEDx speech.
---
Sara Safari, DTM
is a member of the Irvine Lunchtime Toastmasters club in Irvine, California. She is an author, speaker, mountain climber, college professor and advocate for women empowerment. Learn more about her at
www.sarasafari.com
.
---