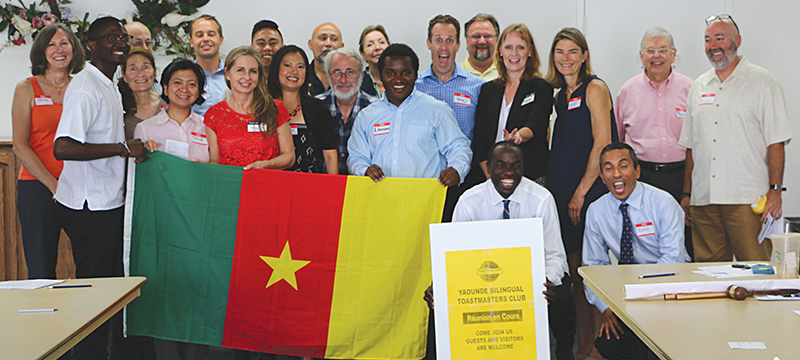 Two and a half years ago, I joined Toastmasters. The experience has been so valuable that I only wish I had joined sooner. Last year, I decided to embark on a High Performance Leadership (HPL) project.
HPL projects can help Toastmasters, your community, a professional group or some other organization. They enable members to grow as a leader by developing goal-setting, planning and team-building skills. I chose an HPL project that had deep meaning for me: starting a Toastmasters club in my homeland—Cameroon.
I was born and raised in this Central African country, and then I lived in France for about eight years. I moved to the United States 10 years ago and became a U.S. citizen in 2014. I'm currently a member of two Toastmasters clubs in Southern California.
After joining Toastmasters, I discovered there were clubs all over the world, including in many African countries. However, there were none in Cameroon. That's when I began exploring the possibility of starting and sponsoring a club there. I knew my fellow Cameroonians would benefit greatly from the program.
I started talking to my friend, Baba Wame, a journalist and university lecturer in Cameroon, about Toastmasters. "I was immediately sold, and was open to the idea of a new club in Yaoundé [the capital of Cameroon]," he says.
"I believe leadership and speaking skills taught through Toastmasters will truly make a difference here in Cameroon."
— BABA WAME, 2016–2017 PRESIDENT OF THE MOUNT CAMEROON CLUB
In December 2015, I traveled to Cameroon on vacation, and during the trip I talked to a group of Baba's students about Toastmasters. Their interest and enthusiasm motivated me even further to start a club there. Baba and I agreed to work on this plan. Since I live in Southern California, I knew it would be a challenge, but I delved into my HPL project with determination. My friend, Lionnel Yamentou, DTM—a Cameroonian native—and I made weekly calls via Skype to Baba and prospective members in Cameroon, talking to them about how Toastmasters works and the many membership benefits. They were all very excited.
I visited many clubs in Southern California to talk about my project. A number of members in Founder's District happily came together for a demonstration meeting that we recorded on video and sent to the Cameroonian group.
From these efforts, the Mount Cameroon Toastmasters club in Yaoundé was born. It held its first meeting on July 22, 2016. Baba was the club's first president, and Kim McFee, ATMG, ALB, and I are the club sponsors. Starting this club was deeply fulfilling to me. The club has about 20 members and they are all eager to learn. "As a teacher, I believe leadership and speaking skills taught through Toastmasters will truly make a difference here in Cameroon," says Baba.
Cameroon's two official languages are French and English; however, many of the country's residents do not speak both. Mount Cameroon club meetings are conducted in both French and English so members can improve their language skills.
A number of people helped me significantly in my HPL project, including my Toastmasters mentor, Chris Gregory, DTM, a member of two clubs in Southern California; my friend Lionnel Yamentou, a member of the All Nations Toastmasters club in Anaheim, California; Baba Wame in Cameroon; and several others. I learned a great deal about leadership and working with others toward a goal.
More Clubs in Cameroon
The Mount Cameroon club is part of a larger Toastmasters movement in the country. In addition to Mount Cameroon, two other clubs formed in Cameroon last year. The country's first club, Yaoundé Toastmasters, was started by Nadine Mbikina, ACB, ALS, at the beginning of 2016.
Nadine's story is interesting: She joined Toastmasters in 2010 after realizing how it could help her become more confident, especially in her career. She currently works for the United Nations as an operations officer in the Cameroon office of the World Health Organization.
"I wanted to be more confident, and now I am confident enough to push open doors," she says. "Before Toastmasters, I was waiting for doors to be open. Today I am waiting no more; I am opening doors."
Nadine belonged to a couple of clubs in the African country of Burkina Faso, and when she moved to Cameroon she started the Yaoundé club, which now has nearly 35 members. Because of her experience as a Toastmaster, she also helped guide the Mount Cameroon meetings when the club first started—a huge benefit to the new group.
She is a passionate advocate of Toastmasters. Nadine joined to improve her communication skills, but she has also developed as a leader. "Today I am helping others improve their communication skills," she says. "My [job] promotions in the past two years are proof that Toastmasters works."
At the end of 2015, Sylvie Ngompe, CC, ALB, began discussing the idea of a Cameroonian Toastmasters club with her American friend Doline Peterson, ACB, ALS, a member of three clubs in San Diego, California. With the help of many, the Langa Douala Toastmasters held its first meeting in September. The club currently has about 20 members. Sylvie, Langa Douala's first president, says the members are highly motivated and enjoying their experience.
Future Growth
The three Cameroonian clubs are officially part of District 94. In October, 2016–2017 District Director Ganiatou Sambaou, DTM, and 2016–2017 Area Director Jock Adammado, DTM, visited Cameroon to conduct the first club officer training program there. They conducted a second one two months later.
"I was really proud of our leaders who are discovering Toastmasters for the first time," says Ganiatou. "They were very happy to meet, connect and learn from us. We shared wonderful learning moments together. The interest is there. I felt the willingness, the curiosity and the desire to learn."
What a wonderful development: As of 2015, there were no Toastmasters clubs in Cameroon—and now, because of the fantastic leadership of the club sponsors and presidents, there are three clubs. And there is the potential for many more. The three clubs are in the country's two biggest cities—Yaoundé and Douala—but there is growing interest in other parts of Cameroon, as well, and the country's Toastmasters leaders are ready to spread the word!
Cameroon's members are extremely excited to be part of the Toastmasters family.
---
Donald Baliaba, ACS, ALB
is a member of the Helmsmen Toastmasters club in Huntington Beach, California, and the Money Talks Irvine Toastmasters club in Irvine, California.
---