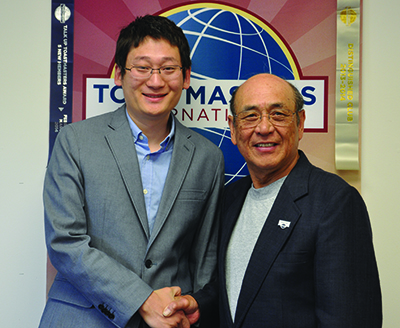 Area Director Jacob (Jay) Lam, CTM, is an Emeritus Professor of Clinical Microbiology at The University of Massachusetts Lowell. He is a member of two Massachusetts clubs: the New Life Toastmasters and Tyngsborough Toastmasters, of which he is a sponsor.
Originally from Guangzhou, Guangdong Province, China, Jay joined Toastmasters in the 1990s. Grateful for the skills he developed, he pays it forward by mentoring members, including Jianke (Jack) Li, who in 2013 moved from Beijing to the United States to work as an engineer for a multinational corporation. Jack learned about Toastmasters from a friend. He joined the New Life club in Chelmsford, Massachusetts, to learn more about American culture, become proficient in English and develop his leadership abilities. He earned an ACB and CL and in 2015 served as club vice president public relations (VPPR).
Tell us about Jay.
When Jay revealed he was a card-carrying member of the American Association of Retired Persons (AARP), we started calling him "Uncle Jay" out of respect. He says he is not retiring but is rewiring to keep on living, learning and serving at different Toastmasters clubs. He promotes interclub activities and has chaired district speech contests. When he was VPPR, he organized club activities, including a New England Maple Sugaring tour and a job-interview seminar.
How has he helped you?
Jay reviewed all my Competent Communication manual speeches. He continues to follow up with me on my progress and sends me informative articles on public speaking and leadership. Whenever I encounter difficulty, we brainstorm a possible solution.
What do you like best about him?
Jay's motto, "To serve and not to be served," impresses me most. His passion for Toastmasters motivates me to participate in all club contests. Sometimes I'm not able to carry victory but ­gradually my public speaking weaknesses are discovered and I gain confidence as I improve. Uncle Jay encourages me to keep on going!
---
NOMINATE YOUR MARVELOUS MENTOR!
Do you know an exceptional mentor who has positively influenced you? Send us a 200-word description and photo (1MB or larger) of you and your mentor.
---