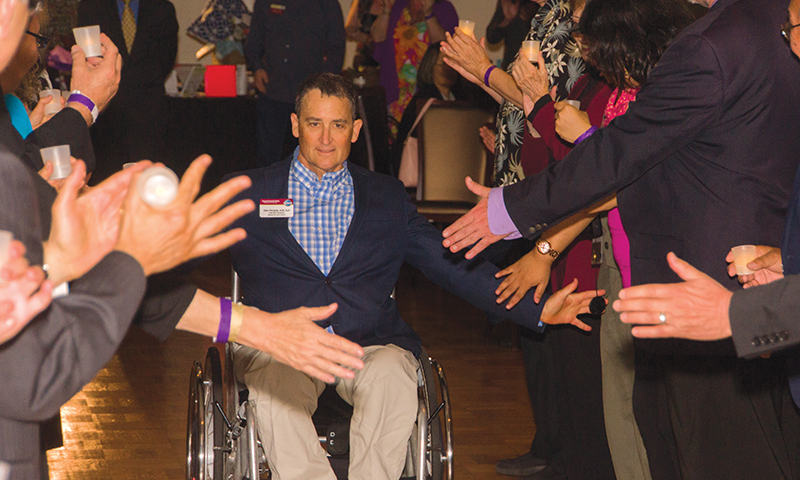 In May 1998, I was paralyzed due to a rare medical accident. I thought my life was over. How would I continue to work, take care of my children, be a husband to my wife and live the life I was used to living? I spent the next six months in rehab learning how to use my new body.
My legs don't work as advertised—but that is only a small portion of the challenges I face every day. Shortly after completing rehab, my wife and I went to a restaurant. The waitress came over, looked at my wife and asked, "What will he have?" while pointing at me. I felt ­invisible. This was not how I wanted to define my new "normal."
I didn't want to let my wheelchair ­define me, so I became an athlete to demonstrate my abilities and not dwell on my disabilities. Besides, walking is overrated. Rolling in style suits me just fine.
I participated in 5Ks, learned chi gong, lifted weights at the gym, began swimming and got special leg braces so I could walk. (Being vertical is not only good exercise, it keeps my bones strong.)
Routinely, I would roll a 5K but stop 100 feet before the finish line. An assistant would then attach my leg braces and help me stand up so I could walk across the finish line—victorious. After crossing, I would hold my forearm crutches overhead in a "Victory V" to show the world that I was also visible.
I didn't want to let my wheelchair define me, so I became an athlete to demonstrate my abilities.
When people look at me, I often ­wonder if they see me or a wheelchair user, and then conjure up their definition of who I am. For example, I stopped on my way through a neighborhood ­unfamiliar to me and reached down to get the water bottle from the pack below my seat. As I sat up, a woman on her porch asked if everything was okay. I replied that I was fine. Then the man next to her asked if I needed help crossing the street. Kind words on the one hand, but on the other hand, they made an assumption about my capabilities because I was using a wheelchair.
The only reason I own a wheelchair is due to that walking thing. Like many ­people, those people don't know who I am. They naturally made an assumption based on what I presented to them.
How could I get people to see me while I was riding a modern chariot? My answer came by way of a memory. When I was growing up, in the hallway of our house my dad displayed a plaque with crossed gavels on it, bearing the strange name Toastmasters. I thought being a master of toast was hilarious but thought nothing more of it until years later.
As a result of the challenges I face ­every day, I retired from my job of 11 years. I had a lot of time on my hands. I volunteered at a hospital for a while, bringing my service dog, Logan, to visit patients. One day my childhood memory about the plaque resurfaced, only this time I did an internet search for Toastmasters and, after all these years, I finally learned what it was actually about.
Intrigued, I found a club close to home. After attending a few meetings, I realized this was a way for people to learn about who I am, and for me to find my voice. In my first year I became a club officer and entered a Humorous Speech Contest. In my third year I became an area governor, overseeing many clubs, as well as serving as club president. Thirsting for opportunities to speak and lead, I joined a second club in my fourth year and became president of that club. Shortly after my fifth anniversary in Toastmasters I received the Distinguished Toastmaster award, achieved by only about 1 percent of the 345,000 Toastmasters members worldwide. Now when I speak, the chair disappears and people see me.
I genuinely hope my attitude and actions can inspire people to recover from adversity and achieve great things in the process!
---
Marc Richards, DTM
is a member of Quest Toastmasters, Valencia Toastmasters and Advanced Speakers of LA club, all in District 52. He shares his experiences in his book,
6 Days—The Events That Transformed My Life.
Find out more at www.marcSrichards.com.
---