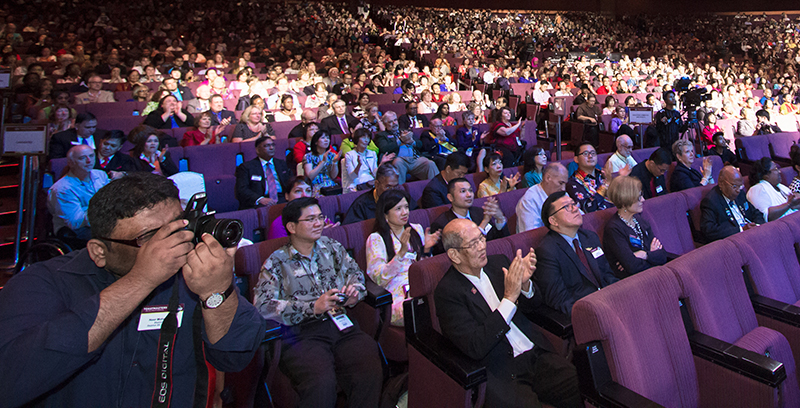 Ready to cheer? The speech contests at the 85th Annual International Convention take place in August, giving you plenty of opportunities to support the participants.
At this year's convention, to be held in Washington, D.C., 98 members—one qualifier from each district around the world—will compete in the the Toastmasters International Speech Contest semifinals. That's the largest number of members to ever compete in the semifinals. Come and support the representative from your district!
The top 10 contestants in the semifinals then vie for the title of World Champion of Public Speaking. That contest will be held Saturday, August 20. The speaking talent in the championship round is always impressive, making it an annual must-see event.
The encouragement of fellow members means a great deal to the competitors. Mohammed Qahtani, last year's World Champion of Public Speaking, says he was touched and inspired by the presence of fellow district members at the contests. He is from Dhahran, Saudi Arabia, in District 79.
"It makes a big difference in your performance when your district members are there in the audience cheering for you. For me, I know that if it weren't for them, I probably wouldn't have won.
"I was competing to make them proud."
If you are unable to attend the convention, you can still cheer on your district's winner—and others—by watching the contest online. Live streaming coverage of the semifinals and championship round will be available.
The convention is August 17–20 at the Marriott Marquis Washington, DC. Register at www.toastmasters.org/Convention.