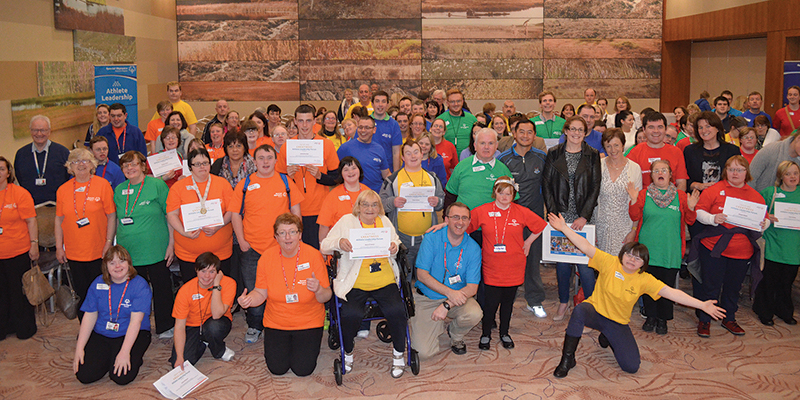 Like many members, I worked my way through the manuals, served in various roles and sponsored a club. However, what I value most from my 13 years in Toastmasters is how my club has reached out to benefit others. Seven years ago, we were asked to assist with a workshop on public speaking for the athletes of Special Olympics Ireland.
Special Olympics is a worldwide athletic organization for people with intellectual disabilities. The athletes participate in sports events, including every two years at the Special Olympics World Games, and participants can be interviewed or invited to give talks in schools. Those over age 16 can gain experience with public speaking through the Special Olympics Athlete Leadership Program, and they can even win bronze, silver and gold awards.
Sounds a bit like Toastmasters!
Like many projects that start small, our club's involvement in the program expanded as more club members volunteered their time. The workshops that Tara Toastmasters has helped with have been run by the Eastern Region of Special Olympics Ireland and the National Athletes Leaders Forum. It is possible in one day to have up to 80 Special Olympians in the three different sessions we conduct. In July 2015, Team Ireland sent 88 athletes to compete in the summer games in Los Angeles together with nearly 7,000 athletes from 170 nations.
We do not join Toastmasters just to speak at Toastmasters, but rather to be able to use our skills in other areas of our lives.
Joanne Kelly, regional development officer for Special Olympics Ireland, says, "Before Tara Toastmasters was involved in Athlete Leadership, we had fewer than 70 athletes taking part in the Leadership Program. Today we have 210. I believe the facilitating of workshops by Tara is a massive factor in this."
This expansion happened for two reasons. First, we received good feedback both from the Special Olympics staff and from the athletes' mentors (each athlete has a mentor, often a family member, who accompanies them to the events). Second, we had several club members volunteering to conduct the athletes' workshops. We have now built up valuable expertise in our Tara members and we can easily adapt our program to suit the level of athlete experience (some may have done workshops with us before and others may be first-timers).
The objectives for every workshop are to help the athletes practice public speaking. I start a typical workshop with a welcome. Next we have a relaxing musical "warm-up" period. After that, I introduce four Tara Toastmasters who speak for one minute each on the importance of smile, voice, eye contact and gestures. We repeat these words in a PowerPoint loop throughout the day.
Our team provides three types of sessions:
1. The Ice Breaker: We talk to all athletes in our group about themselves. Next, each athlete speaks to the group (or to the whole room, if time permits).
2. Storytelling: Each athlete chooses a prop—for example: a picture card, toy or teddy—and is asked to tell a story about it. Speech structure is taught but we also emphasize the use of exaggeration and having fun.
3. Interviewing skills: For the more experienced athlete we introduce the use of a microphone.
All of our club members have gained from their involvement in Special Olympics Ireland. It is heartwarming to arrive and be greeted by name by the athletes. Our workshop "template" is simple and could be followed by any club.
As we say in Tara: We do not join Toastmasters just to speak at Toastmasters, but rather to be able to use our skills in other areas of our lives. We are certainly richer for our involvement in Special Olympics Ireland.
---
Pat Cowley, DTM
is a member of Tara Toastmasters in Dublin, Ireland. She is a recently retired school librarian. Her hobbies include bridge, reading, playing tennis and enjoying her eight grandchildren.
---