Piotr Chimko, DTM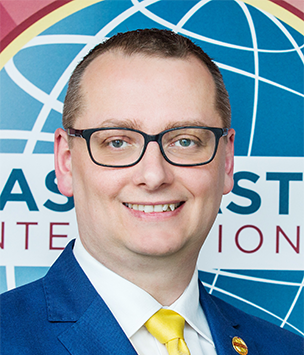 Member Since:
2009
Home Region:
10
Home District:
108
Supporting Districts:
59, 71, 91, 95, 107, 108, 109, 110
Toastmasters offices held and terms of service (international, region and District level):
2019-2020 Immediate Past District Director
2018-2019 District Director
2017-2018 Program Quality Director
Toastmasters honors and recognition:
2018-2019 President's Distinguished District Director
2017-2018 Excellence in Program Quality Award
What is your understanding of the Region Advisor role and how does your experience relate to the role?
Region Advisors act as enablers for the District leaders to fulfill the District mission. They facilitate exchange of experience between District leaders, serve as a source of knowledge for District leaders and support them in resolving challenges they encounter. Some of the roles I had in my professional career had similar profiles, like internal auditor, business process expert or financial controller. In those roles I acted as a facilitator for business leaders in achieving respective business goals.
What is your experience with coaching individuals and/or teams?
My leadership style is a combination of democratic and coaching. I have been managing teams in such a style for more than ten years. On top of that, I supported a number of individuals, in and outside of Toastmasters in achieving their personal or professional goals.
Why are you interested in serving as Region Advisor?
I want to be close to the main course of events in our organization, keep learning and keep serving the Toastmasters community with my experience and skills. This role has it all.