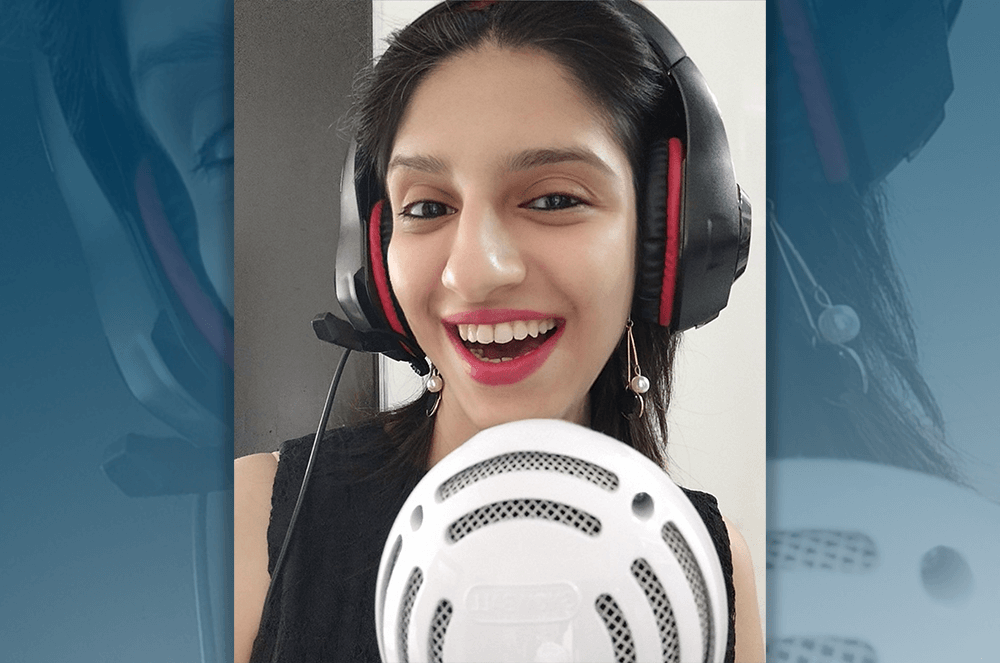 It all started back when I was still a media student at Devi Ahilya University, in Indore, a city in Madhya Pradesh, India. As senior-year students, my classmates and I collaborated on writing a Hindi radio drama, based on a story by the famed Indian writer Premchand.
When it was time for the first recording session rehearsal, we arranged the microphones, stands, and mixing console in a studio surrounded by acoustic walls. The voice artists who lent their skills to the characters we had created started arriving one by one. To our dismay, we discovered that one of the artists—the female lead—had a sore throat and couldn't record. Someone had to fill in. That someone was me.
I went to a microphone and put on headphones. I began voicing my character's patches of dialogue. After some initial jitters, I became totally immersed in the performance, as if the story of the rebellious woman Gangi was my own.
I realized how much fun we can have with our voices and how they can be such a meaningful tool of expression. There was rhythm in the way the dialogue flew from the pages. After several more rehearsals, hearing my voice on playback filled me with excitement.
There was no looking back. I wanted to be a voice artist. I started doing freelance voice-over projects for documentaries, radio segments, and television commercials. I worked as a disc jockey for the university's radio station. Even after I completed college, I kept working in Mumbai as a voice-over artist for corporate videos and IVRs (Interactive Voice Response)—an automated phone-system technology.
I realized how much fun we can have with our voices and how they can be such a meaningful tool of expression.
And then marriage happened. My attention shifted to my new home, and I soon felt my passion for voice work fading. My career went on standby. Years later, I joined the university as a lecturer, teaching media management to undergraduate and post-graduate students. My communication skills had grown rusty, but I realized that to be an effective teacher, I needed to boost my confidence onstage. My husband suggested Toastmasters.
I joined Impact Toastmasters Club of Indore, and slowly but consistently I completed my Pathways projects. One of the Level 4 electives was "Creating a Podcast." I pictured myself taking the mic again, lending my voice to story characters.
On my mobile phone, I recorded a few stories that I had written for my children and played them for my Toastmasters mentor. He suggested I record them on a high-quality microphone and upload the recordings on YouTube.
While I have been praised for my voice modulation in my Toastmasters speeches, what I missed was the technical aspect of voice recording. I needed to embrace the new technology. This was when COVID hit the world, and I couldn't access recording studios physically. So with some technical assistance from my friend Sourabh in setting up a home studio, I created a YouTube channel and made podcast videos for my children's classmates.
I played five- to 10-minute podcast segments for my Toastmasters club and received important feedback about translating the English stories into Hindi, to help the native Hindi-speaking children enjoy them more. The feedback helped improve my podcasts. Here I was, reliving my passion, adding drama to my story, rehearsing, and living the characters all over again, just like I did in college!
A Toastmaster friend, the mother of a 7-year-old, suggested I conduct some online sessions for children based on the stories I had uploaded. I could narrate the stories live and organize vocabulary and grammar games for children. My experience participating in our Toastmasters club meetings over Zoom gave me confidence and a comfort level handling the technological and presentation aspects of conducting the online classes.
Through Pathways, I had rediscovered my love for voice performance. The whole experience gave me the insight that, just like the lotus flower, we all have the capability to rise from the mud, bloom out of darkness, and radiate into the world.
---
Sneha Sharma, Ph.D.
is a member of Impact Toastmasters Club in Indore, Madhya Pradesh, India, and two online clubs: San Jose Toastmasters Club and Professionally Speaking Club. She has her doctorate in media management, and is a voice artist, an adjunct professor, and a published writer. For more information, visit
drsnehasharma.in
.
---
---