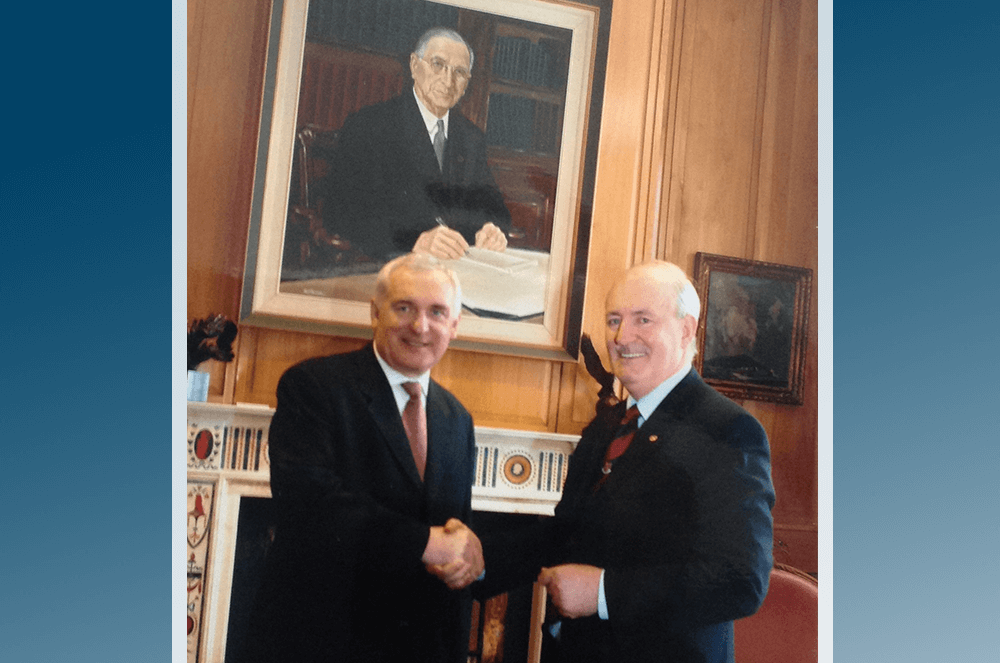 In this Toastmasters Podcast episode, the hosts speak with Past International President Ted Corcoran, a member of nearly 40 years. Click play to hear more about his contributions to the Toastmasters community in District 71 and to members around the world.
Asked how he's doing during a recent video call, Ted Corcoran, DTM, admits he's had better days. Health issues have taken a toll. Toastmasters' 2003–2004 International President, who turns 79 this month, has had hip and spinal surgeries in recent years and uses a walking stick to get around.
He might be slowing down physically, but Corcoran's passion for Toastmasters and enthusiasm for helping fellow members remain undiminished. As does his encyclopedic command of information. The man is a fount of Toastmasters knowledge and history.
"I have never met anyone like him who can recall names, dates, and locations, years after the event took place," says Tammy Miller, DTM, AS, a Past International Director. "He can recall all the Districts, where they are located, and the people in the Districts."
Ann Gibson, a fellow club member of Corcoran's in the Fingal Toastmasters Club in Dublin, Ireland, calls him "the Oracle." "It's absolutely amazing what he knows," she says.
His imprint is everywhere. A Toastmaster since 1985, Corcoran is a kind of unofficial advisor to Fingal Toastmasters, his home club, of which he is the founding President. He speaks regularly to other clubs in District 71 (parts of the United Kingdom, and Ireland) and beyond, often delivering his customized presentation on how to write a speech in 10 minutes. This year he has given several long talks about the history of District 71, which celebrates its 50th anniversary in 2022. Several years ago, he compiled a history of Toastmasters in the UK and Ireland dating back to when the first club was formed there in 1935 (in Southport, England). The District honored Corcoran in June for outstanding leadership and service.
Corcoran is also a valuable resource for World Headquarters staff, including serving on committees that study Toastmasters topics. And as members around the world can attest, he will happily assist every Toastmaster who requests his help on a speech or poses a question about policy or asks for advice on an officer role.
Why such an enduring commitment to the Toastmasters program?
"Because it's making people's lives better and making their careers better," says Corcoran.
Major Contributions
Corcoran has made an indelible mark on the organization over the years. He is a big believer in recognition and helped create what eventually became the Distinguished Club Program.
The affable Irishman is just as renowned for his wit. Corcoran is quick with a quip and unspools one anecdote after another. In conversation he laughs often, whether joking playfully about American tourists or the pronunciation of an Irish city's name or describing meetings that go on too long.
Corcoran is also a connoisseur of toasts … particularly those of an Irish flavor. He is a lover of Irish language and culture in general, and also a fervent fan of Gaelic football, especially the team represented by County Kerry, where he grew up near the town of Killarney. He has lived in Dublin for nearly 55 years, and besides the Fingal Toastmasters, he also regularly attends his other Dublin club, the Swords Toastmasters. (He's also an honorary member of many other clubs in Ireland.)
Ann Gibson and her husband, Paul Egan, DTM, have become close friends with Corcoran in their 20-plus years in the Fingal club. The Dublin couple say he's a constant source of friendly conversation, encouragement, and guidance.
When Gibson was asked to serve as District Administration Manager for the 2022–2023 program year, she knew exactly who she'd call to glean insights about the role. "I've already booked a session with Ted."
Leadership Lessons
Corcoran worked for many years as manager of safety for Irish Rail, and also as a management consultant. One of his favorite sayings is "What the management regards as important, the staff pays attention to," meaning that leaders at every level, whether inside or outside Toastmasters, set the tone for the group they're working with.
Corcoran penned a 2008 book called The Leadership Bus, and in 2019 wrote one called Hiring a Car and Walking After It: A little book of life lessons. He says his style is to help others discover for themselves what they want to achieve and how to get there. About 10 years ago, he was asked to attend the Fingal club's Executive Committee meetings along with the club officers, in case he could be of help given his wealth of Toastmasters experience. He has done so ever since.
"Ted has a gift for helping people believe in themselves to accomplish anything they desire."
—Tammy Miller, DTM, AS
"It works very well," he says. "If [the officers] want an answer to a question, I answer it. I do not try to persuade or dissuade them. But I give them the information, and it saves time. And it gives them confidence."
The Fingal club has been a model of excellence, achieving President's Distinguished status in the Distinguished Club Program every year since 1999, Corcoran notes proudly. The club has a fun, collegial, and caring environment, while also maintaining high standards, "and Ted is at the heart of that," says Egan, his fellow member.
When Tammy Miller first met Corcoran at a Toastmasters luncheon in 2003, she was a new District Governor, and her District (District 13, in western Pennsylvania) was in perilous shape. She talked to Corcoran—International President at the time—about the pressure she was feeling. "Ted put his arm around me, looked me straight in the eye, and said, 'Tammy, I know you can do this, I believe in you.'" It was just what she needed to hear.
"I really believed that he thought I could do it," she says, "and if someone in that position thought I could, well, then, maybe I could!"
With Corcoran's continuing support and coaching, she thrived, and so did the District, creating more clubs and adding more members than at any time before, she says.
Miller says Corcoran also inspired her to run for International Director in 2005, and she won. She says of her longtime friend: "Ted has a gift for helping people believe in themselves to accomplish anything they desire."
Song Master
As much as his wide-reaching contributions to this organization, another undeniable part of Corcoran's legacy is singing. Well, maybe not his own singing, but the Toastmasters Sing Along. He and fellow Irish Toastmaster Brian O'Connor started it at the 1992 Las Vegas Convention and it's been a beloved convention tradition ever since, bringing people together for social bonding through song. While it started as a small affair, it eventually drew hundreds of hearty participants. The typically after-hours program was not always a part of the official convention agenda, but it is now.
Rotarian Rewards
Corcoran, a Rotary member since 1991, belongs to the Rotary Club of Dublin, one of the first Rotary clubs established outside North America, back in 1911. He served as President of the 50-member club in 2001.
Among the Rotary projects he's been involved with: the construction of both a primary and secondary school in Zambia. His club provided a substantial part of the funding. The two schools have had a huge impact on the young Zambian students, says Corcoran.
"I take great satisfaction out of that."
As he does from helping fellow Toastmasters, whether assisting with speech ideas, doling out pertinent information, or offering reassurance to new members and veterans alike.
Says friend and fellow member Ann Gibson: "Everybody needs a Ted Corcoran."
---