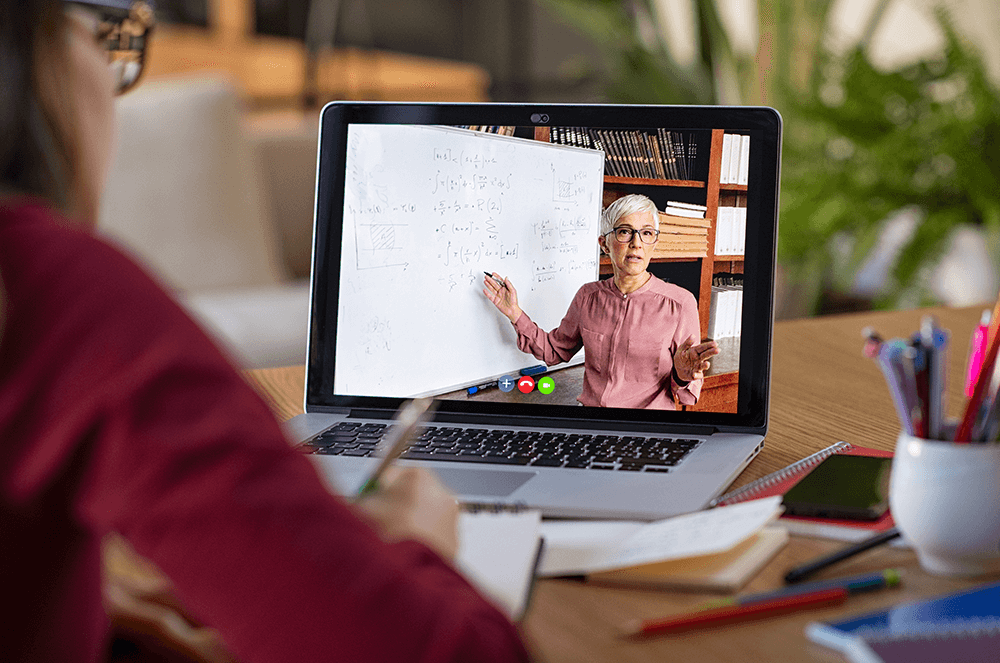 It's 8:30 on a Tuesday night, and instead of winding down for the evening, I'm signing on to another Zoom call. This one isn't for work, though, and it's not for Toastmasters. It's an online Introduction to Philosophy course.
Philosophy? you ask. And so late in the evening? Won't that put you to sleep? I understand why you might think that, but this is not your typical class. The screen is filling up with people from around the world—Lebanon, London, Texas, Beijing—and from all walks of life—economists, taxidermists, writers, and airline pilots. The teacher, Mahmoud Rasmi, has a Ph.D. in philosophy from the Universidad de Salamanca in Spain and taught for seven years at universities in Lebanon. Two years ago, he left academia and decided to try teaching entirely online.
His timing couldn't have been better. Online courses, like online everything, gained in popularity during the lockdown. Platforms like MasterClass, edX, and Udemy boomed, and smaller, more specialized platforms like Network Capital and Interintellect sprang to life. And for good reason: Taking an online course is a convenient—and fun—way to learn new skills. But don't limit yourself to participating; teaching an online course is a fantastic way to put the communication and leadership skills you learn in Toastmasters to use.
Flexibility and Community
Whether you want to upskill or reskill in hopes of a career shift or just unwind after a long day while learning something completely unrelated to work, there's an online course for you. You can find classes on everything from podcasting to computer programming, from linguistics to legal strategy. The beauty of online learning is in its flexibility—you can choose the style of teaching and amount of interaction, the topic and degree of depth, and even, in most cases, when and where you learn.
Many platforms offer video-based, on-demand courses that you can work through on your own schedule. There are also a rising number of live, cohort-based classes, like the ones Rasmi teaches. Similar to an online Toastmasters meeting, these virtual courses encourage discussion and foster community—during class sessions and afterward. Taking an online course is an excellent way to meet people who share your interests, form connections, and expand your network.
When One Teaches, Two Learn
Thinkers from Aristotle to Robert Heinlein have recognized that "when one teaches, two learn." Taking an online course is an incredible way to gain new skills, and when you're ready to level up, consider teaching one. Designing and leading an online course is a unique way to showcase and improve your communication and leadership skills while continuing to learn about your subject matter. For people with aspirations of pursuing public speaking professionally, it's also great way to kickstart a career in communication–or at least dip a toe in.
But wait, you say. Who am I to start an online class? Why would anyone listen to me? I don't have a doctorate. "Credibility is not limited to credentials only," Rasmi says. It's about "showing what you are capable of doing." Democratization of content, the trend that began with the tools and platforms that made it easy to publish blogs, self-publish books, and create videos, is making its way into online education and training.
Translating Concepts
The prerequisites for teaching online are a) an interest in the material you'll be teaching, b) a bit of business and marketing know-how, and c) communication skills. The Pathways program will give you a leg up on the last one, and there are other resources out there, as well.
Bill Monsour, DTM, is the co-founder of the European Trainers Network (ETN), an organization for Toastmasters in Europe who are interested in teaching and training. Its mission is to "provide networking opportunities and serve as an information resource for its members." It does so by not only helping members to "develop their training skills, but also their business skills," Monsour says. The ETN emphasizes proven adult learning methods and offers regular masterclasses on marketing and promotion; one recent session focused on optimizing LinkedIn profiles, for example.
Designing and leading an online course is a unique way to showcase and improve your communication and leadership skills.
During the lockdown, the ETN understandably saw increased interest in virtual training methods. Online or in person, though, the foundations of effective teaching remain the same—they're just enhanced. "Moving online doesn't mean that you don't need all those skills that you had before. In fact, it's all the same skills, plus new skills on top—technical skills," says Monsour. "You need to reimagine [communication] in the online environment. It's like translating one language to another; you can't do it literally, word-for-word, you have to look at the basic concepts and understand how, in the new world, that concept is done in a different way."
One area in need of translation is audience engagement. Just like in Toastmasters meetings, when you're not in the same physical space as others, you need new ways to interact. "There are all sorts of tips for engaging people [online]," Monsour says. "We use breakout rooms quite a bit … to enable discussion that wouldn't otherwise happen." Whiteboard tools like Miro, which enable annotation and collaboration, are also excellent ways to raise the engagement level.
At the same time, Monsour warns, don't get too distracted by the technology. "Remember when PowerPoint first came in, and people were all excited that 'we can make something spin,' and 'we can make all these different colors and fonts and stuff'? Once the wizardry and the novelty wore off, it became 'death-by-PowerPoint.' People get caught up in the technology and the excitement of it, and they lose the human element." That human element, not a flashy platform, is what sets successful online teachers apart.
Tools and Tinkering
That said, the right tools can make an online course easier to manage. After two years of tinkering, Rasmi developed a meta-course called You Too Can Teach Online. In it, he describes how to choose the right platform(s) to build and manage class material—and your community. Course-management platforms like Teachable and Podia allow you to create and house recorded lectures, slides, and recommended readings; encourage community and host discussions; and receive tuition payments. You can also combine a-la-carte options for course materials, community building, and payment processing.
The possibilities are plentiful, and the choices can feel overwhelming, but you don't have to have it all figured out before you begin. When Rasmi started out, "I had Zoom. That was it." And he wasn't even an expert user: "I didn't know … how to mute all students." He kept tinkering and learning, but more importantly, he played around with his teaching approach. At first, "I was doing regular university stuff, and that's not what people were signing up for." Now, he tries to make his courses "as entertaining as possible." Instead of listing names, dates, and dry philosophical theories, he uses storytelling techniques to craft "an interesting narrative that people can relate to."
His style is working. Since May 2020, when 44 students enrolled in the online existentialism course he advertised on Twitter, Rasmi has taught over 700 students from more than 30 countries. "I'm not here to just teach people about philosophy," he has realized. "I think the reason everyone signs up for my courses is to have a good time, and, along the way, maybe learn a thing or two."
That's certainly the case in this particular class. The discussion is lively, and the session goes late—well past my bedtime. The lecture is over, so we're free to leave, but the conversation is still going strong. "We're here for the entertainment," one of my classmates says. We all agree—and no one signs off.
---
Megan Preston Meyer
is the author of the
Supply Jane and Fifo Adventures,
as well as
Firebrand: A Corporate Elements Mystery
and
'Twas the Month Before Christmas: A Supply Chain Carol.
She lives in Switzerland and is a regular contributor to the
Toastmaster
magazine. Learn more at
supply-jane.com
.
---
---