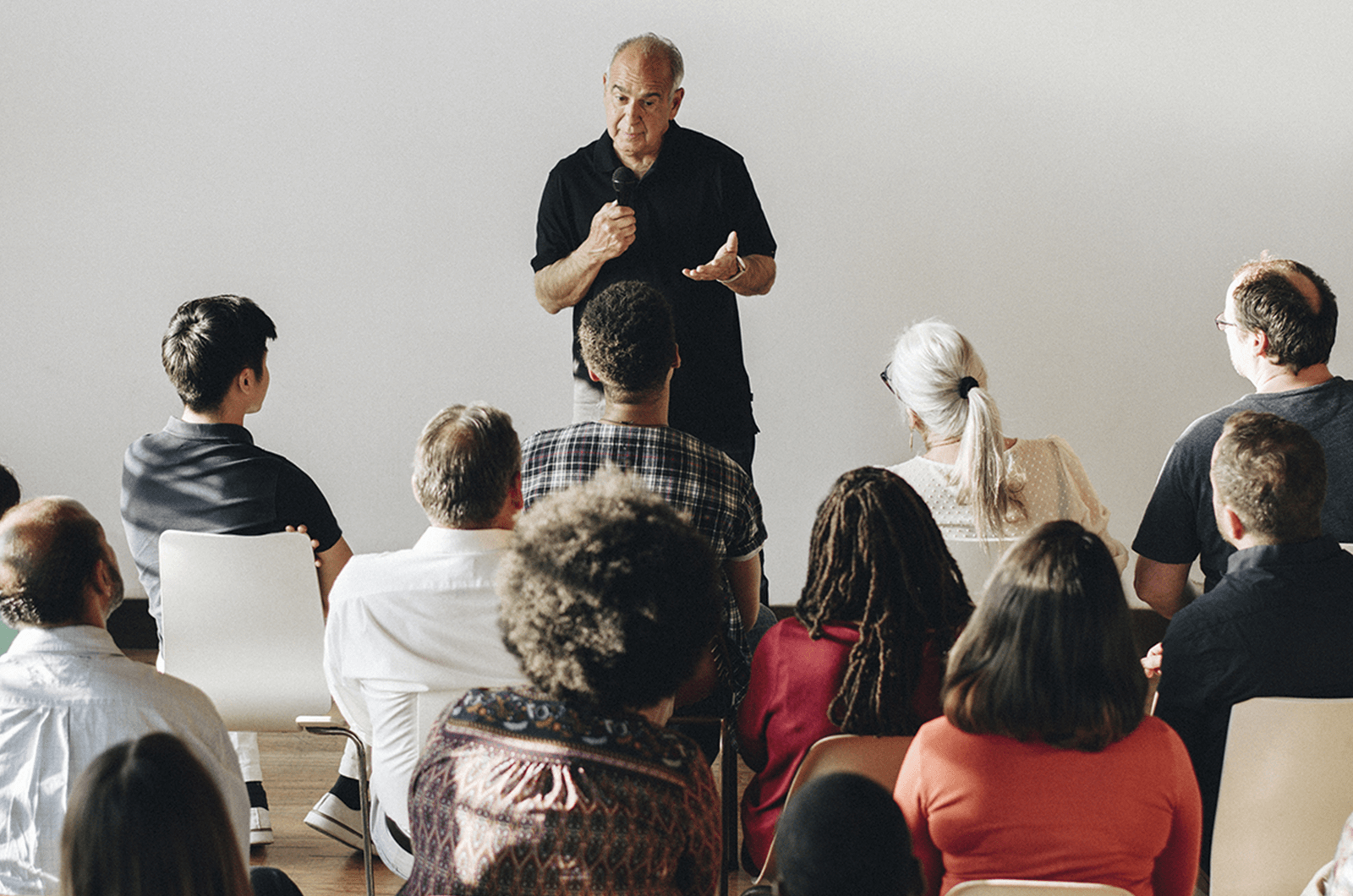 Say you're an accomplished speaker. You have a little time on your hands, and you know a thing or two about a thing or two. Have you ever considered joining a speakers bureau?
Whether you deliver speeches on general topics or to support nonprofits or particular causes, participating in a speakers bureau can be highly rewarding. It's a great way to keep your skills current, expand your opportunities for presenting, and do a little personal and professional networking for good measure—all while giving back to your community. What is a speakers bureau? It's a group that provides skilled presenters for community organizations and businesses to fill a need for specific education or general programming. Typically talks last an hour or less, and subjects vary as widely as the imagination can soar.
Best of all, you can create one through Toastmasters.
"A Toastmasters speakers bureau is a fantastic initiative for any District," says Nigel Oseland, DTM, the 2017–2018 Public Relations Manager (PRM) for District 91 in the United Kingdom. "District Public Relations Managers are often contacted by organizations seeking speakers," he says, "and a speakers bureau provides a database of experienced speakers with interesting subject matter who are worthy of representing Toastmasters in the wider community."
In return, says Oseland, Toastmasters gain experience speaking in outside venues. Bureau members usually speak to civic organizations (like chambers of commerce), charities, and even community colleges. Such bureaus can be set up at the club, Area, Division, and District levels.
Stalwart Speakers
Members of Toastmasters bureaus must not only be in good standing with the organization, they should display advanced skills in communication and leadership. Oseland, a member of three clubs in the U.K., says he didn't actually intend to start a speakers bureau; it just came about naturally.
As District PRM, he was receiving a lot of presenter requests from outside organizations for lists of speakers and their topics. So he created a page on the District 91 website promoting available speakers.
The 11 members of the District 91 group present on a wide variety of subjects, including leadership, politics, gardening, customer loyalty, beer tasting and brewing, and health and wellness. Some speak on enhancing public speaking skills, while others entertain through the art of storytelling.
Bureau speakers are encouraged to promote Toastmasters and talk about their Toastmasters experience. Speakers should also stress that they are expressing their own views. (Toastmasters International does not endorse any organization or cause.)
Hawaii Group
Rose Kirland, DTM, started a speakers bureau in Hawaii's District 49 about a year ago. The group's members, who include 1997 Toastmasters World Champion of Public Speaking Willie Jones, speak on topics ranging from the value of Toastmasters to lessons in executive leadership to being a grandparent. Terry Chodosh, who worked nearly 30 years in the U.S. Secret Service, speaks about fraud investigation, as well as senior fitness (he has completed the Ironman Triathlon). Kirland's specialties include banking and marketing.
The Hawaii bureau has drawn many invitations from outside organizations, including healthcare groups, who are eager for advice on topics such as conflict resolution and communicating with patients, says Kirland. When organizers of a local TEDx event were low on speakers, they turned to the District 49 bureau. Consequently, several of the members spoke at TEDx Hickam, held in Oahu earlier this year.
Toastmasters speakers bureaus help members spread the word about issues they're passionate about, says Kirland, and also make the public more aware of the benefits of Toastmasters—"the best-kept secret out there."
"Most people say the best way to promote Toastmasters is through your website or social media," she says. "But I say the number one way to share the value of anything is by talking with others."
Inspiring Other Members
Members of the Hawaii bureau also receive requests to speak at Toastmasters clubs. It's inspiring for members who are not as experienced or polished as bureau members to hear from these expert presenters, says Kirland.
She also recently started the Hawaii Speakers Bureau Club. Having a bureau at the club level opens up opportunities for more members to speak outside of Toastmasters. To learn more, the group regularly has accomplished guest speakers at their online meetings, including Accredited Speakers and former Toastmasters World Champions.
Kirland, an effusive Toastmaster who belongs to several clubs in Maui, wants members around the world to have the chance to speak to outside audiences. You can do this not only by striving to improve your skills but by speaking authentically on subjects you truly care about, she says.
A longtime mortgage banker, she speaks to local churches, food banks, and schools, frequently focusing on the topic of motivation, one that is particularly relevant to teenagers.
"It's so rewarding to speak to students, to young people, because you reflect on your own life at that age."
"My mission," adds Kirland, "is to uplift people."
---
Caren S Neile, PhD, and Paul Sterman
co-authored this article.
Caren S. Neile, Ph.D.
, is a frequent contributor to this magazine and has presented at two Toastmasters International conventions. Contact her at
cneile@fau.edu
.
Paul Sterman
is senior editor, executive and editorial content, for Toastmasters International.
---
---