Author Gary Chapman introduced the world to love languages in 1992 when he published his book The 5 Love Languages®: The Secret to Love that Lasts. The languages help readers find the way in which they perceive and express love, which can benefit all relationships.
While we often equate love with romance, Chapman says that his "5 distinct love languages" are actually about good communication. Understanding how to communicate in the best way possible improves relationships, including those in Toastmasters. Chapman identifies five different ways love is perceived: words of affirmation, acts of service, quality time, gifts, and touch.
Words of Affirmation
Toastmasters allows speakers to receive immediate feedback. Evaluators sandwich points to improve on between praise and positive remarks. This is important for all, but especially meaningful for members whose primary love language is words of affirmation. Do your evaluators stay on track or sometimes stray into criticism? Does a member tend to take evaluations too personally? One speaker may not seem to be as appreciative of evaluations as others. Understanding that his or her "language" is something other than affirmation can be helpful. Appropriate feedback—comments, laughter, applause—draws members closer.
Acts of Service
Club, area, district, and international officers serve diligently to fulfill their respective missions. Every club also relies on its members for acts of service in the form of meeting roles: Toastmaster of the Day, General Evaluator, Ah-Counter, Timer, Grammarian, Table Topicsmaster, and Evaluator. These functions communicate support and encouragement and do so especially to people whose love language is acts of service. These members will also likely volunteer for events and serve their clubs in additional ways. Need a chief judge for a contest? Someone to step in as Sergeant-at-Arms? Members who perceive love by receiving (and providing) acts of service are valuable assets. Recognizing their love language's ability to motivate them can foster awareness and appreciation.
Quality Time
Some clubs meet weekly, others biweekly. Some schedule an hour; others extend the agenda to accommodate more speakers. Toastmasters contests and conferences provide additional opportunities for members to spend time together. Members whose love language is quality time will relish every opportunity Toastmasters provides. They will also appreciate things like being asked out for lunch or practicing together for an upcoming contest.
Gifts
Officers may want to "speak" to members whose love language is gifts by creating a themed meeting in which members win small gifts for answering related trivia questions. Gifts may be as simple as pieces of candy, but the Toastmasters International website also has an extensive selection of gift items for celebrating a member's personal achievement or special day.
Certificates for participation in contests may be cherished by members whose language is gifts. While contest trophies don't have to be elaborate or expensive, they serve as tangible reminders of a job well done. Some clubs celebrate member birthdays, club anniversaries, and national holidays—excellent opportunities to exchange small gifts that can make lasting impressions.
Touch
It is always a good idea to ask questions about physical contact and make observations ahead of visiting another club so as not to offend anyone. A longtime tradition in Toastmasters includes shaking hands at the lectern, which may be second nature at some clubs, but in others this may not be culturally appropriate. Consider using the folded hands-at-the-heart pose of namaste (a respectful gesture) if physical touch does not appear to be a member's love language.
Each club and culture can decide what is appropriate but bear in mind that touch is a valid love language. Giving someone a "pat on the back" can be a figure of speech, but members whose love language is touch will respond to an actual pat on the back, cultural norms considered.
Becoming proficient in your own love language is the starting point for better self-awareness and development of communication skills. And the more you learn about words of affirmation, acts of service, quality time, gifts, and touch, the better you will be able to communicate with, lead, and encourage your fellow club members.
Based on The 5 Love Languages®: The Secret to Love that Lasts by Gary Chapman (©2015). Published by Northfield Publishing. Used with permission.
---
---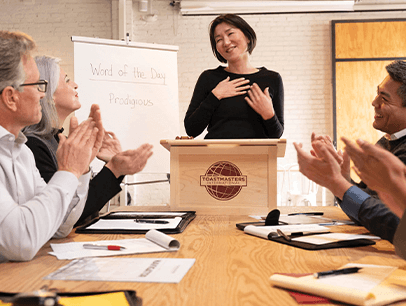 ---