A speech that entertains is like the sizzle in a steak. It is not substantial within itself, and it's not meant to be. Its value lies in the enjoyment of the audience.
If you want your audience to have a good time, you must appear to be enjoying yourself. Be good-natured and optimistic. Avoid focusing on anything negative except to poke fun of it. The audience does not want an argument, a rant, or a lecture. They want to be entertained, and they expect you to be their leader. As you construct your speech, keep these points in mind:
Simplicity. The audience should not have to work too hard to follow your presentation. Keep your thoughts and speech organization simple.
Vividness. Choose your words carefully and make them have impact. For example, instead of saying, "He stood up," say, "He leaped from his chair, his eyes blazing." Strive to create images so real, they will linger in listeners' minds.
Twists. The secret of a successful story is the use of unexpected twists and turns. Your audience is ready to be delighted and thrilled by the unexpected, just as if they were in an amusement park. Don't disappoint them by plodding along in a straight line.
Once you learn and practice the fundamentals, you can more easily project a lighthearted, conversational style to engage and entertain your audience.
---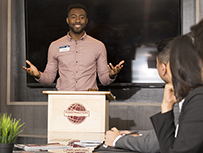 ---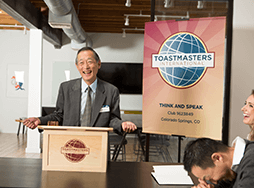 ---