Wayne Lebowitz, CC, joined Somerville Toastmasters not necessarily to gain public-speaking skills but to share them. Wayne is a retired jeweler who also helped facilitate classes like "Introduction to Speech" and "Developing the Speaking Voice" at the University of Bridgeport in Connecticut, United States.
Wayne says, as an experienced speaker, he relishes his role as mentor to newer members. "I get to socialize and learn from the stories and varied backgrounds of the mentees, while helping them formulate their speeches."
When Wayne joined Somerville Toastmasters in 2012 the club had eight active members. Hoping to get the club back in good standing, Wayne and a few other motivated members set to work growing membership. "We created all sorts of activities to bring in new members. We had parties and events we still have today, such as barbecues and holiday parties." Within two years of these renewed efforts, he says, the club grew to as many as 70 members at one point. "With all this new blood, it was just a more exciting club … [offering] more new speeches and enthusiasm."
Wayne has served as president twice and mentored countless members. His first mentee, Gina Salcedo, DTM, now serves as District 31 director. Gina also joined Somerville Toastmasters in 2012 and says she uses her ever-improving communication skills daily in her job as a transparency reporting specialist for a large pharmaceutical company. The nature of her role requires building relationships with stakeholders in every department, conveying requirements and influencing coworkers to submit accurate data in a timely manner.
How did Wayne become your mentor?
I called him about judging the club contest and took the opportunity to ask if he would mentor me. He agreed and even met me for coffee to discuss my Ice Breaker. Since then, we've met before most meetings. He still helps me with speeches, and we've developed a friendship that extends beyond the club. He and his wife even traveled to my wedding in Manta, Ecuador, in 2015.
Why do you want to recognize Wayne?
Wayne is an incredible storyteller who brings life to almost any topic. Moreover, he's invested in the success of the club and its members; he's one of the key reasons we've retained so many members for more than five years. He's also been pitching in at the district level. In my role as district director, I've asked him to use his charisma and skill to host district-wide webinars, and he's been great. Watching his commitment to our community strengthens my own.
Why do you stay in Toastmasters?
District leadership has been a learning lab for me to polish my leadership skills and then go back and apply them at work. ­Giving feedback that doesn't come across as criticism is exceedingly challenging and I've developed that skill through club evaluations. I now feel like an effective team-builder who can communicate smoothly, but it didn't happen overnight.
Looking for a mentor in your club? Ask your vice president education who is available to mentor you. To start a mentoring program in your club, order the Club Mentor Program Kit (Item 1163).
---
Nominate your marvelous mentor!
Send us a 200-word description and photo (1MB or larger) of you and your mentor.
---

---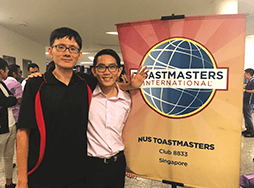 ---