After joining the Weblec Toastmasters club in Maryborough, Queensland, Australia, in 1983, Patricia (Pat) Anne Pitt, DTM, went on to join other clubs in the Fraser Coast Region of Queensland. She has held executive positions as well as district positions. Pat is an eminent Toastmaster with a reputation for leadership in Region 12, District 69. Before retiring she worked as an executive secretary to the CEO of the Wide Bay Electric Company in Queensland.
Sue Sainsbury, DTM, is from the Philippines and worked as a recruitment interviewer with Timex Philippines in Cebu. She also worked in the financial services industry in Sydney, Australia, before retiring in Maryborough and joining the ­Maryborough Club where she and Pat met.
Sue, what impressed you about Pat?
I first saw Pat's name in our local paper in an article about Toastmasters that Pat had written, which she did frequently. When I later met Pat, I knew I wanted her to be my mentor. Pat's inner strength as a leader was apparent, and her confidence when ­discussing Toastmasters was captivating and galvanizing.
What did you hope to get out of Toastmasters?
After I graduated from the university, I taught psychology at Southwestern University in Cebu, Philippines. In Sydney, Australia, I worked in wealth management. When I retired I thought I would like to develop my public speaking skills again.
How has Pat acted as a leader to you or others?
Pat never stopped working, even when her health was failing. To ensure the conference for the Central Division was a success, she delegated tasks clearly and efficiently. In addition, Pat's work with the younger generation through the Youth Leadership Program demonstrates her wider commitment to the ideals of Toastmasters.
What's the best advice Pat has given you?
Pat's best advice to me was to believe in myself and to always look at the bright side of life. Her guidance helped me tremendously during my tenure as president of the Maryborough Club and as area director for District 69.
What do you value most about your club experience?
I am grateful to have the confidence necessary to communicate with people from all walks of life and to have the opportunity to speak competitively.
---
Nominate your marvelous mentor!
Send us a 200-word description and photo (1MB or larger) of you and your mentor.
---
---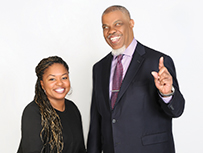 ---

---