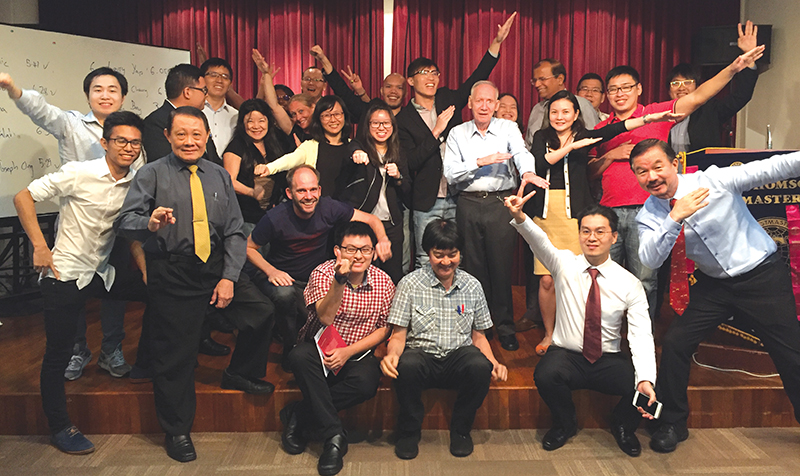 On the day that Pathways, Toastmasters' new education program, launched in District 80, one club broke the ice in a big way. The Thomson Toastmasters in Singapore held a club meeting that featured 10 members delivering their Pathways Ice Breakers.
The speech marathon included a fun meeting format: It was conducted in the style of the popular TV reality series "America's Got Talent." Just as the show's panel of judges assess performers as soon as they finish their act, the six speech evaluators gave their reports on the spot. And they used Pathways evaluation forms.
The club wanted to enter the Pathways era with a strong start and they succeeded, says Dominic Leck, CC, the club's vice president education and one of the 10 speakers. "It was really an enjoyable event, and our members had many takeaways from Pathways," he says. "Besides, it allowed us all to feel new again, especially the veteran members. It injected energy into our club meeting."
The meeting was held in late July when Pathways rolled out in Region 14 in Southeast Asia. In September, Pathways came to Region 2 in the United States, and the program launched last month in Regions 6 and 7 in Canada and the U.S.
Every member starts in Pathways by delivering an Ice Breaker, no matter which path they work in or how long they've been a member. Among those starting their Pathways journey in the Thomson Toastmasters meeting was 84-year-old David Campbell, CC, the club's oldest member. His speech included reflections on his experiences in World War II, says Leck. Jan Behling, CC, gave a playful speech that focused on an ordinary guy being transformed into a superhero upon joining Thomson Toastmasters.
Leck, who is working in the Dynamic Leadership path, says club members are embracing the new learning experience. "Members are excited to learn that in Pathways they can develop skills that are critical and practical in their professional life."
The Pathways webpage includes FAQs, videos and detailed information about the new ­education program.