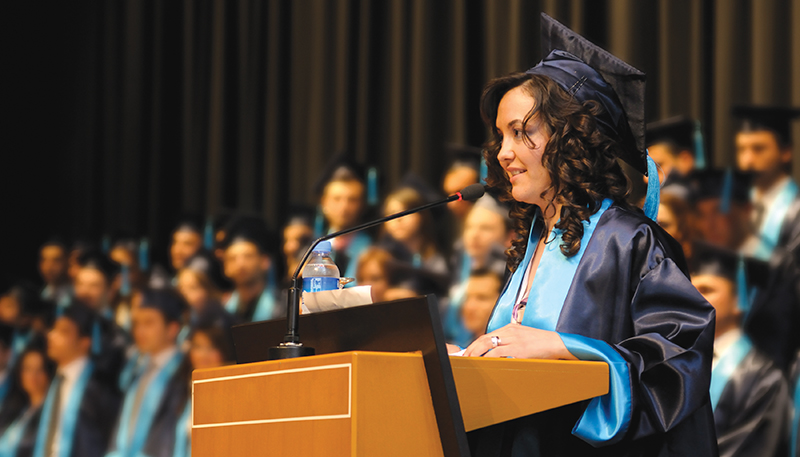 May and June are traditional months for high school and college graduations, and schools typically mark the milestone with commencement speakers. To fill this prized slot, many universities turn to high-profile figures such as politicians, entertainers, activists, religious leaders and business stars.
Apple CEO Tim Cook and the Dalai Lama are among the heavyweights scheduled to speak at universities this year.
But nabbing a big name doesn't guarantee an entertaining or enlightening presentation. What, then, makes a compelling graduation speech?
Offering insights gleaned from years of hard-earned experience is always good. Harry Potter author J.K. Rowling encouraged the Harvard University class of 2008 to take risks: "It is impossible to live without failing at something, unless you live so cautiously that you might as well not have lived at all—in which case, you fail by default," she said.
Humor is a great asset in a commencement address, especially considering how restless audiences are at such lengthy, serious events. In his 2013 speech at the University of Virginia, U.S. comedian and talk-show host Stephen Colbert poked fun at the graduating millennials: "So self-obsessed—tweeting your Vines, hashtagging your Spotifys and Snapchatting your YOLOs—your generation needs everything to be about you. And that's very upsetting to us baby boomers, because self-absorption is kind of our thing."
Eager to hear some sparkling graduation speeches? America's National Public Radio (NPR) has compiled 350 of what it hails as the best commencement speeches ever—dating back to 1774!
Rebecca George, ACB, ALB, delivered a graduation speech to 5,000 people at a basketball arena in Phoenix, Arizona. In a 2010 article in Toastmaster magazine, she wrote about how gratifying it was speaking to her fellow 2006 graduates of the University of Phoenix Online.
"Graduates approached to tell me how much they loved it; they felt I was talking about their own personal journeys and the challenges they overcame to be at this ceremony. ... All the practice and anxiety generated by having to give this five-minute speech was worth it!"