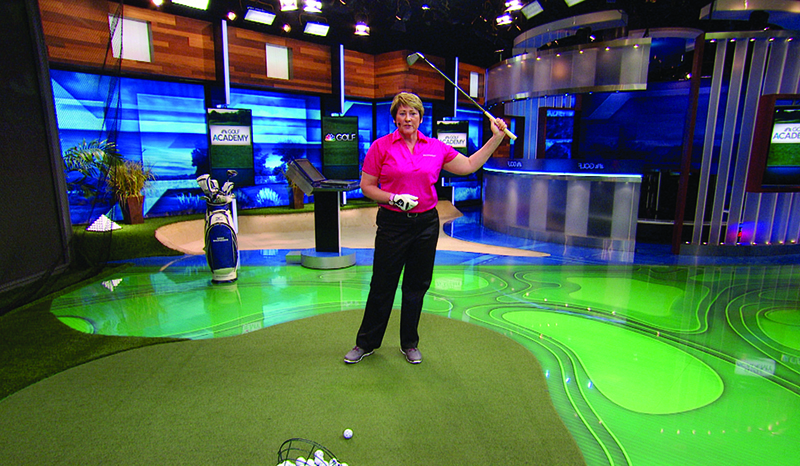 On any given day, Cathy MacPherson instructs golfers on their backswing, teaches them how to get out of a sand trap or helps with their stance.
For the past 20 years, MacPherson has been an LPGA (Ladies Professional Golf Association) Teaching and Club Professional. A Toastmaster in two clubs in Massachusetts, she was recently named a lead coach for the Golf Channel Academy —a network of top-tier golf coaches throughout the U.S.—and has been recognized as one of the best golf teachers in her region by Golf Magazine.
Raised in Tewksbury, Massachusetts, MacPherson had two loves as a child—playing sports and playing the trumpet. She thought music was her calling, but after being introduced to the game of golf in her 20s, her life was never the same.
MacPherson is also a licensed auctioneer. She pursued ­auctioneering to serve in the nonprofit world, and she continues to evolve and broaden this skill.
Why did you join Toastmasters?
I was intrigued by a presenter at a conference who talked about how Toastmasters helped him become better at public speaking. My hopes were to improve my skills as a communicator, and his talk inspired me to find my local clubs. Little did I know I'd soon find myself competing in and even winning several speech competitions!
Tell us about your golf career.
Although I played many sports growing up, it wasn't until age 24 that I started playing golf; I knew immediately that I would make it my career. My goal was to become an LPGA Tour player and I went through all the trials and tribulations on the journey to that goal: getting sponsors, playing on mini-tours, going to Qualifying School and working part-time in the golf industry to help pay for tournaments. Ultimately, it was a part-time job that led me to discover my true passion: teaching the game of golf.
I operate my own golf instruction business, Cathy MacPherson Golf, at the Ferncroft Country Club in Middleton, Massachusetts. I work with men, women and junior golfers whose skills range from beginner to the aspiring tour player.
How important is communication in your line of work?
So much of what I do hinges on communicating ideas, techniques and strategies in as succinct and meaningful a way as possible. My success as an instructor depends on my ability to connect with clients and deliver information in a way they relate to. I must say, working through each project in the Competent Communication manual brought a different level of awareness to how I was delivering a certain message.
How do you handle media interviews and TV appearances?
There is no doubt that I have Table Topics to thank for my improved ability to think on my feet and speak extemporaneously! Table Topics is not only enjoyable, it helps build a skill set that I use every day. As for nerves, I still have some when it comes to media interviews, live TV segments and other media elements, but the confidence Toastmasters has given me helps diminish nervousness significantly.
What advice do you have for members who want to coach or mentor others?
My advice to coaches or mentors is to get to know the person with whom you are working. Ask questions; discover their interests and passions. Use the listening skills you develop as a speech evaluator to better learn who they are and what makes them tick. Understanding them more fully will help you frame your ideas in a way that relates to them specifically.
How has Toastmasters affected other aspects of your life?
As a member of the Board of Trustees for The Greater New England Chapter of the National Multiple Sclerosis Society, I've created and chaired multiple events. For five years I've co-chaired our Milestones Gala, and each year I conduct the live auction and bidding in the paddle raise segment. The skills I've developed through Toastmasters contribute to my ability to deliver our ­message about multiple sclerosis in a clear, significant and ­inspirational way. It was reflected in this year's paddle raise; the largest sum we've ever seen. Thank you, Toastmasters!
To learn more about Cathy MacPherson, visit her website.