In the speech that won him the 2014 World Championship of Public Speaking, Dananjaya Hettiarachchi paid tribute to a Toastmasters mentor—a man who first saw the potential in him, who helped change his life. That man was Balraj Arunasalam, DTM, the organization's 2017–2018 International President.
The mentoring of his fellow Sri Lankan embodies the "people-first" philosophy that Arunasalam believes in. It is something he says he learned from his own Toastmasters mentors: the idea that, as a leader, you put the interests of fellow members and the organization above your own.
"I have personally benefited from such leaders, who held the weight of my dreams sometimes above their own," he says.
Arunasalam joined Toastmasters 28 years ago. He suffered from "extreme stage fright" then, but with the help of fellow members in Colombo Toastmasters—then the only club in Sri Lanka—he steadily gained confidence and took on many leadership positions.
He also played a major role in the growth of Toastmasters in Sri Lanka. When Arunasalam became president of the Colombo club 15 years ago, there were only three clubs in the small island nation. Now, because of the work done by him and other Toastmasters leaders, Sri Lanka has 120 clubs.
Arunasalam, who belongs to four clubs, is the chairman/managing director of Gemtrans Engineering Company in ­Colombo. He has also been deeply involved in philanthropic efforts in his homeland.
The new International President has been married to his wife, Saru, for 29 years, and the couple has two daughters: Avisha and Mahishaa.
Tell us about your business and your responsibilities as a leader.
As the chairman/managing director of Gemtrans Engineering Company, I run a 68-year-old organization founded by my father in 1949. I decided to diversify into industrial belt and power-transmission products in 1992 and started building that business from scratch. I'm pleased that currently we are the market leader in our field. As the chairman/managing director, I formulate the company policies and help build the strategic direction of the organization.
When and why did you join Toastmasters?
I joined Toastmasters in 1989. As a young businessman, I was looking for a social group to join in order to expand my network and meet interesting people. I went "club hopping and shopping" to the local Rotary, Lions and Kiwanis clubs.
"My parents always staunchly supported my passion for service activities, which began while I was still in school."
I ended up joining two local sports clubs and realized that I was looking for something more. I finally found my place at Toastmasters, because the constructive speech evaluations made me realize the huge potential for personal development.
Tell us about your family, and any hobbies and ­interests outside of Toastmasters.
I was born into a business family, and my father was an entrepreneur. My parents always staunchly supported my passion for service activities, which began while I was still in school.
In 1988, I married Saru, who is now a homemaker as well as a director of our company. My older daughter, Avisha, is a dentist, while the youngest, Mahishaa, is an engineer-cum-lawyer. As you might imagine, having three strong women at home is not easy for a man! I lost my voice at home … and found it at Toastmasters!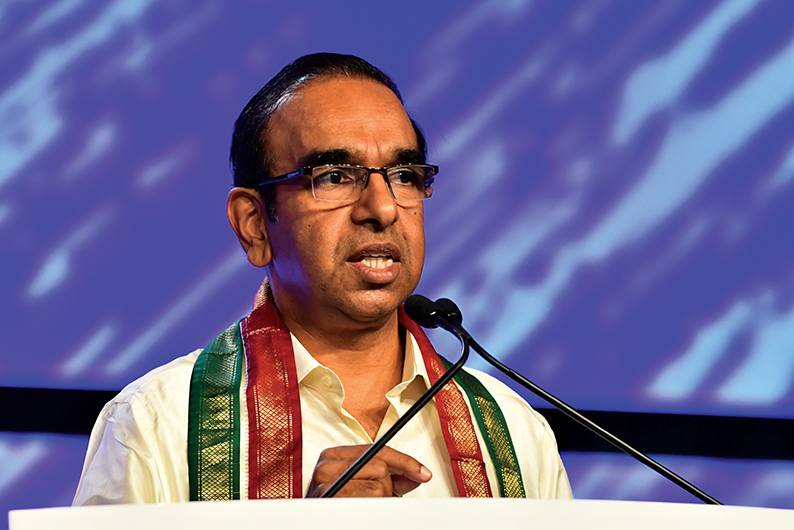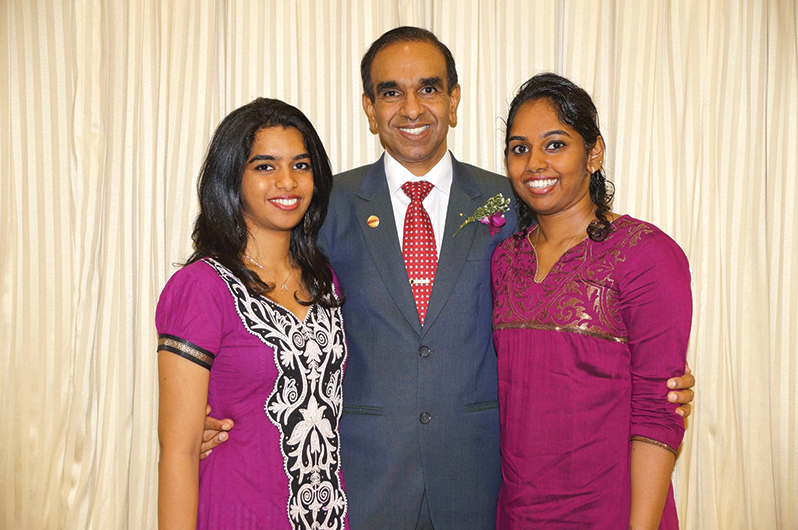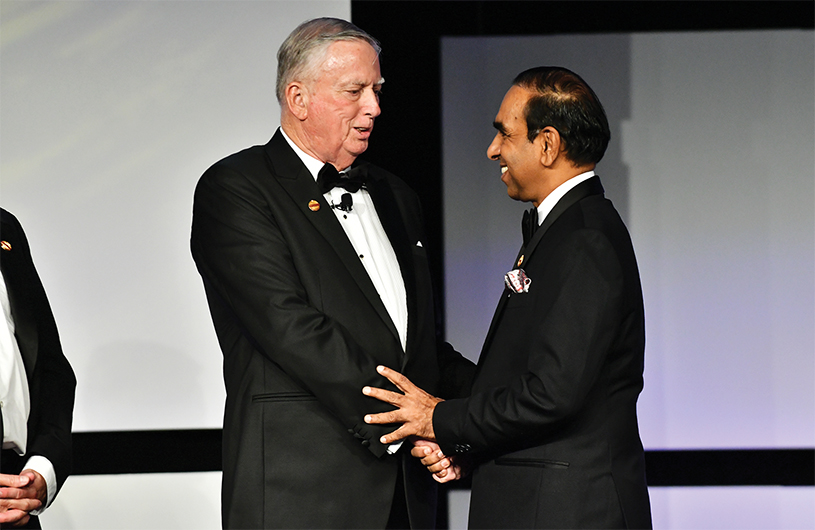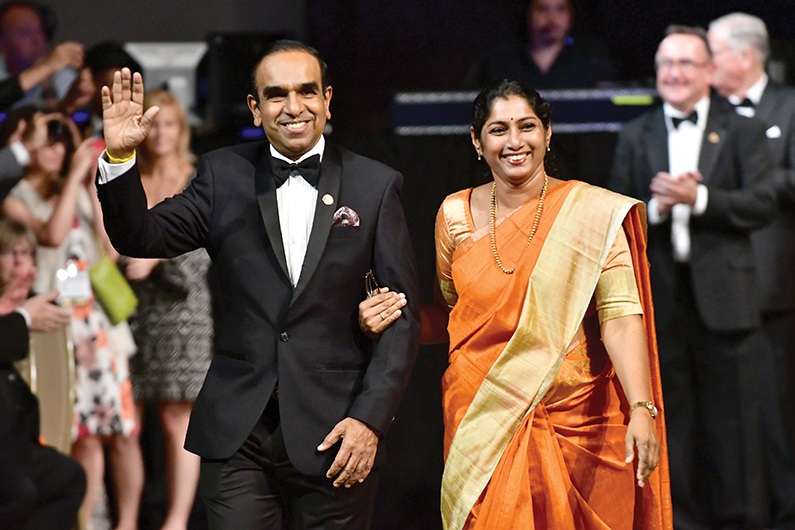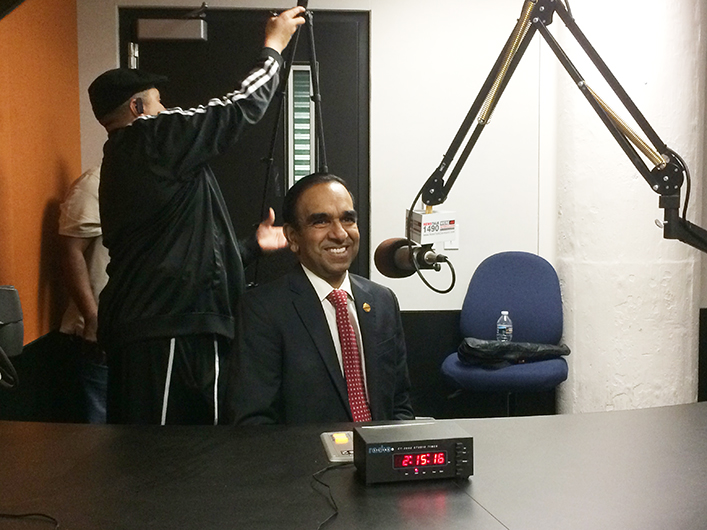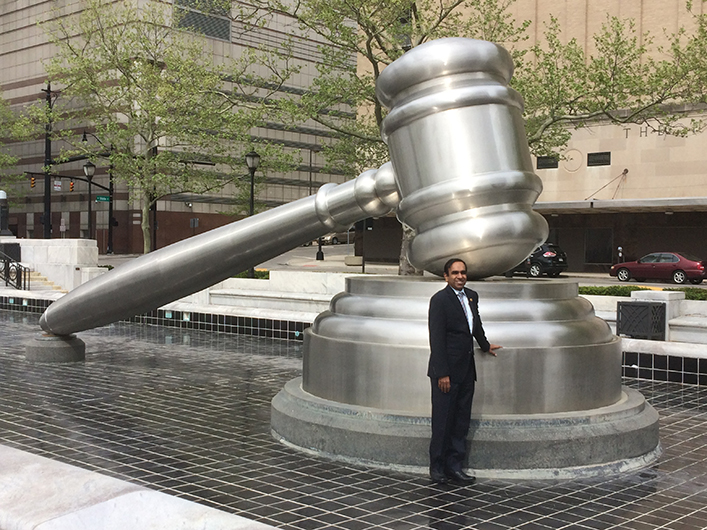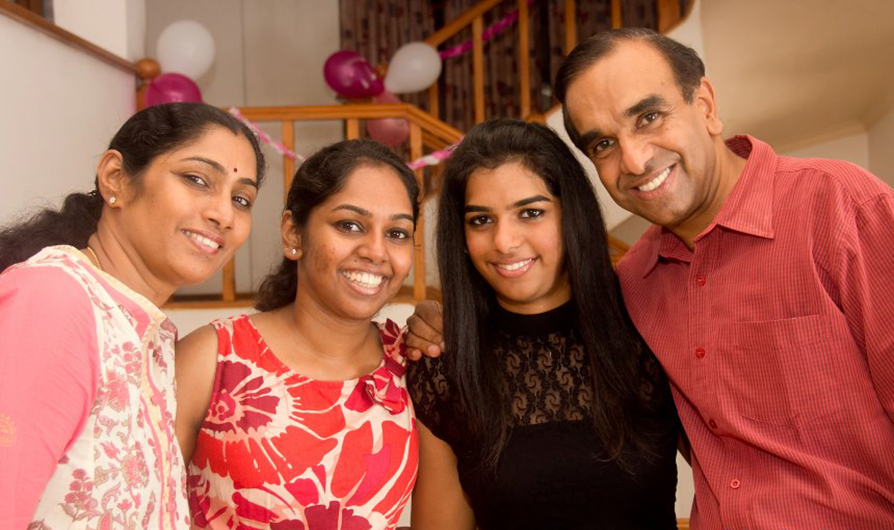 ---
Outside of Toastmasters, I enjoy reading biographies and books on leadership, management and health. I love traveling and have been fortunate to visit more than 40 countries so far. Health is important to me. I have a goal of walking at least 10,000 steps daily. I begin my day with yoga and pranayama.
How has Toastmasters helped you personally?
I attribute my career success to the valuable Toastmasters training I have received. As a business owner, I am proud that we have not lost a single staff member in the last eight years. Toastmasters has taught me how to build effective teams. I treat my employees as part of my own family.
In my personal life, I have realized that the transformative power of Toastmasters is so strong that even if one family member is a Toastmaster, the entire family is positively impacted.
My two daughters are testimony to this fact. Even though they are non-Toastmasters, their close association to Toastmasters activities has helped them flourish in their lives. Avisha is an excellent event organizer while Mahishaa represented Sri Lanka as the official youth delegate at the United Nations General Assembly, where she delivered the 29th national statement on youth.
What motivated you to seek leadership positions in Toastmasters and run for International President?
Since my term as club president in 2002, I have grown in my journey as a leader, serving in a leadership role every year. After my year as club president, I was passionately involved with leading a team of Toastmasters who were united by a vision to spread the movement and create a district in Sri Lanka and India.
In 2005, as the Territorial Council Chair for Sri Lanka, I visited the International Convention for the first time, when it was held in Toronto. The convention connected me to the worldwide fraternity of Toastmasters, and exposed me to the larger picture of what the organization was all about.
In 2011, I was elected as an international director on the Toastmasters International Board. It fascinated me to work with a diverse and dynamic set of volunteer leaders. Their passion and commitment to achieve a common goal fueled my interest to keep learning and growing as a leader at the international level.
As President, you will travel to many countries. Any part of the world in particular that interests you?
I look forward to visiting parts of the globe where there is immense potential for growth for Toastmasters. Fresh and developing markets like Europe, South America and Africa appeal to me. It is also fascinating to visit many clubs and districts in the United States—the birthplace of Toastmasters International—to realize that the need for what we offer is universal.
I have had the experience of helping build a district from 11 clubs in India and Sri Lanka to what is now more than 750 clubs in four strong districts across India and Sri Lanka. I will be most happy to meet with leaders in developing markets to share my insights with new districts on how their clubs can expand and flourish.
Tell us about your Toastmasters mentors.
My first Toastmasters mentor was not a Toastmaster: Mr. Kumar Nadesan. During my term as club president, his guidance was instrumental to my successful tenure. He advised me to expand Toastmasters beyond the three clubs we had in Sri Lanka at the time.
Past International President Dilip R. Abayasekara has been very influential to my growth as a leader. He believed in me more than I did, ever since my days as club president. In 2005 he envisioned my potential to one day be able to serve as Toastmasters International President—at a time when we in Sri Lanka and India were not even a provisional district! I thought he was crazy, but he has constantly kept this vision at the forefront of my attention.
Other Toastmasters I count as my leadership mentors are Past International President Ted Corcoran, Frank Storey, Floy Westermeier, Dick Poirier and Yusuf Jeevunjee. Each of them has dedicated precious time and energy to guide, mentor and assist me, and I will always be deeply appreciative of their invaluable support.
You talk about the importance of leaders having a "people-first" attitude. What do you mean by that?
When all is said and done about communication and leadership, Toastmasters is ultimately about people. As Mahatma Gandhi stated in 1948, "I suppose leadership at one time meant muscles, but today it means getting along with people." It means putting other people's interests first, before our own.
Can you tell us about your philanthropic work in Sri Lanka? And why it's important to you?
I believe that charity begins at home. Since 1987, I have been actively involved in my community's association, Aarunadu Velalar Society. It is extremely fulfilling for me to be able to help the underprivileged—hence I created a Community Education Trust Fund, through which around 2,500 children so far have received scholarships to complete their secondary education. I am happy to note that most of them go on to complete their graduate studies as well.
I'm also a permanent volunteer and president of the management board of my local temple. Spiritual development and religious service is essential to my well-being and brings meaning to my life.
I have been a Rotarian for nearly 10 years. I enjoy merging the Toastmasters and Rotary programs by encouraging Rotary clubs to sponsor Youth Leadership programs for the community.
What is your advice to someone seeking a ­leadership position for the first time?
They should, first and foremost, ask themselves, Why do I want to lead? What do I want to accomplish on behalf of the group?
I would advise any new leader to understand the people they need to lead and the organization they represent, along with their roles and responsibilities. It is important that leaders undertake their responsibilities with a genuine spirit to service.
Remain a student of leadership and commit to learning as a lifelong pursuit.
The Pathways program will roll out in most regions during your term. How will it affect the organization?
I am thrilled that the Pathways launch will be completed in my year as President. I am certain that this program will gain a reputation for excellence! Where else can you find an experiential learning program that can help you gain 300 different competencies at your own pace?
Due to the priceless development this program offers, I expect exponential growth in clubs and members worldwide—both in the corporate and community segments. If a member commits to the learning path the Pathways journey has to offer, the future most certainly looks brilliant and bright!
What are your goals for your year in office?
During my term, I look forward to working closely with our CEO, Daniel Rex, to ensure a smooth transition of the Toastmasters International headquarters from California to Denver, Colorado, while at the same time preserving the quality of services delivered to our members.
Another area of focus will be working with the team to ensure that all districts smoothly execute the Pathways rollout and avail themselves of the plethora of benefits this program has to offer. I would also like to see an increase in the depth of training provided to our district officers who deliver the Toastmasters program to clubs and members. During my year in office, I will diligently work to make every district in the world realize the importance of being Distinguished, so that the value of our program reaches every member.
It is also my desire to expand our network of clubs to countries that do not have a Toastmasters presence yet.
If you had one piece of advice for every Toastmaster, what would it be?
Be patient and committed enough to put in the required time and effort to get the best out of Toastmasters.
Your growth as a communicator and leader is limitless, if you have the persistence to stick with the program long enough to be able to reap the rich benefits of Toastmasters.