Baseball Businessman is a Hit
Youthful team owner entertains fans with family-friendly fun.

This article is from the May 2016 edition of the Toastmaster magazine.
Jesse Cole's place of business is a ballpark. On any given day, his job might involve leading fans in sing-alongs, conducting the crowd in a spirited rendition of the wave, or presiding over circus-like promotions ranging from grandma beauty pageants to dancing ballplayers to on-the-field races between turtles and toddlers.
All while wearing a yellow tuxedo and a matching top hat.
Cole, CC, is both businessman and showman. The likeable 32-year-old is the owner of the Gastonia Grizzlies, a minor league baseball team in North Carolina. The squad is made up of college players. Although talented, they are a far cry from Major League Baseball, whose professionals represent the pinnacle of the game. To lure fans, Cole must sell more than sport—thus, the smorgasbord of stunts, music, costumes and culinary fare (Garbage Can Nachos, anyone?) that make up the Grizzlies experience.
"We've learned that not everyone loves baseball but everyone loves to be entertained," Cole says. "We have nonstop promotions and entertainment from the time the fans walk in the gate until the time they leave."
His formula of family-friendly fun has paid off handsomely—the Grizzlies are a resounding success. They have led their 16-team league in attendance the past three seasons. Playing 56 games from May to August, the Grizzlies average more than 2,000 fans a game. (Attendance was in the hundreds before Cole became the team's general manager and, later, its owner.)
Cole says his Toastmasters experience helped give him the confidence, speaking skills and comedic agility needed to thrive in his job. As an entrepreneur, he speaks to local groups to garner community and business support for the Grizzlies.
"I do a speech every two weeks somewhere," he says, "and I love it more than anything."
Field of Dreams
Cole is a former ballplayer himself. As a pitcher for the Wofford College team, in Spartanburg, South Carolina, he aimed for a professional career, but a severe shoulder injury derailed his dream. So he took a different route to the sport.
In college Cole worked as an intern for a minor league baseball team in Spartanburg. Soon after, the team's owner, Ken Silver, hired him as general manager for another team Silver owned: the Gastonia Grizzlies.
"I was really looking for someone who could think outside of the box," says Silver. "Jesse was only 23 at the time, and I knew that it was a gamble to hire him to be general manager, but it was obvious he would bring a completely different approach to the position."
Cole, just out of college, was suddenly the face of the Grizzlies franchise. Knowing he needed experience networking and speaking in public, he joined the Gastonia Toastmasters club. He learned how to incorporate stories into his presentations and engage audiences. The training, says Cole, was key as he made his business pitch to community groups, delivering speeches to drum up excitement and support for the baseball team.
"I really learned a lot. Toastmasters was a great step for me."
Club member Reine Smirz, ATMB, CL, fondly recalls Cole's speeches to the group. "He was full of energy—he's wired all around," she says. "What I remember the most is that practically every speech he did involved some kind of prop. His speeches were very entertaining." Although work responsibilities forced him to leave the club after a year, Cole's youthful enthusiasm was a shot in the arm for the Gastonia Toastmasters, says Smirz, a charter member of the 17-year-old club. "He really kind of revived us. It was the spark we needed at the time."
Try Anything
When Cole first took over as the Grizzlies' general manager, he faced a daunting mission. Fan attendance was rapidly shrinking and the club was consistently losing money. So Cole changed everything by being willing to try anything.
That meant players participating in choreographed dances. Kids coming on the field to run around the bases en masse. Fans enjoying all sorts of zany promotions. Examples? Trying to find a diamond ring buried in the infield. Belting out baseball songs for an American Idol-like competition. Witnessing what Cole bills as The World's Slowest Race: a toddler versus a turtle.
Periodically, the Grizzlies players dress in customized attire, including tuxedo-themed uniforms. For his part, Cole has three canary-yellow tuxes that he rotates throughout the season. He wants to make sure everyone at the ballpark can find him. Known as The Man in the Yellow Suit, he spends much of his time during games high-fiving and chatting with fans.
"It's really important for us to get every single person who comes to our games to be a part of the experience," says Cole, "whether they're on the field participating in a promotion or doing some crowd activity.
"We've had the entire crowd bark like a dog. We've had the whole crowd be a part of something and then leave thinking, You know, that was ridiculous but it was fun. And I got a little out of my comfort zone but it was a great experience."
Silver, who sold the team to Cole in 2014, says Cole's communication skills and ability to connect with people have enabled the organization to flourish.
"Jesse is the main reason for the growth of the Grizzlies," says Silver. "That this is now the most successful franchise in the league is due to his efforts."
Love and Baseball
Cole's life is a whirlwind of activity. Last year he got married—at the Grizzlies' ballpark, of course—and also purchased a second baseball team: the Savannah Bananas. Located in Savannah, Georgia, the team is part of the same league as the Grizzlies, so Cole does a lot of traveling between the two states.
Over the years, several other employees of the Grizzlies organization, including Cole's wife, Emily, have also joined Toastmasters. All have benefitted greatly from the experience, says Jesse. Last October, he was the guest speaker at an open house held by the Gastonia Toastmasters, where he spoke about his journey with the Grizzlies, his brand of humor and fun, and how Toastmasters helped him get to where he is today.
Reine Smirz says she and her fellow club members got a big kick out of seeing Cole—who brought so much joy to their club as a 23-year-old member—speak about his life now.
"We're really proud of all his accomplishments."
Author Bio
Paul Sterman is the senior editor of Toastmaster <><><>
"We've had the whole crowd be part of something and then leave thinking, You know, that was ridiculous but it was fun. "

Steering the American Medical Association
---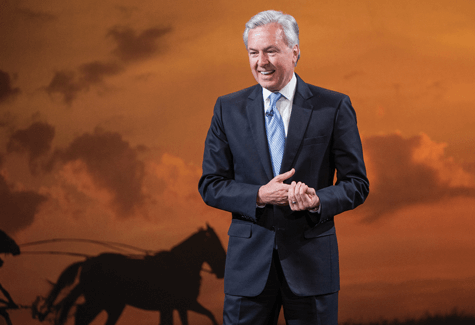 Wells Fargo CEO John Stumpf
---