Wells Fargo CEO John Stumpf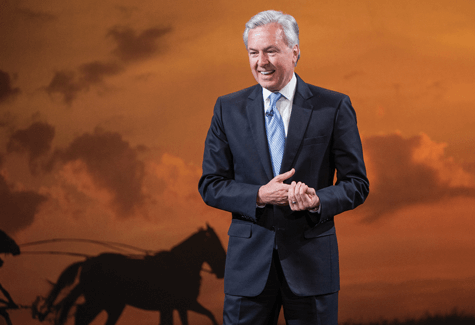 Top banker touts benefits of Toastmasters.

By Paul Sterman




From the Toastmaster magazine January 2016.


As president and chief executive officer of Wells Fargo & Company, John Stumpf is one of the most powerful figures in the banking industry. But his intense fear of public speaking early in his career almost derailed his professional ascent.
As Stumpf wrote in a 2015 essay for Fortune magazine, his boss at the time picked up on that fear. "He said, 'You've got to fix this. If you can't, that's a career disabler.'"
So in the mid-1980s, Stumpf joined Toastmasters. As a member of a club in Minneapolis, Minnesota, he transformed over a couple of years from a terrified speaker to a polished and confident one. He's effusive when describing the experience.
"Toastmasters was the vehicle that saved me," he says in a recent interview.
"I think about my Toastmasters experiences every time I get up on a stage to speak, every time I'm in front of a camera, every time I'm on TV."
Wells Fargo, headquartered in San Francisco, is a global banking and financial-services holding company. Stumpf, 62, has been with the company for 33 years and was named CEO in 2007 and then chairman in 2010. Under his stewardship, Wells Fargo has soared to new heights. In July, the Wall Street Journal reported that it is now the world's most valuable bank. As of press time, Wells Fargo was worth approximately 280 billion.
Stumpf grew up poor on a small Minnesota farm. He was one of 11 children. There was one bathroom, and siblings shared beds. But the affable CEO credits his parents, Herb and Elvira, with instilling in him the basic values that ground his personal and professional success.
"Tell the truth, be responsible, give people a break. Trust people and they'll rise to a level that you probably wouldn't even have thought they could get to," he says.
"Not all that much has changed with human nature over time."
How do your employees' communication skills impact their customer service?
Customers want to hear, clearly, how a relationship with whomever they do business with, whether it be someone in technology, someone in telecommunications or someone in financial services, how that company will help their lives. And communicating that in a clear and compelling way is paramount.
In fact, I hold companies in the highest regard—no matter what industry they're in—that take complexity and make it simple.
You've talked about your early fear of public speaking. How bad was it?
Well, I would say that next to the fear of heights and death, it was right up there. I just didn't have the tools. I didn't have the experience. So I found every excuse in the book to avoid public speaking.
How did Toastmasters help you?
You know, Toastmasters was not only a safe place to learn how to speak, it was a collaborative place where people genuinely wanted to help each other get better. So the critical support and the mentorship from the more experienced members to the new members was very reassuring. I went from dreading going to club meetings to wanting the next meeting to happen the next day, because I could start to see some improvement.
The feedback I received on my speeches wasn't always feedback I enjoyed getting—let me be honest about that. But it was real stuff. It was a life-changing experience for me.
I think about my Toastmasters experiences every time I get up on a stage to speak, every time I'm in front of a camera, every time I'm on TV.
How often do you give speeches these days?
Well, I give three talks tomorrow. I give a speech at 9 o'clock, then one at 10:30, and then one at 1:30. That's not a typical day but not totally unusual either. I would say in a week I probably give 10 speeches. I did one yesterday, and I made three videos today.
So as you move up in an organization and become a leader, whether you are a leader on the organizational chart or a leader because of the inspiration others draw from you, you're going to be talking a lot.
Wells Fargo is one of Toastmasters' biggest corporate sponsors, with 40 on-site clubs. How do your employees benefit from this experience?
I think careers are three-legged stools: First, work for a company that shares your values; second, work for a boss who cares about you; and third, invest in yourself. Participating in Toastmasters is not unlike getting a degree or getting some accounting experience.
And today, our young people coming into the organization don't have as many opportunities to hone their speaking skills because of the other ways of communicating through technology.
What traits do you look for when hiring new employees?
First of all, we like to say—and this is true—we don't care how much people know until we know how much they care. Since we play team ball here, caring and sharing are very important attributes.
You talk often about the importance of personal growth—it's clearly something you feel strongly about.
I find that even at my ripe old age of 62, I'm still just as busy learning about life as I can be. Two years ago, I took up the challenge of learning a second language, German. I learned through that experience how hard it must be for nonnative English speakers to come to this country and assimilate into our culture. It was a real eye-opener. I also learned a lot about the English language by studying German.
If I ever moved to Germany, I would join a Toastmasters club there.
Growing up, you experienced poverty and hardship. What qualities helped you overcome this adversity?
In our family, even though we were very short on things that the world would consider success—money, land, vacations, cars, all the things that would show up on a balance sheet—we were rich in the things that really matter: values, hard work, no complaining, working as a team, giving something back, the sense of a greater being, all of those life lessons that are really the foundational things for success in life.
You know what? When I had hardship later in life and in my career, it was minor compared to what happened when I was on the farm, and I knew I had the skills built up to deal with that. Failure was not failure—failure was a learning lesson. The goal in life is not necessarily knowledge, it's wisdom, and you learn a lot of wisdom through hardship.
What part of your job do you enjoy the most?
The time I spend with customers and team members. One thing I try to do is to speak with a team member unannounced every day and with a customer or a prospect unannounced every day. That way I get some of the real feedback. And the part of the job that I miss most about where I am today is having customer relationships—because I grew up [professionally] doing that, and that's really what I enjoy the most.
Now, this is a great job, don't get me wrong. I love what I'm doing. But the people part of it is the best by far.
---
For more articles from the January issue, visit www.toastmasters.org/Magazine/Issues.

FEEDBACK