Toastmasters provides FreeToastHost and WordPress templates for clubs and Districts. Setting up a website for your club or District is a great way to communicate with prospects and members. It can be used to share exciting news, upcoming events, conference details, and more. When setting up your website, be sure to follow the Brand Manual and incorporate the logo, stock photography, graphic elements, color palette, and typography.
FreeToastHost Websites
If your club needs a website, you can use FreeToastHost, a webhost that's exclusive to Toastmasters clubs and Districts. Each website includes access to easy-to-use, web-based software for any Toastmasters club. If your club is listed on www.toastmasters.org, there is no cost for this service. Simply fill out the FreeToastHost request form. You may use the corresponding website template as a guide for your design.
Need help with your FreeToastHost website? View the user docs, forum, or you may register for website support.
If you are a new Club Website Administrator and need access, please submit a change request.
As you update your club or District website, please be sure to expire updated club and District websites that you no longer wish members or prospective members to view.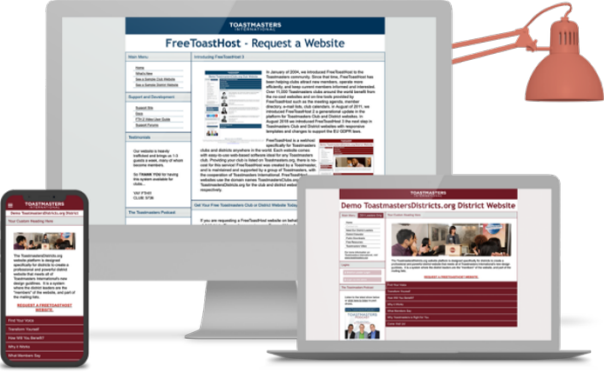 Special Note:
A disclaimer must be included on all Toastmasters websites as follows: "The information on this website is for the sole use of Toastmasters' members for Toastmasters business only. It is not to be used for solicitation and distribution of non-Toastmasters material or information." For more information, please refer to Toastmasters'
Policy and Protocol
, page 159.
---
Free WordPress Templates
WordPress.com makes it easy to customize any of their templates. There are a lot of templates to choose from, however we recommended the following free templates:
The image to the left shows how these templates can look with the available customization. Please reference the Brand Manual for color palette and logo usage.