Watching Greg Van Borssum
Filmmaker's life is full of dramatic twists and turns.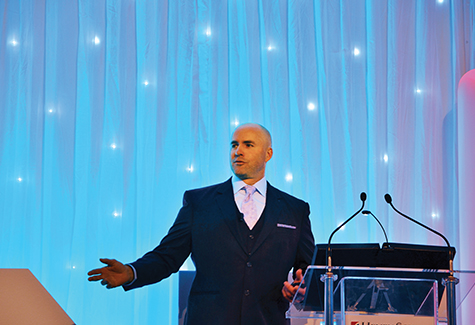 On Greg Van Borssum's website is his personal motto: "It's the work we put in when no one is watching that makes the difference." And Van Borssum, CC, is certainly worth watching.
By age 21, the young Australian was a national bodybuilding champion, a three-time Mr. Universe finalist and a multiple black belt martial artist. A state and national speed-shooting champion, Van Borssum became a world-champion pistol shooter in 2014 when he and his teammate, Craig Ginger, won the NRA World Action Pistol Championship in Park City, Kentucky.
"I am speaking in as many schools as I can at the moment to show the kids they can do anything if they put their entire being into it."— Greg Van Borssum
He also tried his hand at filmmaking, becoming "digital crowds and motion capture director"—creating, designing, motion capturing and laying out the digital crowd scenes—on the Oscar-winning film Happy Feet and award-winning Happy Feet Two. Eventually he became fight choreographer and weapons advisor on the upcoming movie Mad Max: Fury Road.
Impressive credentials? Sure. But Van Borssum has risen to another challenge as well. Last year he became a member of Sea Eagles Toastmasters in Sydney, Australia. After just three months, he placed third in his district Evaluation Contest, and by month nine he had won Best Speaker at the club level for all nine of his speeches—the same number of times he has won the club's Enthusiasm Award. Most recently, he won his club's Humorous Speech Contest.
The secret of Van Borssum's success may lie in his Ice Breaker speech. Titled "Lucky," it described how, after growing up in a poor neighborhood nicknamed Criminal Hill, he fought to achieve his life's goals against all opposition. All the doubters in his life—including teachers who told him he'd wind up in jail—called him "lucky" when they learned he had succeeded, but in fact, he says, he owes his success to hard work and determination.
Breaking Through With Bodybuilding
By the age of 13, Van Borssum was working out at a gym. He drew inspiration from the American National Bodybuilding Championships he had read about in a bodybuilding magazine, and immersed himself in training, goal-setting and nutrition, all on his own.
"When I started weight-training I had no stability; when I started martial arts I had no technique; but over time, and through constant repetition and practice, I became a master and a champion."
At 20, he won the heavyweight and overall Australian National Bodybuilding Championships, and from there, went on to represent Australia in the Mr. Universe competition in Italy. He placed sixth out 120 competitors.
Then Van Borssum started on his next goal—to work in the film industry. He trained in martial arts at the Shaolin Temple in Henan province in China and took up pistol shooting to gain gun-handling experience to use in films. He set up his own film company, learned Mandarin, sent his resume and demonstration videos to Hong Kong "the hub of martial arts action filmmaking," and began working in films in China. His reputation as an up-andcoming film performer spread to the Australian movie industry, and he began work on Happy Feet, the 2006 Australian-American computer-animated film.
"Although he drives about 200 kilometers [125 miles] round-trip to attend meetings, he's got one of the most consistent attendance records of the club." — Nigel Fletcher
"Greg is an inspiration to all of us," says fellow Aussie George Miller, director of the popular Mad Max and Happy Feet series of films. "I have witnessed firsthand the way he can completely transfer his mastery of one area into another where he has no experience and become a master of that new area in very little time."
The actor Armie Hammer, who starred in the films The Social Network and The Lone Ranger, was so inspired by training with Van Borssum in weapons and tactical movement that he has said he would "follow him through the gates of hell."
Hard Times
Van Borssum's introduction to Toastmasters came 15 years into his film career. After working on the Happy Feet films, he began work on Mad Max: Fury Road designing all the fight sequences and gunfighting scenes. When production was halted, he suffered such severe financial difficulties that he almost lost his home. He worked as a laborer on a high-rise construction site for a while just to make ends meet. "I felt so ashamed," Van Borssum says, "not because of the work [I was doing], but because I felt I had let my family down. I liked the guys on the site—they were tough, honest workers. But I had gone from dealing with A-list Hollywood actors one week to the bottom of a lift shaft the next.
"I was knee deep in mud for 70 hours a week, just to cover basic living costs until, hopefully, the film could get back on track.
At one point, Van Borssum was in such despair that he says he almost considered taking his own life. Then one night, while watching his two children sleep, he realized he had too much to lose."
Making matters worse, a fellow worker killed himself on the job site on Van Borssum's birthday. He says his effort to console the large contingent of traumatized workers was his first success at speaking to a group of people.
The experience helped him decide that it was time to make changes in his own life in order to help others. He remembered his mother's advice from years before, at another low period in his life, when he returned to his high school to deliver a keynote address and suffered terrible stage fright. "Join Toastmasters," his mother had urged.
Years ago, his mother had lacked confidence and suffered from agoraphobia, but Toastmasters membership wasn't officially open to women at that time (It opened to women in 1973). She heard about the Toastmistress organization, joined a club, and her life improved significantly. When she first made her suggestion to her son, he laughed off the advice.
Now, he heeded her advice. Soon, Mad Max: Fury Road was back on track. He took his family along for the year he worked on the film in Namibia, Africa, where he trained actors for the fight sequences and weapons scenes, and even got the chance to act. The movie is scheduled to open in May.
Happy to Share
Van Borssum says Toastmasters gave him an opportunity to share all he's learned as an athlete, a filmmaker and a man. He particularly enjoys seeing how members are transformed by overcoming their fear of public speaking.
"One day they walk out and they are changed. Their presence is different," he says. "They ooze confidence and authority, and a true Toastmaster and leader is born."
"Greg is a fantastic member to have in our club," says Nigel Fletcher, CC, president of the Sea Eagles club. "His humor and enthusiasm ensure that our meetings are always fun, and his vast array of life experiences have made for some fascinating and inspiring speeches."
Fletcher also praises Van Borssum's dedication. "Although he drives about 200 kilometers [125 miles] round-trip to attend meetings, he's got one of the most consistent attendance records of the club," he notes. Van Borssum has begun a career as a motivational speaker. Although his first gig was with a Fortune 500 company, he particularly enjoys speaking in schools. "I am speaking in as many schools as I can at the moment," he says, "to show the kids they can do anything if they put their entire being into it. You can't be great by dipping your toe in the water. You have to dive in."
As for his goals in Toastmasters, Van Borssum says he plans to earn a DTM—and much more. "I want [to earn] the Golden Gavel. I want to be great enough to stand on the world stage with the other brilliant speakers at the World Championship of Public Speaking."
If he does advance to the championship, it will come as no surprise to Graham Clark, ACG, CL, who has served as Van Borssum's club mentor and has watched his progress with admiration. He says Van Borssum has the ability to inspire people.
"When he speaks, his body language, voice and stage persona have the audience listening to every word he utters," Clark says. "Greg has a great future as a speaker and motivator—of that I have no doubt."
Van Borssum says he wants to inspire others to realize their dreams.
"I want to spread my story to help people overcome obstacles and grow like I did. I want to help them crush their fears, own them and rewire them into fuel for success."