The Speechwriters' Shepherd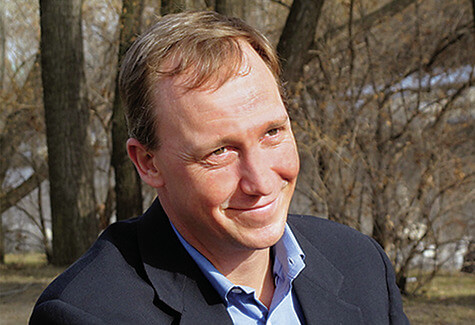 During a compelling speech, the speaker is the star, the sage on the stage, who gets to bask in the audience's adulation. But David Murray, editor of the Vital Speeches of the Day magazine, knows that for high-profile speakers the credit must be shared with the person behind the scenes—the professional speechwriter.
In 2013, Murray launched the Professional Speechwriters Association (PSA) to help those in the business connect with other speech scribes around the world. "Speechwriters are a tribe," he says. "They like to be together. They need a way to learn from one another—be-cause they have many problems that only fellow speechwriters can solve." In May 2014, Murray convened the PSA's first World Conference—a two-day program that featured speeches, workshops and networking opportunities—to address those needs.
As PSA's executive director, Murray travels the globe presenting various versions of his "Speechwriting Jam Session"—an inspiring collection of excerpts from notable speeches—to industry conference attendees and groups that have included the United Nations and the European Commission. The jam sessions, notes Murray, include video clips from "Robert F. Kennedy's beautiful speech 'Indianapolis,' given in 1968 after the assassination of Martin Luther King Jr., and Canadian Prime Minister Lester Pearson's 1964 courageous stand against a roomful of military veterans attempting to boo him off the stage" when Pearson proposed a new symbol for the Canadian flag.
In his day-to-day work as editor of Vital Speeches of the Day—an 81-year-old monthly magazine—Murray curates a collection of the most noteworthy speeches in the world, printed in full both in print and digital formats. Vital Speeches also includes articles, news items and blog and job posts related to speechwriting. Additionally, the Chicago, Illinois, resident is editor of its sister publication, Vital Speeches International: The Best Thoughts of the Best Minds on Current International Questions. The magazine features full speeches either delivered by non-U.S. leaders or U.S. leaders who speak on subjects of international relevance.
(For more information, go to vsotd.com. Speechwriters may submit speeches to Vital Speeches of the Day by sending them to VSeditor@McMurrytmg.com.)
The PSA and its founding partner, Gotham Ghostwriters, recently conducted a survey on speechwriters and how they work. What did it reveal? One thing it indicated is how, typically, speechwriters "stumble" into their profession, by writing a speech simply because someone they knew needed one.
How did you begin in your profession?
Like the speechwriters I serve, I fell into it. As an English major and aspiring poet with an eating habit and rent to pay in Chicago, I answered an ad for a publisher of trade newsletters. I got the job. One of the newsletters we produced was a weekly called Speechwriter's Newsletter. The first reporting I ever did in my life involved calling subscribers and asking them if they'd like to contribute a story to a column called "Speechwriters' Worst Nightmares." I never spoke to one speechwriter who didn't have at least one good, gory professional story.
Eventually I got to know practitioners of many communication disciplines—employee communication, media relations, social media—but I always found the speechwriters to be the most erudite, eccentric, ambitious, frustrated and interesting people in the business.
How would you describe your work?
I bring together the people who help leaders communicate, both online and in person, so that they can share their best ideas, solve one another's problems and be inspired by the best speeches. They can laugh and cry together at the inherent absurdity involved in a speechwriter's work.
What does the Professional Speechwriters Association offer?
Convened by Vital Speeches of the Day, the PSA is the first and only global membership organization for speechwriters, a nomadic group of people who traditionally have had a hard time finding one another—when a speaker needs to hire a speechwriter, or when a speechwriter needs work. Speechwriters can attend our second World Conference next fall, as well as our intimate Leadership Communication Days meetings and a number of other online and in-person meeting places we're building.
After a few thousand years, professional speechwriters finally have a professional place to call home.
What changes have you seen in speechwriting throughout your career?
There are fewer dedicated speechwriters—people who serve leaders exclusively—and more communication generalists who write speeches as just one part of their jobs. But when you look at the changes that have come to most communication disciplines over the same period, the only constant is speechwriting.
Leaders still must lead, and one imperative element of leadership is looking people in the eye—investors, employees, customers and prospects, and community members—and delivering a message.
What's one of your favorite speeches?
One that knocked me out because I didn't see it coming was a speech that Stephen T. Banko, III, a retired field office director for the U.S. Department of Housing and Urban Development and a Vietnam War veteran, delivered at The Veterans Expo in Utica, New York, in 2009. [Banko received the 2010 Grand Award for Best Speech of 2009 from the Cicero Foundation.] He delivered his intimate and real message to a small group of veterans. It's great when one person speaks and hundreds of people listen as the speaker bares his heart and soul. I've been looking for a speech that good ever since.
What interesting developments have you noticed on the public speaking front?
Here in Chicago, practically every bar has a storytelling night—it's a huge urban trend. Between that and TED Talks—and the continuing growth of Toastmasters—I'd say public speaking is as much in vogue as it was before they built the Gutenberg press.
What do you think people want to hear from prominent speakers today?
People want a fair chance to size up their leaders—whether political leaders, business leaders, social or moral leaders—to find out, What kind of human being is this? How competent is he or she to lead? Where is he or she taking us? How committed is he or she to getting us there? Such questions can only be answered by listening to what a speaker says while simultaneously seeing what he or she looks like and hearing what he or she sounds like during the communicating.
What are some things to keep in mind when writing for a global audience?
I don't think it's too glib to quote a John F. Kennedy speech, and leave it at that: "Our most basic common link is that we all inhabit this planet. We all breathe the same air. We all cherish our children's future. And we are all mortal."
A version of this article appeared in the June 2015 issue of the Toastmaster magazine.