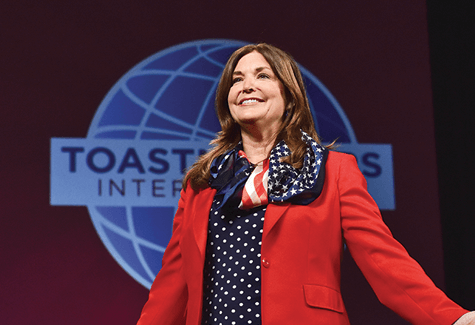 Meet the newest Accredited Speaker:
Ellie Kay, ACS, ALB, AS
By Mary Nesfield




From the Toastmaster December 2015.

Ellie Kay is the most recent Toastmaster to achieve Accredited Speaker status. This is the highest speaking designation in Toastmasters—a title signifying excellence in professional speaking techniques.
Kay, who earned the title at the 2015 International Convention after a long qualifying process, joined Toastmasters almost three years ago, when she was already a successful public speaker with a career that had taken her around the world. The Palmdale, California, resident had spoken professionally on financial matters for about 25 years, but she joined a club as a way to try out and practice new material for her speeches. She also joined as a way to give back.
"I am passionate about public speaking," she says, "and for those who have a desire to be able to communicate on a higher level, on a level with greater excellence, I want to help them get there. I love helping new speakers go from good to great, and that's why I'm in Toastmasters."
A graduate of Colorado Christian University with a bachelor's degree in human resources management, Kay serves as a family finance expert for major media outlets and Fortune 500 companies. As a keynote speaker at conferences and events, she mixes humor with hard facts to spread her message about making smart financial decisions.
"Look at the [Accredited Speaker] criteria early. There are very specific things that you have to do to be prepared."
Kay's true passion is advising military families on finance—a topic she knows intimately. Raised in a military family (her father served in the U.S. Navy and in the U.S. Air Force, and her grandfather served in the U.S. Army Air Corps during WWII), Kay married a fighter pilot and was one of a handful of U.S. Air Force spouses who graduated as a Master Trainer through the Army Family Team Building training and awareness program. Of the couple's seven children, three are serving in the U.S. military—one is in the Marine Corps, another is in the Air Force and another is in the Army. As an Admissions Liaison Officer for the U.S. Air Force Academy, Kay has counseled and mentored high school students on admissions requirements for the academy.
Her career has taken her far, both literally and figuratively. Kay travels the world providing financial literacy education to families that live on U.S. Air Force bases. "It's where my passion and profession overlap," she says. "I love helping these military families." She sits on the advisory board of the Military Family Advisory Network and has received the Army's highest civilian medal, the Dr. Mary E. Walker Award, for outstanding dedication to improving the quality of life for soldiers and their families.
Kay has been featured in television programs, newspapers and magazines. She has stood in for two U.S. presidents' wives, one year filling in for Barbara Bush at the Non-Commissioned Officers Association's annual "Military Spouse of the Year" event and another time substituting for Laura Bush at the National Guard Association's annual convention. She is also a published writer—a best-selling author who recently finished her 15th book.
Aiming for a New Title
In 2014, while talking with Michael Notaro, DTM, PIP, about the Accredited Speaker Program, Kay realized that she had already met most of the criteria needed to apply for the Accredited Speaker (AS) designation. She had given more than 25 speeches outside of Toastmasters and was paid for at least 20 of those speeches. The only thing she didn't have was a video of one of them. The video had to meet specific guidelines. Fueled by her passion for public speaking, she switched into high gear and finished one in two days to meet the deadline. "I was very excited to pass that first level," she says.
Kay's desire to give back has earned her dozens of volunteer awards. She is area director of District 33 and president of her club, Shop Talk Toastmasters, in Lancaster, California, which allows her to help a great many people come into their own as leaders, she says.
She believes anyone can be a great public speaker if they're willing to put in the work. And practice is part of that work.
"Even if you are a professional speaker," she says, "the day that you stop doing the work is the day that your skill set is going to fall away and you're not going to be all that you can be as a public speaker."
The speech that helped her earn the AS title, "Heroes At Home," was one she had given around the world numerous times throughout the years, but that doesn't mean she didn't practice it before delivering it in August during the International Convention as the final step in meeting the AS program requirements. In preparation, she gave it at her club a week before, but she felt it wasn't her best. She changed the two-minute opening and practiced it for two hours before finally delivering it to a large Toastmasters audience and a select group of judges.
"It was incredible," Kay says about the experience. She found it natural and easy to imagine she was addressing an audience filled with military members.
"I am so thrilled to be an Accredited Speaker," she says. "It was a lot of work. I practiced a lot, and I did what I'm passionate about, and it turned out pretty well. I look forward to the opportunity to help others in their speaking journey even as I have been encouraged by so many in this pathway to Accredited Speaker."
How to Become an Accredited Speaker
The AS program recognizes Toastmasters who have achieved a level of proficiency that enables them to be paid as professional speakers. Candidates must be current members in good standing. They must also have earned one of the following education awards or higher: Able Toastmaster, Advanced Toastmaster Bronze or Advanced Communicator Bronze. Program candidates progress through two levels of evaluation and are judged by a panel of professional speakers.
It is a rigorous process. Since the program's inception in 1981, less than 20 percent of all applicants have become members of this exclusive group.
STEPS:
1. Review the Accredited Speaker Program rules as well as the eligibility and application requirements.
2. Give 25 speeches lasting at least 20 minutes, 15 of which are paid, to non-Toastmasters audiences with a minimum of 20 people. This requirement must be met by the time one applies for Accredited Speaker status.
3. Have a video of yourself giving a 20- to 45-minute presentation before a live audience.
4. Have five different clients of your paid engagements submit recommendations on the official Accredited Speaker Program Recommendation Form.
5. Complete the Accredited Speaker Program Application.
6. Submit a completed application between January 1 and February 1.
Please note: International officers or directors, candidates for international officer or director, region advisors and applicants for region advisor are not eligible to participate in the Accredited Speaker Program.
After completing the six steps, applicants pass through two levels of evaluations.
Level 1
Applications are reviewed for completeness, and video submissions from accepted applicants are reviewed by a panel of judges. An applicant whom a majority of judges agree demonstrates high-caliber presentation skills advances to the next level.
Level 2
Applicants who pass Level 1 are invited to present before a live audience, including to a panel of judges, at the International Convention held in August each year. Applicants whose live presentations meet the required level of professionalism (as agreed upon by a majority of judges) are awarded the AS designation.
Those who become Accredited Speakers will receive a professional reference from Toastmasters International as well as publicity and potential spokesperson opportunities. They also receive an Accredited Speaker pin, badge and plaque.
After receiving her Accredited Speaker award, Kay gave this advice to those who want to achieve the designation: "Look at the criteria early. There are very specific things that you have to do to be prepared." She also suggests attending workshops by other Accredited Speakers. "Get educated … get coaching … have people listen to your message," Kay says, "and don't be thin-skinned. Take the criticism that is given to you in a productive way so that you can go from good to great."
---
For more articles from the December issue, visit www.toastmasters.org/Magazine/Issues.
FEEDBACK