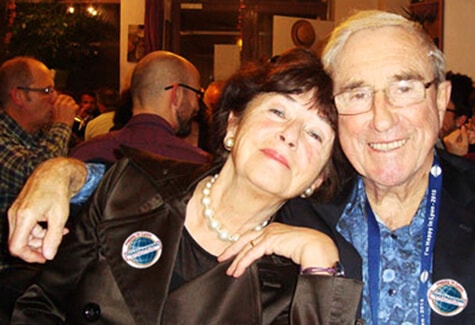 From Germany to Belgium to France, I've savored my 50-year journey.

By Frank Thorogood, ACG



From the Toastmaster December 2015.
In 1964 I was a young man living in Frankfurt, Germany, working as a chartered accountant. In January of that year, the Frankfurt Rhein-Main Toastmasters gave a demonstration meeting at the social club to which I belonged. The members were brilliant, most of them belonging to the United States Armed Forces Radio and Television Network.
The next month I attended a meeting of the Rhein-Main club (which is no longer in existence). When asked to say something at the end, I was terrified. I muttered a few words—and soon joined the club.
"Toastmasters has been a grand adventure, one that I have experienced in different languages and in clubs and contests all over Europe."
Thus began my 50-year journey in Toastmasters. It has been a grand adventure, one that I have experienced in different languages and in clubs and contests all over Europe.
After living in Germany, I moved to Paris, France, in 1967, and joined Toastmasters UNESCO (United Nations Educational, Scientific and Cultural Organization). The club stopped short in 1970, when a new member suffered a heart attack while giving his Ice Breaker speech. The man died, and the club was discontinued.
In the early '70s I moved again—this time to Brussels, Belgium. Seeking to renew my Toastmasters involvement, I wrote (there were no emails or faxes then) to Toastmasters International in Santa Ana, California, asking if Brussels had a Toastmasters club. The reply: No, but why not start one?
I put an advertisement in a local English-speaking magazine for anyone interested in a Toastmasters club to attend a meeting at my home. Twenty-two people came, 20 joined immedi-ately and we had our charter within a few weeks. The Brussels Toastmasters club is still going strong 43 years later.
In 1975, it was back to Paris! Upon my return to the city, I joined the newly formed, English-speaking Toastmasters of Paris. Eventually, I joined several other clubs in Paris as well. In 1991 I won the European entry in the International Speech Contest. This was the equivalent of the dis-trict finals, but Europe was not a district at the time. Our European membership was called the CCET, the Continental Council of European Toastmasters. Eventually it became District 59. About 90 people were present for that 1991 contest, compared to the 450 at the District 59 finals of the same contest in 2014.
After being a "Toastmasters widow" for 35 years, my wife, Maggie, ATMB, finally thought it would be good to see what I was up to in these long weekend meetings far away, and she joined the French-speaking Forum des Rives de Seine club near Paris. One year, both of us were in the District 59 finals of the Table Topics® contest in English, she from her club and I from mine. Maggie took home the first-place prize.
After retirement, we moved to Nice, on the Côte d'Azur in France, and immediately founded Toastmasters NICE, a bilingual French and English club. Now our hobby is to travel to Toastmasters speech contests and meetings in other countries. Last year we were in Krakow, Poland, for the District 59 spring conference; in Rome for the Division G conference; and in Berlin for Division C's celebration of Toastmasters' 90-year anniversary and the division's Table Topics and Humorous Speech contests. Maggie and I were judges in both contests and in both languages, English and German.
Throughout these 50 years, we have made friends all over Europe, and our lives have been greatly influenced—as have so many others—by Toastmasters. I am so happy that on that day in 1964, the Frankfurt Rhein-Main club made the effort to give a demonstration meeting. It transformed my whole life.
---
For more articles from the November issue, visit www.toastmasters.org/Magazine/Issues.

FEEDBACK