Leadership in the Kitchen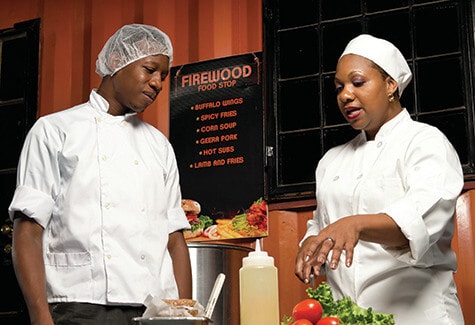 Marshall Shafkowitz knew early in his career the kind of leader he wanted to become when ascending to the job of head chef. As an up-and-coming cook in the restaurant industry, it wasn't uncommon for him to be berated and even physically intimidated by head chefs for making mistakes.
"I had things thrown at me and chefs order me to go peel 50 pounds of shrimp," Shafkowitz says. "That was and still can be the norm in the industry. But I vowed then and there never to be that kind of ruthless head chef when my time came."
Shafkowitz, a Toastmaster for many years, has honored that pledge and gone on to become a kinder, gentler—yet still highly successful—head chef with two decades of experience running award-winning kitchens. He might be the anti-Gordon Ram­say—the chef notorious for screaming at contestants on the Hell's Kitchen TV show—of his field.
Ask him to identify the one leadership trait that's key to success in the demanding head chef role, and he's quick to say patience.
"When you're in the pressure cooker of dinner service, and one of your stations is getting slammed and is six tickets behind, that's when a head chef calmly walking over to bail out the line cook can make all the difference," says Shafkowitz, who lives just outside of Chicago.
Success in the Kitchen
There may be no better testing ground for leadership, communication and mentoring skills than the high-stress kitchens of the restaurant industry, where performance pressures are fierce and getting work teams to function as seamless machines is crucial to success. Master that environment as a leader, say Toastmasters with a long history in the culinary field, and you know you've earned your stripes.
In a field where temperamental head chefs are popularized by TV shows, chefs like Shafkowitz have chosen a different path to leadership success. While screaming "Where's the food?!" to a late-on-the-trigger line cook or sous chef might be the easier and more cathartic response, top chefs who keep their composure maintain the confidence of their staffs and engender stronger staff loyalty.
"Patience is of utmost importance," says Shelly-Ann Lovell-Williams, CC, who operates the Firewood Food Stop, a Cajun and Creole restaurant in Trinidad. The head chefs who communicate effectively, and with respect, benefit in the long run, she adds.
"People are happier to come to work, they don't take as many sick days and they are more productive for you."
Not that it's always easy to convey calm in such a high-stakes environment. The stresses of working in commercial kitchens can affect a head chef's emotions—something that Armando Cris­tofori, DTM, has witnessed firsthand. "I have seen a chef chase a protégé out of a kitchen with a large knife," says Cristofori, a culinary researcher in Australia.
The chef's emotions permeate the kitchen, often influencing cooks, dishwashers and others by osmosis, says Shafkowitz, now a senior director of curriculum at the Delta Career Education Corp. in Chicago. (He was a founding member of the Career Education Corp. Toastmasters club.) "The chef sets the tone, and if they are patient and calm throughout prep, the environment is actually a pleasure to work in," he says.
The best kitchens reflect head chefs who have studied the art of effective leadership and communication, adds Cristofori, who has pro­vided staff training and evaluations in the industry since 1985. "It's not about dishes burning or people yelling at each other or showing raw emotions," he says. "In most real kitchens the chef and the food-and-beverage director have properly done their jobs of training, mentoring and coaching their staffs. They have a passion and real plan as to how their kitchens should be run, and flare-ups are few and far between."
Connecting with the Customers
An ability to communicate well—not just with staff but with customers—is more vital than ever today, says Scott Plowman, ACB, owner and CEO of three popular restaurants in Wichita Falls, Texas.
"If you don't communicate effectively, it's hard to run any busi­ness, be it a restaurant or a bank," he says. "Our business isn't just about putting together beautiful plates or cooking well."
Many chefs tend to be on the shy side, he notes, preferring to express themselves through the creativity and mastery of their cooking. "But more customers want to hear directly from chefs these days about cooking techniques or ingredients, in part be­cause of the influence of the food shows on TV," says Plowman, a member of the Wichita Falls Toastmasters club. "Young chefs have to understand there will be a time they have to get out and speak in their careers, and I often encourage them to join Toastmasters."
Plowman says Toastmasters helped him cope with his own speaking anxiety and build important new skills. "It's helped me become more organized in my thinking, create better agendas at work, get to the point quicker and communicate more effectively with my restaurant staff," he says.
Shafkowitz says body-language skills honed in Toastmasters are helpful when running a kitchen. "If you're an executive chef standing there in your crisp whites, with arms crossed and looking down your nose at other cooks, it sends a message of elitism," he says. In other words, a good head chef understands that he or she is not the most important person in the restaurant.
"My name has been at the bottom of many menus, but no one knows better than me that the people I've worked with have been essential in getting me to this position," Shafkowitz says.
Mentoring and Training
Before the rise of culinary schools and Food Network cooking shows, many chefs earned their stripes through mentoring programs of French origin known as "staging" (from the word "stagiaire"—pronounced "stah-zhee-EHR"). Akin to unpaid intern­ships, aspiring chefs would work under the wing of established pros to learn the tricks of the trade. While less common today, a form of staging still occurs in many of today's kitchens, where head chefs develop and assess the skills of cooks-in-training.
Good mentoring is essential to well-run kitchens, but it's not a skill mastered by many, Shafkowitz says. Effective men­toring starts with an ability to work with wildly different per­sonality types, he says. "You never know who's going to walk through your kitchen door. Whether it's a new culinary school grad who thinks he knows everything or a convict just released from prison, if they have a willingness to learn, you have to become invested in training and mentoring them."
Mentoring different types of people is also a key aspect of the Toastmasters experience. Good mentors can assist their protégés in many ways: They help new members become famil­iar with the education program, the club format and meeting roles, and the available resources to improve their speeches. They also help boost their protégés' confidence, and provide encouragement as well as valuable feedback to help the mem­ber improve his or her speaking skills. Mentoring will remain a vital component of the Toastmasters learning experience in the revitalized education program.
In the culinary field, trainees who demonstrate potential and a relentless desire to learn quickly set themselves apart, Shafkowitz says. "You see that spark within the person that you want to help turn into a flame," he says. "You teach them the skills you know, including things they might not be doing in their regular cooking role, but also show them the decisions you made and how your career progressed as a result."
Good mentoring also is about allowing trainess to learn from errors, a process that takes time and patience, says Cristofori, a member of Nerang Toastmasters in Nerang, Queensland, Australia. "It's also about focusing on core strengths that each and every protégé possesses," he says. "But the chef must allow them to make mistakes to bring these core strengths out into the open. A great chef sees a protégé as an uncut diamond."
Lovell-Williams, a member of the Nepuyo Toastmasters club in Arima, Trinidad, says taking time to cultivate good relationships with staff pays dividends when mentoring. "I think you can be a good boss and a good teacher too," she says. "When someone trusts or respects you, they can be more receptive when you train or mentor them. I want people to feel I'm approachable."People only grow through discovery, the opportunities to influence decisions and effective feedback, Lovell-Williams says. "It's not just about me being the boss, making all of the decisions, and everyone in the kitchen has to simply follow," she says. "I want to know what people think, what their ideas are, who they are away from work. Then they can take some responsibility and I can take some responsibility."
A version of this article appeared in the May 2015 issue of the Toastmaster magazine.