Helping Teachers Make the Grade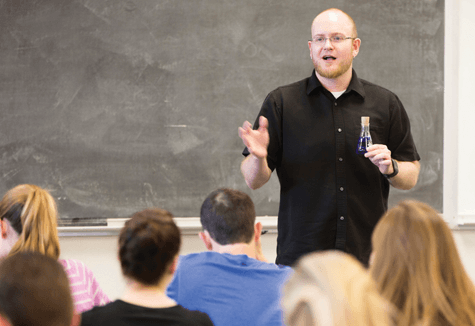 Clubs give educators the right tools for teaching.
By Caren Schnur Neile, PH.D., ATMS



From the Toastmaster magazine November 2015.

How do educators learn to be better communicators? The same way millions of other people do: by attending the "school" of Toastmasters.
I became a member of the West Boca Toastmasters club in Florida years before I was hired to teach storytelling studies at a local university. Although I received extensive teacher training, Toastmasters helped me understand the importance of going out of my way to know my "audience." I also became a stickler for timing—making sure that my lessons started and ended on time. Sound familiar?
Other teachers say Toastmasters has helped them in a variety of ways. By the time Rich Lemert, ACB, ALB, first attended the RDU Toastmasters club in Morrisville, North Carolina, he was already a successful university instructor. Far from being shy, he says he actually had to "tone down my act," because he felt he was a little too entertaining in the classroom.
"Toastmasters helped me with my vocal variety," the chemical engineering professor says. "I apparently have a tendency to be too loud [one of his students complained in an evaluation how she felt she needed an aspirin after his class], and this might have helped me quiet down a little."
Above all, Toastmasters gave him the opportunity to practice—and teaching allowed Lemert to apply his skills in the classroom.
Fan Chen Keat, DTM, teaches college-level accounting and finance for INTI Education Group. He has been a member of Speecom Toastmasters club in Kuala Lumpur, Malaysia, since 1994. "The effect of Toastmasters on my teaching is that I am now more aware of and conscious about making the learning session interactive," he says. "I've even taught a session on impromptu speaking to make my students better communicators."
Teaching Students of All Ages
If you think Toastmasters is only helpful for college teaching, however, you'd better do your homework. Ruben Garcia, ACB, who teaches English to kindergartners at the Buckingham School in Lima, Peru, joined the Lima Toastmasters club nearly 20 years ago. The result: He earned the Best Teacher of the Year award from Privateacher International, competing against more than 75 teachers in Peru.
"As a teacher I need to be a good leader to encourage students to perform the best they can, both in and outside of class," he says. "I want my students to be great communicators to demonstrate what they know about certain subjects."
Although many educators may join Toastmasters to speak more effectively in the classroom, that's not the only speaking skill their jobs require. Teachers must also know how to address parents, or perhaps speak in front of fellow union members. College professors regularly attend academic conferences at which they are called upon to moderate panels or present their research.
"The effect of Toastmasters on my teaching is that I am now more aware of making the learning session interactive."
Stephanie Richman, ACS, ALB, a member of two clubs in Pennsylvania, teaches psychology at Westminster College in New Wilmington, Pennsylvania. While her academic advisor suggested she attend club meetings to become a better speaker, she discovered many other benefits as well.
1. Helping students succeed.
Richman recalls a time when one of her students considered quitting college because she had a crippling fear of giving presentations.
"I reassured her by recommending Toastmasters. She was really excited about the idea of practicing public speaking in a low-risk, supportive environment to become more comfortable with her final presentation," says Richman, noting that the student didn't drop out. Now Richman wants to start a club at Westminster College to help other students gain the same benefits.
2. Gaining confidence.
Richman says moving up in different leadership positions in Toastmasters made her more confident. She has been club vice president education, president, assistant area governor and area governor.
The confidence boost has made her a better teacher too, says Richman. "For example, one of my biggest challenges personally is dealing with conflict or 'difficult' people," she says. "This comes up often in teaching, when a student is being distracting or misbehaving in class. In the past, I have been too intimidated to confront the student and often let it slide instead. Toastmasters has helped me to be more assertive in confronting students with these issues."
3. Acing job interviews.
Before a professor can stand in front of a class, he or she has to stand in front of a faculty committee that recommends whether or not that person be hired. A couple of years ago, Richman went to eight on-campus interviews.
"Interviews in academia are a little different from standard job interviews in that instead of lasting one or two hours, they last one or two days," says the psychology professor. "A lot of this time is spent giving presentations to students and professors and being asked more typical interview questions by other professors.
"As a result of going on a lot of interviews, I had answers ready for most of the questions, but there would be occasional curveballs. My practice doing Table Topics® really helped me address these questions."
Toastmasters also helps teachers, and others, nail down standard job interviews. While pursuing her degree in Teaching English as a Second Language in Montreal, Canada, Allison Turner joined Mount Royal Toastmasters in 1997 for all the usual reasons.
"I joined specifically to improve my speaking skills and comfort level for the program and my career," she says. "And it definitely helped."
A few years later, Turner, ATMS, CL, moved to Switzerland and joined Zurich Toastmasters. In her new club, she improved not only her skills but also her network.
"I didn't teach for a few years," she says, "but when I did start up again, it was my fellow club members who gave, or recommended me for, at least three jobs!"
So what have we learned here today, students? Clearly, Toastmasters has something to teach teachers. The practice gained by regular meeting attendance gives us invaluable skills and connections for our teaching careers. As Fan Chen Keat, the college finance teacher in Malaysia says, "The learning journey is never-ending."
---
For more articles from the November issue, visit www.toastmasters.org/Magazine/Issues.

FEEDBACK