Social Media Tips for Your Club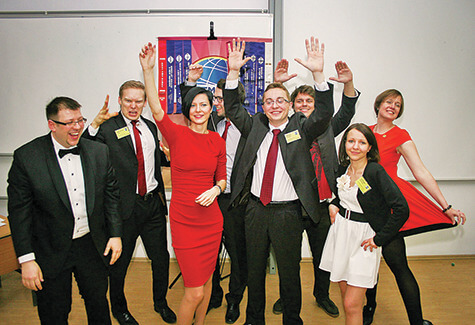 Social Media Tips for Your Club
By Gemma Costello
Past Vice President Public Relations, Vox Populi club, Dublin, Ireland
Social media and digital marketing are great tools for recruiting new members and engaging existing ones. My club, Vox Populi, has active Facebook and Twitter accounts, and we post updates regularly on our club website. Maintaining these sites for your club can be labor intensive, but the results are worth it.
Promote Your Club on Facebook
One thing I stress to members of other clubs is not to worry about lack of strong engagement on your club's Facebook page. Facebook changed its algorithm in December 2013, making it more difficult for the posts of businesses and organizations to appear organically in members' newsfeeds. According to Felicity McCarthy, founder of the digital marketing consultancy company SparkDigital.ie in Ireland, the "magic formula" for newsfeed visibility is dependent on a combination of the following factors:
Your audience's level of interest in the creator of the post
How much your post is liked, commented on or shared
The performance of your past posts
The type of post your user prefers (status, photo or link)
How recent your post is
I recommend that you think of ways to optimize each of the components of this magic formula to increase the possibility of your posts appearing organically in newsfeeds of your club's members and prospective members.
When creating a Facebook post, consider the following:
Short posts have more traction than long ones, so be succinct. The optimum character count is 90 to 100, so hook your readers quickly!
Aim for a friendly, approachable tone, as it invites the user to interact with you. Humor works well here.
Effective use of imagery, particularly emotive imagery, is crucial. It sparks an emotional reaction and stimulates sharing.
If you are posting images as advertisements, know that Facebook prohibits images that are covered by more than 20 percent of text.
A few posts of high quality are preferable to many posts with marginal relevance to your fan base.
Find and Enhance Images
Posting images on your club website and Facebook page is a good idea, but keep in mind copyright laws. The following tools can be useful.
Register on http://www.freeimages.com for access to free imagery for non-commercial use. I discovered Camera+, a great photo editing app for the iPad and iPhone when I received training in image editing at my workplace. Word Swag is another app for the iPad that allows you to put creative captions on images in a variety of stylized fonts.
A great graphic design tool is www.canva.com; it offers templates for creating customized images and graphics. I used them to post club milestones such as our inaugural Vox Populi debate night and our "Voscars" awards ceremony.
When you post images on your club's Facebook page, check the statistics on Facebook's Page Insights. I found that members responded to posts of eye-catching graphics or images, particularly when used in connection with a milestone. I'm confident that you will see the same results.
Club Management
By Maciej Kletlinski, CC, ALB
Immediate Past President, Toastmasters Leaders Club
Toastmasters Leaders club in Warsaw, Poland, has an average of 55 to 85 members, and sometimes up to 20 guests, attending each meeting. To handle a group of that size, club officers must run meetings efficiently. On average, when guests attend a single meeting, nearly 20 percent of them want to join the club straightaway. This kind of challenge calls for the ultimate leadership skills and teaches you how to plan, implement and execute all the processes, meetings and events run by the club. The Toastmasters Leaders club is a place where, as per Toastmasters' motto, leaders are made. The exciting environment stimulates creativity and pushes leaders to grow fast.
Get the Word Out
"At our club, we reach out to various newspapers, digital websites and social media outlets to promote our club meetings and open house events," says Glenn F. Laveson, ACG, immediate past vice president public relations of the Lower Bucks Toastmasters club in Langhorne, Pennsylvania. He offers these tips to help you promote your club's activities.
Connect with people in your community. Contact small community newspapers. Larger newspapers often have space restrictions, and typically, small publications have more opportunities to cover local events.
Write a brief, specific description to spread the word about your event. Always include the five W's: who, what, when, where and why.
Persistence is the key to success. Be organized. If you have an event coming up, send a reminder to your media contacts three weeks prior. This gives everyone enough time to plan.
Rich's 10 Tips for A Great Club Website
Make sure your club's contact information is accurate on your website and on the Toastmasters International website in Club Central (under the Leadership Central tab).
List your meeting time and location, and post a map that marks the spot.
Recognize new members by posting their photos.
Publicize members' accomplishments, such as education awards, by posting photos and commendations.
Create a "Meet Our Members" section. Include photos and short biographies or captions, but make sure to have the members' permission before doing so.
Post photos of your club's special events, such as anniversary parties and speech contests.
Show action photos of club members having fun.
Create and post a two- to three-minute video on YouTube. Have members share testimonies of how Toastmasters has made a difference in their lives.
Post a message from your club president.
Create a page that explains what happens in your Toastmasters meetings.
Rich Rodgers, ACS, ALB
Past District 16 Public Relations Officer Capitol City Communicators Oklahoma City, Oklahoma
A version of this article appeared in the August 2015 issue of the Toastmaster magazine.