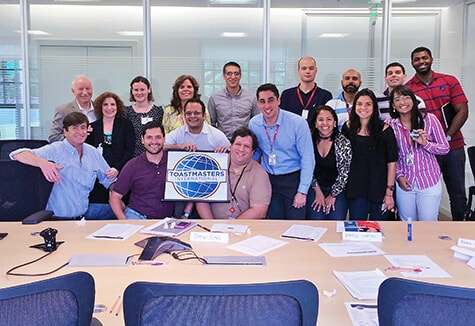 When Susan Hawkins, ACS, ALS, moved to Brazil three years ago for a new adventure, she didn't anticipate her journey would uncover a greater purpose through Toastmasters. Since relocating from London, England, where she developed her Toastmasters passion, Hawkins has been immersed in an expansion effort that is evolving every day.
In the last few years, Toastmasters International's Board of Directors has explored the growth of clubs in developing markets around the world and identified Brazil as having excellent potential for Toastmasters expansion. As a result, Hawkins, in September 2014, became the organization's first-ever developing market specialist. In this volunteer role, she has taken the lead in growing Toastmasters clubs in Brazil.
Hawkins is founder of the Vila Olímpia English Toastmasters (VOETM) club and a member of the São Paulo Toastmasters club, both in São Paulo, Brazil. To better understand how the Brazilian culture would lend itself to Toastmasters growth, she visited clubs throughout Brazil to share ideas and best practices. Hawkins has also taken on marketing efforts with a team of local leaders to encourage membership and club progression.
Growth of Toastmasters in Brazil is focused on cities with existing clubs in São Paulo, Rio de Janeiro, Porto Alegre and Curitiba. Clubs—both Portuguese- and English-speaking—have opened within communities and corporate offices; eight clubs are currently chartered and an even greater number of prospects are coming together.
Hawkins, 32, holds a bachelor's degree in economics and management from the University of Oxford in England, and is a Chartered Financial Analyst (CFA). Her successful career includes 10 years at the Bank of England and EY (formerly Ernst & Young). She is currently the managing partner at SHP Training in São Paulo, a company that provides training for professional certification in finance, accounting, valuation and financial English.
Her contribution to Toastmasters began long before she moved to Brazil, when she wore many hats and helped charter, re-launch, coach and sustain clubs while living in England.
"I feel honored to be chosen to help with this new development at Toastmasters and to be the first person taking on this role," says Hawkins. "I think it's an amazing opportunity to be able to grow Toastmasters in Brazil; I feel like I'm at the right place at the right time, and I think Toastmasters will be of enormous benefit to the people here."
How did you first become involved with Toastmasters?
In 2005, I joined the club MLP (More London Place) London Bridge Speakers sponsored by my employer, EY. At the time, I was a trainee at the firm and worried that I might be required to speak in public. I was very shy, and during my first meeting I was asked to give a Table Topic. Even though I went bright red while speaking, I had a sense of accomplishment when I finished and ever since then I've been addicted.
After overcoming your shyness, what happened next?
I got more involved in Toastmasters leadership in 2008 when I was asked to serve as club president. One of my goals at the time was to run my own business (which I am now doing!), and I was persuaded to accept the role when the area governor at the time pointed out that becoming club president could help me to develop the skills I needed to be successful with my company. With the help of my area governor and others, the club turned around and became very strong.
What brought you to Brazil?
I moved to Brazil at the end of 2011 because I wanted new challenges in my life. I was already learning Portuguese, had Brazilian friends in London and had visited Brazil on holiday. I was ready to do something totally different.
Were there any Toastmasters clubs when you arrived?
When I moved to São Paulo there was one Toastmasters club and it was for Portuguese-speaking members. I joined it, but my Portuguese wasn't good enough to give a speech, so I helped with organizational tasks and did basic roles like timer. After about a year, I opened the English-speaking VOETM club at the EY office in São Paulo, and was very involved as its president. Meetings in the club are conducted in English, which is very beneficial because many of the members like to practice their English and listen to native English speakers.
How would you compare the club meetings in Brazil to the ones in London?
They run pretty much the same way, but culturally they are different. The Brazilian members see the meetings as very formal, which is not typical of their culture. A difference between clubs in London and in Brazil is that many members in Brazil are working through the Competent Communication manual now, and it's all still new to them. Also, Brazilian members are confident and outgoing, and in the United Kingdom people tend to have more difficulties with public speaking because they are often more reserved.
What attracts Brazilians to Toastmasters activities?
The members really enjoy the feedback portion of the meeting because of the honest advice they receive. They enjoy learning how to structure their speech to get their points across and use body language to back up the speech. As well as improving their public speaking skills, I've seen many members dramatically improve their leadership skills through Toastmasters.
How does word spread of Toastmasters in Brazil?
Many people hear about Toastmasters while living abroad. People also find out about clubs through word-of-mouth or on Facebook. Also, an employee will hear about a company's corporate club through internal meeting announcements sent by email.
Why do they join?
Most people who become members are native Brazilians, and if the club is English-speaking, they usually join to improve their English along with other skills. In a Portuguese-speaking club, the pull is to practice public speaking and leadership skills, learn how to come across in a better way and achieve more for themselves outside of Toastmasters.
What are some highlights of your experience in Brazil?
There are so many! Seeing people become more confident in their roles as club officers following Club Officer Training is one of them, as are the visits from 2013-2014 International President George Yen and from Toastmasters International CEO Dan Rex and COO Sally Newell Cohen. Given the "newness'' of Toastmasters for most people, the challenge has been to make meetings interesting and dynamic to keep visitors and members coming back. Since the newer Brazilian members are unfamiliar with the Toastmasters program, meetings at the beginning tended to be very methodical. At the English-speaking clubs, people are often worried about making mistakes. At the VOETM club, I make a point at the beginning of each meeting of telling members that it's OK to make mistakes in English. It's all about communicating and making sure people understand your message. As the club has matured, the meetings have become more energetic and motivating.
What do you hope to see for Brazilian clubs in the near future?
I hope we can open as many new clubs as possible, as well as hold onto the members of the current clubs. In order to achieve this sustainable growth, we are building a leadership team in Brazil that will focus on both new club growth and club quality. Key people in this team include VOETM President Bill McCrossen, CTM, CL; São Paulo Toastmasters Club President Manuel Matos, CL; and VOETM VPPR Denise Suyama. We are also connecting with Brazilian members from the United States and other countries who will act as "virtual mentors" online to support this team and the new club officers in Brazil. The expansion effort is still evolving, and I am honored to be a part of it.
A version of this article appeared in the May 2015 issue of the Toastmaster magazine.