Benefits of Campus-based Clubs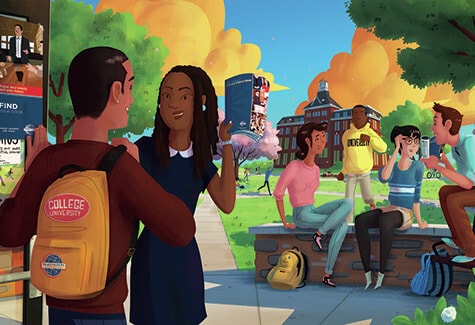 In 2013, Serene Selli's nerves got in the way when she spoke before an audience "My heart rate would skyrocket," she says, "and sometimes my mind went completely blank." Luckily, Selli's mother was once a Toastmaster, and she knew the experience could help her daughter.
A student at Texas A&M University in College Station, Texas, Selli discovered Aggie Toastmasters on campus and knew it was time to join. Halfway through the Competent Communication manual, Selli began to feel more confident giving speeches and participating in Table Topics®. But her prog­ress didn't stop there. "I have become much better at expressing myself," she says, "not only in my speeches, but also in everyday conversations." Like so many others, Selli credits evaluations for the improvement.
The Benefits of Campus-based Clubs
Selli values her club's unique culture. All members are college students who are unified by similar goals. Selli appreciates their motivation to learn, and their diverse backgrounds, experiences and interests. And the convenience of an on-campus club is hard to beat.
For Marcel Admiraal, Toastmasters was on his to-do list for a long time. After working for 15 years, he returned to school to earn a Ph.D. at Imperial College in London and joined the Imperial College Speakers club.
Admiraal sees Toastmasters as part of an ongoing learning process—a natural fit for a university setting. He says, "Most of our members are young undergraduates who would probably not join another Toastmasters club because the demographics are so different. A college club is far more inclusive of young members."
Like Selli, Admiraal values the evaluation component of the Toastmasters program. Throughout his career, Admiraal says he delivered hour-long presentations to customers about the benefits of the latest versions of his employer's products and services. But he rarely knew if he was effective, "except for the indirect feedback of how many customers bought the new versions."
With Toastmasters, Admiraal is learning how to improve his skills. He has identified his areas for growth, and is focusing on improving his vocal variety and stage presence. His efforts in Toastmasters have already paid off—literally. When seeking fund­ing for his Ph.D., he presented his research idea to the college's selection panel and was awarded funding despite an extremely competitive environment.
Admiraal also appreciates how his club members are moti­vated to learn and progress in the leadership track. For example, a new member recently admitted feeling more comfortable each time she presented her timer's report.
Not Just For Students
Learning in a campus-based club isn't limited to students. Like many other campus-based clubs, AUT Toastmasters in Auckland, New Zealand, is open to all staff and faculty at Auckland University of Technology (AUT).
Rachelle Ferguson is both a student and a staff member at AUT. She joined AUT Toastmasters last year to improve her con­fidence after an unexpected opportunity arose at work. Ferguson, a research officer, was asked to make a brief announcement to a group of about 60 people. "It seemed an easy enough task," she says, "but as I spoke into the microphone on the podium, I was surprised at how nervous I felt."
Ferguson quickly immersed herself in the full club experi­ence—going from delivering an Ice Breaker to becoming club president. The investment paid off. She says she now thinks more clearly and speaks up with confidence at work. Her Toastmasters skills will also benefit her when she delivers presen­tations for her doctorate degree.
While it's typical to see staff at campus-based clubs, faculty participation can be a different story. Not all clubs are successful in recruiting faculty members; however, Christine Coombe, DTM, is the epitome of an active faculty member. She joined Toastmasters in 2003 and rates her experience highly, saying, "The second best thing I've done for myself and my professional development has been my participation in Toastmasters—in both the communica­tion and leadership tracks." The first thing was obtaining her Ph.D.
In 2005, she helped charter the Dubai Men's College (DMC) Toastmasters club in Dubai, United Arab Emirates, and served as division governor as well as in other leadership positions at the club and area levels. Her involvement in the leader­ship track has been instrumental to her professional activities, particularly when she served as convention chair for the 2006 TESOL (Teachers of English to Speakers of Other Languages) International Association Conference, and as president of the association in 2010–2013. Being selected as convention chair inspired her full commitment to Toastmasters.
"When I learned I would be speaking in front of 7,000-plus teachers at the opening ceremonies, I knew I had to do some­thing," she says. "Without Toastmasters, I could never have survived the event."
She also enjoys observing the incredible growth in the student and faculty members in her club. She notes that a major benefit of belonging to a campus-based club is students and faculty hav­ing an opportunity to build rapport.
Campus-based Club Challenges
It is often difficult for faculty to attend Toastmasters meetings during the day due to their workloads and busy schedules. To mitigate that, the Dubai Men's College club offers evening meet­ings, and several English-language teaching faculty members have joined a club she recently chartered—TESOL Arabia—which meets on weekends.
Christine Clapp, DTM, public speaking lecturer at George Washington University in Washington, DC, and a charter member of the university's Toastmasters club, says her club doesn't often draw faculty members. She says, "Part of that can be attributed to the perception, or misperception, among professors that they are good public speakers because they frequently stand up in front of students to lecture, and colleagues to present research." But she says even faculty members can learn to be more engaging presenters.
Clapp says the George Washington University club attracts mostly students, especially those in undergraduate and graduate business programs. Many members are also non-native English-speaking students and university staff.
Coombe, Admiraal, Selli and Clapp agree that the biggest chal­lenge for campus-based clubs is membership retention. Schedule conflicts and competing interests such as term changes, graduation and campus events factor into a high membership turnover. Selli says, "Since there are hundreds of campus organizations to choose from, it can be difficult for students to work Toastmasters into their schedules."
Because academic pursuits at a college or university naturally come first, Coombe says participation in the DMC club drops during midterms and final exams. In fact, Imperial College Speakers holds meetings only during the school term because, during exams and vacations, not enough members attend to make meetings viable. Then at graduation, students usually leave their clubs. Some find other clubs to join, but others simply move on to a different phase in life.
Clapp says campus-based clubs can remain strong by opening membership to the entire university community, including alumni and local residents, who often participate longer than the typical student. She says, "You need to have a few 'elders' to maintain continuity and to support leaders among the more transient segments of the club membership."
Even with all these challenges, campus-based clubs recognize Toastmasters' educational benefits and its natural synergy with higher education. The supportive club environment facilitates learning and allows members to make mistakes, which is not necessarily encouraged in the classroom. Ferguson of AUT Toast­masters says she was thrilled to find a supportive group where she had the freedom to fail and get feedback to improve. As Selli says, "It is inspiring to see people who initially struggled with public speaking turn into the polished, confident and entertain­ing speakers they are today. They are a true testament to how the Toastmasters program can be tailored it to fit students' needs."
As a result, members have inspiring stories of growth to tell—about themselves
and
others.
A version of this article appeared in the May 2015 issue of the Toastmaster magazine.