Put your passion in a picture! You know what makes Toastmasters such a great brand; this is your chance to show the world. Send us an image depicting the best club representation of the energy and enthusiasm behind your Toastmasters. Your club has a chance to win 50 to spend at the Toastmasters shop.
Stick to the rules.
- Submit your club photo through the email brand@toastmasters.org by the last day of the month to be considered for that month.
- We love to see your Toastmasters branded materials! If you choose to include them in the picture, make sure they are current. Images with outdated materials, such as old banners and old logos, will not be eligible.
- Most of all, go crazy with creativity! Show us your camaraderie and confidence; show us your spunk and spirit! We welcome innovative images that inspire other clubs and potential members to see the energy and passion that is Toastmasters.
And…action! Now get your cameras ready. Pick the place, gather your club members, choreograph the composition and send us your best shot!
Meet this month's winner: GM Canada Toastmasters from Oshawa, Ontario, Canada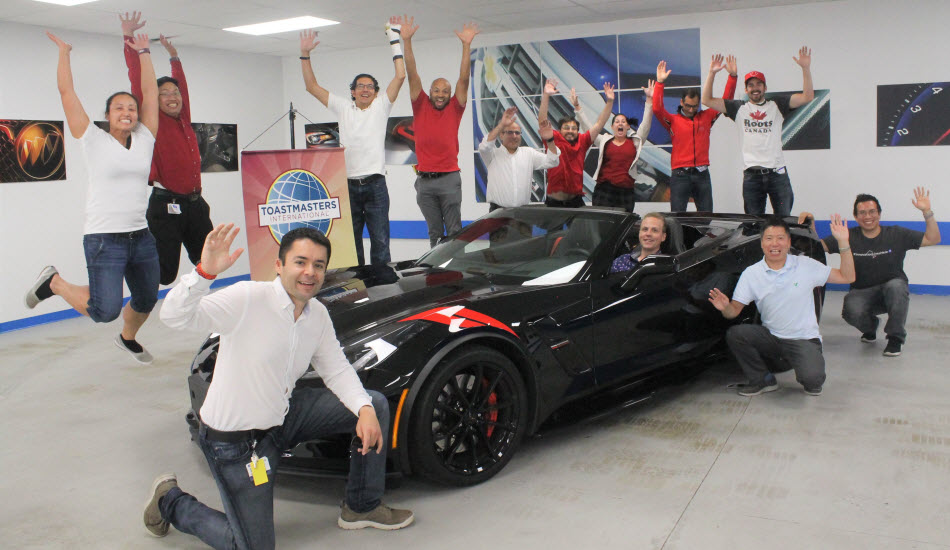 Remembering a few of our favorites: No two clubs are exactly alike, but all of these are photo winners! See how they delight and inspire you.
| | |
| --- | --- |
| Rio Speak Out from Brazil | CDC Roybal Toastmasters from Atlanta |
| Toastmasters Sardinero from Santander, Spain | Bishan Toastmasters from Singapore |
| The Back Talkers, from California, US | |