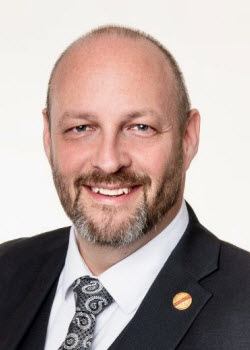 Candidate's Office: International Director
Region Number: 9
Toastmasters member since: 2013
Education: BMath in Computer Science, University of Waterloo
Employer and/or position: Software Development Manager at JSI
Served as District Director of District number: 61
Term of service: 2019-2020
In term as District Director, District achieved: Not Distinguished
Website: ronald4id.com
Toastmasters offices held and terms of service (international and regional level):
Toastmasters honors and recognition (international level):
2018-2019 Excellence in Program Quality
Relevant work experience and how it relates to Toastmasters and your role as a Board Member:
As a professional software developer for 25 years and a manager for the last 9 years, I led multi-national teams, been responsible for planning and strategy to deliver and market our products both internally (300,000+ employees) and externally via social media (open-source projects). I traveled internationally on short- and long-term projects, collaborating with people from all over the globe, learning to collaborate across cultures to achieve positive outcomes for my team and all participants.
This experience gives me an appreciation for the scope and diversity of Toastmasters International that will be vital in my role on the board.
What experience do you have in strategic planning?
As a software development manager, I planned and scheduled the work of my teams. I ensured that we worked on the right projects at the right time to meet customer expectations, while achieving business objectives. I planned for the skills development of my team and organization, ensuring that they developed for their role and personal career goals, to ensure we were ready to meet the challenges of new technologies.

As a board member and later president of my children's daycare, I participated in, and led, annual and long-term planning to ensure the daycare could meet the challenges of the day and be ready to meet the challenges of the future. This included leading the daycare to expand to a second site and growing staffing to handle this expansion.
What experience do you have in the area of finance?
As a software development manager, I was responsible for a 5 million annual budget consisting of staff, training, new equipment, and software licenses.
As a board member and president of a daycare, I reviewed, approved, and monitored the operating budget.
In university, as president of my student association, I was responsible for the 1 million annual budget of our student-operated coffee and donut shop.
Of course, as a district leader, I was responsible for developing and monitoring the district budget.
What experience do you have in developing policies?
As a member of the management team at work, I review and develop policies and procedures to improve working conditions, methods, and efficiency.
As a politically active citizen, I developed policies for political platforms, both provincially and nationally.
As a district leader, I revised and developed policy for budgeting and standing committees that provide clarity and guidance for future district leaders.
What lessons did you learn from previous leadership positions?
Listen first. To motivate people to achieve a goal, you must first learn what motivates them. To learn that you must listen to them. To understand how things are going, you must listen to the people you asked to execute the plan.
Find mentors. Find people with experience in what you are trying to do, learn from them. Find people with the knowledge you lack. Share your burdens with them, listen and learn.
It's a team sport. I found it easiest to motivate my teams by promoting a vision built on their input. There may be an objective that the team must achieve, but how you go about it must include input and consideration for the team that will do the work. A leader achieves nothing without their team's adoption of the vision. Only when the team is successful is the leader successful.
What experience and key strengths would you bring to the Board of Directors?
I have 25 years of professional experience collaborating on building solutions with teams from around the globe. I've been a part of many successful and failed projects. The failed projects taught me as much as, or more than, the successful ones. Working with multi-location teams taught me how open and regular communication can turn the negative effects of "Us vs. Them" thinking into the positive effects of "Us."
Toastmasters International is primarily made up of dedicated volunteers. Motivating and collaborating with volunteers is different from working with paid staff. My experience in club and district leadership, and the many volunteer positions I held throughout my life have equipment with the skills to thrive in a volunteer setting. The key skill is getting to know the people you will be collaborating with personally. A personal connection will always make hard work easier and fun. You find yourself not wanting to disappoint your friends.
One of the foundational lessons I learned in elementary school. My friends would tell their stories and, because I wanted to participate in the group, I interjected my own similar story before they finished telling theirs. My friends stopped listening and sharing. I realized that by sharing my own stories too early, I wasn't really listening and providing feedback to my friends. Once I started to really listen to them first, my friendships became stronger. Now, I listen before I speak and seek to understand before I contribute.
Why do you want to serve as an International Officer/Director?
My involvement in Toastmasters International has changed my life and that of those around me. It has helped me become a better person, and help others do the same. I used skills honed in club meetings and district service to land my current employment. I hired fellow Toastmasters and referred others to their current employment. In essence, I feel like I owe Toastmasters International, and want to serve this organization to help it continue to provide to others what I received.
What volunteer experience do you have outside of Toastmasters?
At high school, I ran for student council and founded the Audio-Visual club. In university, I was president of my student society and organized campus-wide tenders for the student run coffee and donut shops. I founded my neighborhood community association to run community events and gather their input to advocate on their behalf with city council. I volunteered and planned campaigns for political office, promoting candidates that I believed could make a difference. I coached my son's little league baseball team and my daughter's soccer team, making sure the kids had fun and learned to play the game as a team. I organized an annual, week-long technology camp for underprivileged children, many later returning to volunteer as camp counselors.
Have you worked with other Boards of Directors outside of Toastmasters? If so, describe your experience.
I served two years as a member of the board of my children's daycare, in the second year as president of the board. I guided the expansion of the daycare to a second location, and the transition of food services away from a third-party provider to an internal service.
In your opinion, what are Toastmasters International's major objectives and how would you work to achieve them?
Our major objective is to realize our envisioned future to be the first-choice provider of dynamic, high-value, experiential communication and leadership skills development.
The pandemic is an obstacle to the path we have set for the organization. It has directly affected our membership numbers and made one of our core strengths, meeting in person, near impossible. Like all challenges, it presented opportunities. Our move to support our members online through policy change has been a good first step in evolving our organization. By continuing to listen to our members and learning from their experiences meeting, training, and celebrating online, we can evolve our policy and protocol to move towards our envisioned future.
Additional information about candidate:
My Toastmasters International experience helped me become a better person. I'm a thoughtful father, an attentive partner, an engaged employee, and an aware boss. I offer my service now to help the organization continue to thrive and grow so that others can benefit the way I have.
---