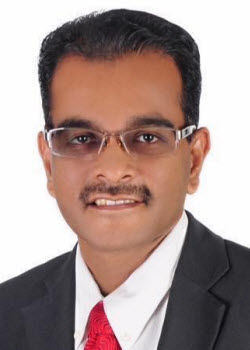 Candidate's Office: International Director
Region Number: 13
Toastmasters member since: 1996
Education: Bachelor of Business in Banking & Finance, Monash University, Australia
Employer and/or position: HSBC Bank Malaysia Berhad, Vice President Business Banking
Served as District Director of District number: 51
Term of service: 2010-2011
In term as District Director, District achieved: Not Distinguished
Website: facebook.com/thannimalai.letchumanan
Toastmasters offices held and terms of service (international and regional level):
2015-2016 Region 14 Advisor
2016-2017 Region 14 Advisor
Toastmasters honors and recognition (international level):
2008-2009 Excellence in Marketing
2009-2010 Excellence in Education & Training
Relevant work experience and how it relates to Toastmasters and your role as a Board Member:
As an aspirational individual, my experience commenced as early as at the age of 19 upon completing the basic education. Started-off as a bank staff at HSBC Bank Malaysia Berhad in 1994, I have stayed on till today serving a total 26 years in the same organization at various positions. Presently, I am a Vice President in Business Banking managing a portfolio of clients while helping to grow the books of the Bank through new assets, liabilities and other ancillary products acquisition. In my journey, I had also been the State and National Level leader in one of my home country's strongest workers Union – helming it at the State level during one of the most bitter moments of the history. Never ignored the studies and pursued my Banking & Finance Degree with Monash University, Australia on a distance learning mode. An outspoken personality who speaks up at every opportunity to share, debate as well as acknowledge constructive views. I have led a team of workforce during my work journey while been leading a group of 2000 workers during my 8 year stint with the Union. Sustaining my stay at the very same esteemed employer, HSBC, may speak volume on my behavior, performance as well as contributions. Culminating all these leadership roles/experience across Bank, Union, Toastmasters as well as other many non-profit involvements avail me the adequate force of courage to manage tasks and bring the best to the table for greater benefit of mankind.
What experience do you have in strategic planning?
Panning it out on the paper may not show any specific job-centric roles tapping strategic planning. However, assessing the micro-details of multi-tasking of mine as well as the growing desire to self-develop can help coin the collection of experience. Helming a Trade Union as the State Secretary for 6 years as well as sitting at the National Executive Council allowed me a good share of experience in leveraging the availed resources for the defined tasks, such as International Relations Committee and Training Committee. Besides that, at HSBC, had led a team in mooting directional changes albeit assisting in the formulation of policies. More recently, am leading a Religious organization where the full management right from policy decisions, activity planning, resources allocation as well as budget assessment are all within my scope/decision. On a more personal level, strategic planning process entails managing my family of a spouse and 2 ½ year old twins, my pursuit to complete a Law degree as well as strong involvement in Rotary International. As the President of Rotary Club of Tanjung Bungah in 2016/17, I have had my equal share of strategic planning experience.
What experience do you have in the area of finance?
I was the District 51 Treasurer in the term 2006/7 where I had the pride working under a strong leadership that led the District to become President's Distinguished District. Ground-checking allowed me to then make needful, fair and sustainable allocations to the district that term facilitating greater reach to the members while inspiring them on our efforts to walk extra mile. My job itself is Finance-centric besides the qualifications I possess.
What experience do you have in developing policies?
I was actively involved in the set-up of a Heritage Society where as a new formation, rules/policies had to be developed from the scratch. As then the Incumbent Secretary, I was primarily involved in the regulatory process ensuring statutory compliance as well as needful structure are put-in place. Presently, at my role in a Religious organisation, a freshly formulated incentive scheme had been developed by me and rolled-out for practice. Hiccups are addressed effectively while stepping-up in patching loop-holes if any in the process.
What lessons did you learn from previous leadership positions?
Leadership roles are always an avenue for us to practice what we preach in line with the principles. However, the abundant lessons available could not all be learnt during our tenor. Be that as it may, I strongly believe in being humble and simple in everything so that the reach-out is wider, deeper and meaningful. Goal-centric excellence could had been something I should aspire to emulate even more effectively. I remember the rally of the District 51 membership behind me to inch the gaps of membership renewal during my DG term in 2010/11 that we literally closed the wide gaps in renewals of over 1000 in a span of 2 months, only to miss the Distinguished or better status by 80 odd renewals. Planning early, reviewing regularly, racing appropriately and being focused were some major lessons worth pondering from my experience as DG;
What experience and key strengths would you bring to the Board of Directors?
My 26 years of banking experience within which I had a solid 8 years Trade Union leadership together with my Toastmasters involvement at District as well as Region ( 2 term-RA 2015-2017 ) would certainly provide the basis for consideration. People-skills of reaching out to the ground can be deemed as a good strength echoed by my passion to articulate and write. I had been positing self-written posts onto my FaceBook daily for the last 6 years as a way of expressing my thoughts while feeding my love for writing. My continued pursuit in the Law program would certainly complement my banking/finance knowledge to provide the needful support for the role;
Why do you want to serve as an International Officer/Director?
Joining the Toastmasters at the age of 22+ in 1996 had certainly laid the path of my career growth as well as feeding me the skills into many other organisation like Rotary. Upon service as the District Treasurer, an urge to serve the top district leadership was invoked. After a short break staying at club levels, I was back as the RA for Region 14 with an opportunity of extension given. I loved those trainings as a facilitator to district leaders as it simply connects people while magnifying the positive energy for collective enrichment. After RA, felt I could indeed step-up to serve as the ID leveraging on my skills to bring greater benefit to organization i.e. members. It is certainly an honor to be of service to members in this organization which had effectively shaped and molded me into who I am today. My continued membership in 4 different type of clubs i.e. Home Club ( English ), Tamil Club, Advance Club as well as Malay Club shows my dire love and strong desire on the program;
What volunteer experience do you have outside of Toastmasters?
I am presently the Managing Adminstrator of a Religious organization while am a Rotarian since 2014 with me having served as the President in 2016/17 running concurrently with my 2nd Term RA R14. Past experience in the Trade Union, Heritage Society as well as Sports Club can all add-up to the array of continued service I have offered. I was also picked to be one of the links between Toastmasters and Rotary when both these organisations came together with joint-efforts of complementing one another recently.
Have you worked with other Boards of Directors outside of Toastmasters? If so, describe your experience.
Yes, especially in the Rotary. Operating in a widely diversified environment of different professionals did give new insights on the thought processes. Managing emotions, balancing views, concurring professionally, acknowledging constructively and having foresight while defending core values/principles had become a powerful experience worth treasuring lifelong ;
In your opinion, what are Toastmasters International's major objectives and how would you work to achieve them?
In simple terms, it is the best place to build effective communication, public speaking and leadership skills. Just like basic education, this program should be a core learning option for everyone across the globe. Besides the self-testimony , being someone passionate about the program, it would be a great asset for me to be involved effectively having seen the massive migration of the program when I started 24 years ago.

It's a responsibility of everyone to take this organization in the right direction of reaching out to many if not all, in nurturing an interest/awareness towards self-development to be led by Toastmasters. Cross-cultural barriers, language proficiency, live to remote meetings should all become pointers in our checklist in making Toastmasters the leading organization for Communication & Leadership.
Additional information about candidate:
An all-rounder with an ability to multi-task all the time. I care to share and contribute to the betterment of the mankind. Never stop learning as I continue upgrading my knowledge while picking up new involvements to contribute selflessly. I am an identified candidate for the Assistant Governor role in Rotary International D3300 for the term 22/23. Having lost my mum at the age of 15, I have grown to be independent since young age. Involvement in the Trade Union movement at State Level earned me a State Level Honour ( PJM Award ) in 2004 from the State Governor.
---