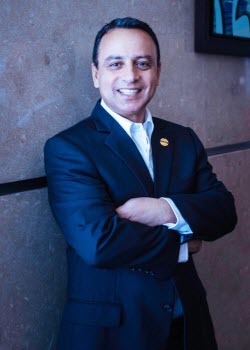 Candidate's Office: International Director
Region Number: 11
Toastmasters member since: 2003
Education: •PhD in simulation and computing of real-time systems August' 011; Brunel University, London, UK ; •Mid-MBA Certification April '97, Southern Methodist University, Dallas, TX; •M.S. of Science in Electrical Engineering - May '94, Southern Methodist University, Dallas, TX; •B.S. Electrical Engineering Dec '89, University of Texas, Arlington, TX
Employer and/or position: Saudi Aramco, Senior Engineering Consultant
Served as District Director of District number: 79
Term of service: 2016-2017
In term as District Director, District achieved: Presidents Distinguished
Website: solomanalmadiforid.com
Toastmasters offices held and terms of service (international and regional level):
Toastmasters honors and recognition (international level):
2016-2017 Excellence Award
2016-2017 Number One District in Growth
2016-2017 Presidents Distinguished
2016-2017 President Extension Award
Relevant work experience and how it relates to Toastmasters and your role as a Board Member:
With over 25 years in Corporate Leadership in Saudi Aramco and Verizon companies, I have served in short term and long term technology and capital projects planning, developed policies and procedure for complex engineering solutions and successful adoption, supported my Leadership in providing recommendation on tactical and strategic challenges, and authored more than 34 papers depicting creativity in solution developments and addressing challenges. I am an inventor with over ten (10) US granted patents introducing advanced problem skills solutions and creativity. I have developed engineering courses and taught over the past 15 years in the Professional Engineering Center in the company. I have championed visions and roadmap development, mentoring young engineers, and develop future leaders.
Additionally, I transformed the Toastmasters clubs within Saudi Aramco to reach excellence for many years. I developed a budget and benefits analysis and was able to convince Saudi Aramco leadership to sponsor most of the company's Toastmasters clubs; 27 clubs and the Saudi Arabia Annual Toastmasters Contest. Through my Leadership, I introduced Toastmasters' to be part of the Engineers Individual Development Plan. Moreover, I was able to establish Toastmasters in the Government sectors and establish Toastmasters clubs at different Saudi Arabia ministries. I have utilized my Leadership, creating a community outreach program to disseminate Toastmasters in Academic institutions and Civic centers further. I used my planning, team building, and directing skills in achieving number one District in the world for year 2016/2017.
I lead the International Society of Automation's (ISA) Local Section and was able to develop strategies that would enable Women engineers engagement, establish corporate membership drive that increased membership by 30%, and provided leadership opportunities for Women engineers to lead and excel. All of which resulted in being awarded the 2019 Section Leadership Excellence for Empowering Women Engineers.
My work experience, Toastmasters success journey, and being part of ISA provide a strong foundation to serve on the Board.
What experience do you have in strategic planning?
As a Senior Engineering Consultant, I develop and implement a strategic plan such as Industrial Revolution 4.0, Digital Transformation, Operational Excellence, and future workforce Specialist Development Program. Moreover, I develop recommendations and feedback to the Executive on key and significant challenges. These capabilities have contributed to my Toastmasters journey over the past years by bridging the Toastmasters learning model to academia and establish universities Toastmasters clubs, such as KFUPM University, to be a role model that is used to spread Toastmasters in Saudi Arabia academic institutions. Moreover, I was able to develop strategies to promote Toastmasters learning model to be part of some government entities supporting Saudi Arabia's 2030 Vision. Finally, I developed and implemented strategies to empower Women Engineers to be active members of the International Society of Automation Local Section, resulted in winning the Excellence in Section Leadership for year 2019. The Board will significantly benefit from the role.
What experience do you have in the area of finance?
I have developed 2 and 5 years capital and operational plans for multi-millions company projects. This includes automation infrastructure for oil and gas fields, network and system components, software platforms and hardware upgrades, facilities, power and resource requirements. Additionally, I performed business-oriented and sensitivity analysis (cash flow, return on Investment, network/system and life cycle cost, and risk studies). These skills have helped me back in 2016/2017 in addressing District Toastmasters budget debt by raising sponsorship, and cost control. Moreover, through cost benefit analysis, I was able introduce Toastmasters in the Telecommunication industry sector, resulting in adopting Toastmasters as a recognized formal channel in Human Resource development within Saudi Arabia Mobily, Inc. The board will greatly benefit from my abilities in this domain.
What experience do you have in developing policies?
My extensive experience in developing and introducing company standards, procedures, materials specifications, and guidelines for technology implementation have enabled me to write policies and regulations adoption, maintenance, and support. Moreover, I served in the Operational Excellence model where we identified process and policies gaps and then developed mitigations, adjustments and rewrites. Also, I have reviewed and provided countless feedback on corporate policies and workflows. Finally, I played a key role in developing bylaws and policies for the International Society of Automation's (ISA) Local Section that provided great opportunities to Women engineers and College student. Furthermore, I contributed to the ISA Headquarters global bylaws major 2020 revision.
What lessons did you learn from previous leadership positions?
The importance of listening, understanding the challenges, and team work are one of the most essential learning lessons that I captured and embrace based on my previous leadership roles. With successful and consistent team work, everyone achieve more and we all succeed. Individuals' heroic effort may achieve success but it is not everlasting and has little impacts. My extensive experience in building teams to expand the Saudi Arabia Toastmasters clubs and increase quality have resulted in successfully increase number of Districts in Saudi Arabia from one to two. Moreover, mentoring and giving opportunities to inexperienced leaders have transformed many Toastmasters to be leaders in their clubs and at the District level. Finally, fairness bring with it trust, self confidence, and empowerment to all members resulting into higher level of achievements.
What experience and key strengths would you bring to the Board of Directors?
I bring extensive experience in problem solving, simplify policies and regulations development, innovation and creativity that will uplift Toastmasters membership retention, reaching out to all age groups, and improve members' Toastmasters experience. Critical thinking, integrity, and the high level of commitment to serve and deliver quality output are my guiding principles.
Why do you want to serve as an International Officer/Director?
I believe strongly Toastmasters mission, learning methods, and Toastmasters role models are of great impacts in transforming the world to be a better place to live. I believe it is time for us to have more presence and influence on the young generation and all age groups worldwide. My leadership experience will enhance and support the board's agility in addressing the challenges that are facing Toastmasters mission to spread locally and globally. I believe I am qualified as I have served in this organization at different capacities and developed insight and experienced the strategic and operation impacts of the Board. I strongly believe with my international Toastmasters experience and very successful career, ability to listen, learn and adapt, I can be an added value to all the decisions that will be taken during my Toastmaster Board service tenure
What volunteer experience do you have outside of Toastmasters?
I served as a chapter secretary and president of the International Society of Automation promoting the automation science in the industry and academia in Saudi Arabia. Moreover, I have extended the Toastmasters Youth Leadership Program over the past 6 years in support of Saudi Arabia Gifted Student Program impact more than 3,000 students. Support the planting of over 1,000 olive trees to protect the environment and benefit those in need.
Have you worked with other Boards of Directors outside of Toastmasters? If so, describe your experience.
I have extensive Board experience with the International Society of Automation's Local Section over the past 8 years. I served as part of the Advisor Board for District 79 in the past 4 years. Also, I served in different committees within Saudi Aramco to address Board level technical and economical challenges and provide recommendations. Also, my preparation to serve all members has included conversations about board experience with current and former Toastmaster leaders.
In your opinion, what are Toastmasters International's major objectives and how would you work to achieve them?
Toastmasters is one the key catalyst for human betterment by improving one's communication and leadership skills. Giving hope and the required skills for those who have the greatest need is my passion. I will invest the efforts toward what our Board decides and introduce new ideas and concepts to uplift our impacts worldwide. Continuing to build relationships between Toastmasters International with other nonprofit organizations is a worthwhile venture with my full support. Establishing links with the most prestigious academic institutions and companies worldwide as part of Each-One-Sponsor-One will greatly further our Toastmasters influence.
Additional information about candidate:
Married with four kids, play chess, eager to make a positive difference and strives for excellence.
The journey of a Middle Eastern teenager who spoke no English took sail when I traveled from Jordan to the United States of America back in the 1980's seeking education in Engineering. On the journey of sailing to a brighter future, storms passed but getting through them led to significant technical and Leadership roles in Corporate America in telecommunications and systems engineering. Then, a plethora of achievements such as becoming a Senior Engineering consultant with a focus on standards and policy development, technology innovation and adoption in international Oil and Gas Company that lead to a Toastmasters experience as a member, club president, Division Director, and District Director with excellence in performance and significant growth. Moreover, led the International Society of Automation Local Section, and was recognized with the Section Leadership Excellence Award for Women Engineer Empowerments. "It is not the ship so much as the skillful sailing that assures the prosperous voyage.", George William Curtis, Life is our voyage, what we make out of it, the skills, passion, and dedication we put into it assures our successful journey beyond the horizon.
---